Get ready to embark on the journey of a lifetime with World Adventure! This fun Android game lets you travel to magical new lands without ever leaving your home! Check it out!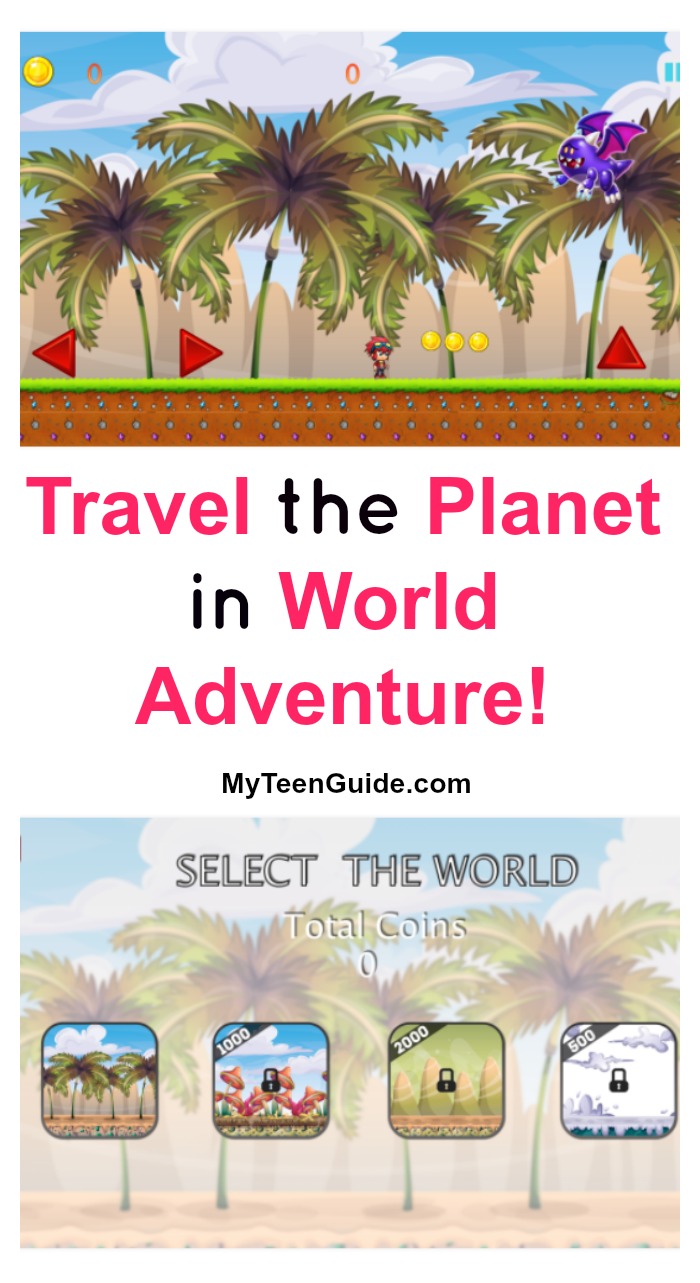 Raise your hand if you love nostalgic platform games! I do, I do! It's like getting a peek into simpler times, when 16-bit graphics were considered amazing. It's funny because we've come to the point where video games look like little movies. The graphics are so insane that your characters actually look like real people! As much as I love that, I also love playing old-school games like World Adventure. Check out my review to see what I loved about this one!
World Adventure Android Game Review
*OurFamilyWorld Media is a sister company to My Teen Guide. All opinions are always my own.
World Adventure is currently only available in the Google Play store, but you can play it on everything from your Android phone to your Chrome Book.  This fun old-school game features really cute nostalgic graphics. If you've ever played platform games on older consoles (think Super Nintendo), then you'll have no problem mastering the controls on this game. Even if you haven't played the old Super Mario or Sonic games, game play is pretty intuitive and easy to learn.
In the game, you play the role of a happy little guy that I'm going to call Carl. Why Carl? Why not! So, Carl wants to travel the world and see new sites. Don't we all, Carl. The problem? He keeps landing himself in places with giant man-eating turtles, dragons, and so on. Been there, done that, Carl. A giant man-eating turtle once crashed my car! True story! Well, sort of true. It was a baby snapping turtle, and it crashed my car because I let it loose in my passenger seat while taking it back to the lake. Long story short, the air hit it, it freaked out, I looked away for a second and hit a tree.
Your job is to get Carl safely through each level. Sounds, simple, right? Well, when everyone and everything is out to get you, it definitely becomes challenging fast! Check out some of my favorite features:
Easy enough that your little brother can master it, yet cool enough to keep you engaged
Totally retro graphics give it that old-school classic platform game feel
Plenty of obstacles to keep it challenging
Collect coins and unlock new exciting & dangerous worlds for Carl!
Absolutely addictive!
If you're looking for an entertaining retro platform game, World Adventure is definitely it! Get it free on the Google Play store!
What are some of your favorite retro games? Share below!