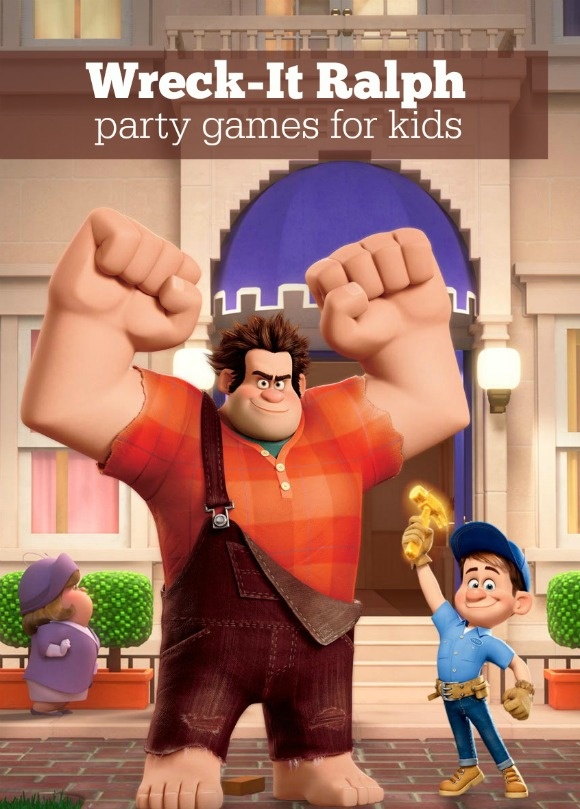 Need Wreck-It Ralph party games for kids that won't wreck your house? Check out our fun games! These activities are perfect for your Wreck-it Ralph party. Best of all, they won't leave your house a total disaster when the kids are done! Of course, if they do, you can always have Fix-It Felix come clean up!
Wreck-It Ralph Party Games For Kids
Coin Toss
For this game, you will have to make a huge golden trophy. You can use a cardboard and cut it in a trophy shape to make it appear like a trophy. However, while doing this make sure that it has ample space in between. You can also get some real trophies if making cardboard trophies turn out to be a difficult job. Now, simply get some chocolate coins with golden wrappers and ask your kids to toss the gold coins in the trophy. The kid with the maximum accurate shots wins the game and gets the wreck it Ralph trophy along with the golden candies.
Wreck it
This game totally lives by the Wreck-It Ralph theme. Here, simply get a few cardboard boxes and color them red just like bricks. Now, line the cardboard boxes in a row or like a house and call your kids over to wreck them.  Besides wrecking the cardboard blocks you can also ask them to make a new house from it. With this fun filled group activity, your kids will interact with each other and will have an enthralling and enjoyable time throughout the party.
 Pin the trophy
This is one of the simplest yet innately enjoyable Wreck-It Ralph party games for your little ones. Simply get a golden trophy and pin it along a cardboard. Now, give your kids some golden coin shaped arrows and ask them to pin the trophy. The kid with the maximum number of accurate pins wins the game.
Wreck it Ralph coloring session
Simply get a few Wreck it Ralph coloring pages and ask your kids to color it. Give a lot of coloring pens, pencils and markers to make their coloring sessions even better. They will surely enjoy, coloring these pages of their favorite characters from the movie.
Your kids are surely going to love these personalized Wreck-It Ralph party games. So, incorporate these games in your party and have a real fun time with your little ones. For more ideas, check out all our party games for kids!
Wreck-it Ralph party games prizes and supplies:
Affiliate links included.
What are your favorite Wreck-It Ralph party games for kids?