Looking for some fabulous YA fantasy books about dragons to add to your summer reading list? I've got you covered! Almost all of these 17 books are part of a series, so you'll have plenty to read while lounging on the beach!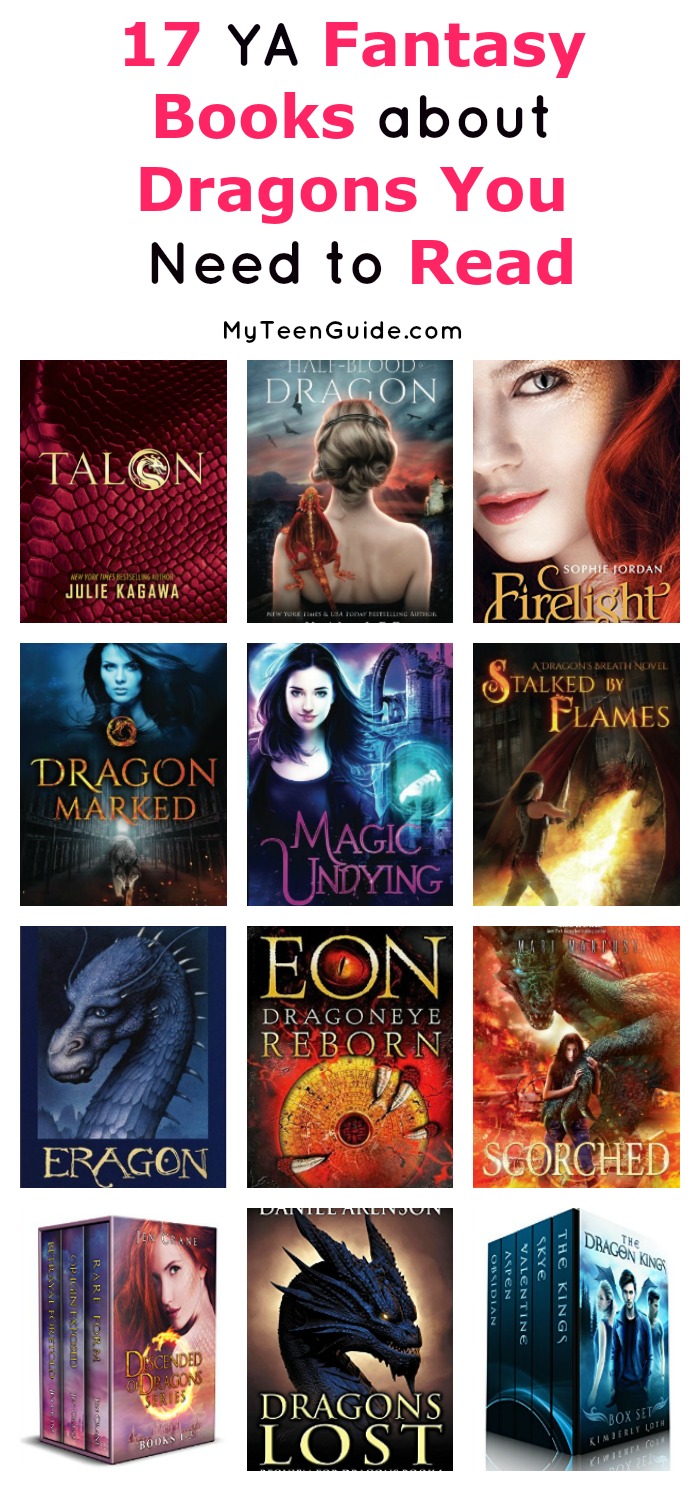 Dragons are crazy hot right now (pun totally intended). From slayers to helpers to "OMG, my boyfriend is secretly a dragon shifter!," you'll find them popping up all over YA fantasy. For this list, I tried to pick you out a good range of tales as well as a mix of indie and big name authors.  Ready to check them out? Click on "preview" for sample chapters from each of the featured books.
Top 10 YA Fantasy Dragon Book Picks
Affiliate links included below. Thanks for your support!
1- Eragon Series by Christopher Paolini

You can't really have a list of YA Fantasy books about dragons without mentioning Eragon! It's an oldie but a goodie. The Inheritance Cycle series has three other books in it, so if you love Eragon, you can keep going. They're beefy books, too, averaging around 500+ pages.
2- Dragon Marked (Supernatural Prison Book 1) by Jaymin Eve

This one has a bit of everything! The main character, Jessa,  is actually a wolf shifter, but she's also dragon marked. Not only does that put her in grave danger, it also means she's destined to resurrect the dragon king (totally NOT a good thing). Since this dragon king was such a big bad, of course that means a ton of people are out to kill Jessa. This is book one of three.
3- Half-Blood Dragon: Book One of the Dragon Born Trilogy by K.N. Lee

Hello, gorgeous cover! Seriously, take a moment to appreciate it. Okay, this one is full of magical, mystical beasts: from mermaids to pirates to, of course, dragons. Rowan is a plain old human in a world of dragon shifters, but that's okay, her dad has a plan to help them get ahead. Of course, that never goes as well as expected, and Rowan ends up framed for murder and sentenced to die. Don't worry, a stranger swoops in to save her. Hmmm, I'm betting he won't be a stranger for long!
4- Magic Undying (Dragon's Gift: The Seeker Book 1) by Linsey Hall

Poor Del, she just wants a simple life killing demons and hunting down mystical goodies for her magic shop. Waking up in Hell definitely throws a wrench into that plan! Escaping is the easy part! Staying out? Not so easy when you have illegal dragon magic coursing through your veins! When you get to the end of this one, you have four more to read before you're stuck waiting for the next one!
5-Descended of Dragons Series by Jen Crane

According to Amazon, fans of the Throne of Glass, Red Queen, and Mortal Instruments series will love this high adventure tale filled with shifters and dragons set in an enchanted grad school. I'm sold! Even better, you can grab all three books in one convenient "box set."
6- The Dragon Kings Box Set by Kimberly Loth

Another fab box set for you, this one is packed full of five books in the Dragon Kings series! Even better? It's free on Kindle Unlimited. Seventeen-year-old Aspen an adrenaline junky. Her whole life, she's been fascinated by the dragons who roam near her home in Yellowstone Park. No one has ever gotten close enough to touch one, though…until now?
7- Firelight by Sophie Jordan

Another stunning book cover, Firelight is the first of at least 3 books starring Jacinda, a descendant of dragons whose greatest defense is her secret ability to shift into human form.
8- Scorched by Mari Mancusi

If you love your fantasy mixed with a bit of sci-fi, you'll love Scorched! Trinity Foxx never believes her grandfather's crazy stories, so she doesn't really believe that his latest treasure for their West Texas museum is actually a real dragon's egg. That is, not until dragon hunter Connor Jacks arrives from the future to tell her that the world is about to be wiped clean by a dragon war!
9- Stalked by Flames: Book 1 (Dragon's Breath Series) by Susan Illene

What happens when a massive earthquake unleashes fire-breathing dragons on the world? Recent college grad Bailey is about to find out! Turns out, she's totally immune to the dragons' flames. That makes her an unwitting hero in the war between humans and dragons!
10- Dragons Lost (Requiem for Dragons Book 1) by Daniel Arenson

This one is a mix of dystopian and fantasy. Requiem is a lost world where dragons ruled. A world no one has seen in generations, and won't ever be seen again if the fanatical cult that rules Commonwealth has anything to do with it. Still, there are some who remember, who still have dragon magic in their veins. They remember…and they want to bring back that world.
More Great YA Dragon Fantasy Books to Read
There you go! Plenty of YA fantasy books about dragons to keep you reading way beyond the summer! If you can't decide where to start, I'd say pick up Eragon. It's one of those books that everyone should read at least once in their lifetime.
Do you have any other favorite YA fantasy books about dragons that I missed? Share below!