Get ready to pad your summer reading list with these 25 must-read YA fantasy books that beg to be read late into the night! Trust me, these are the books that you don't want to miss!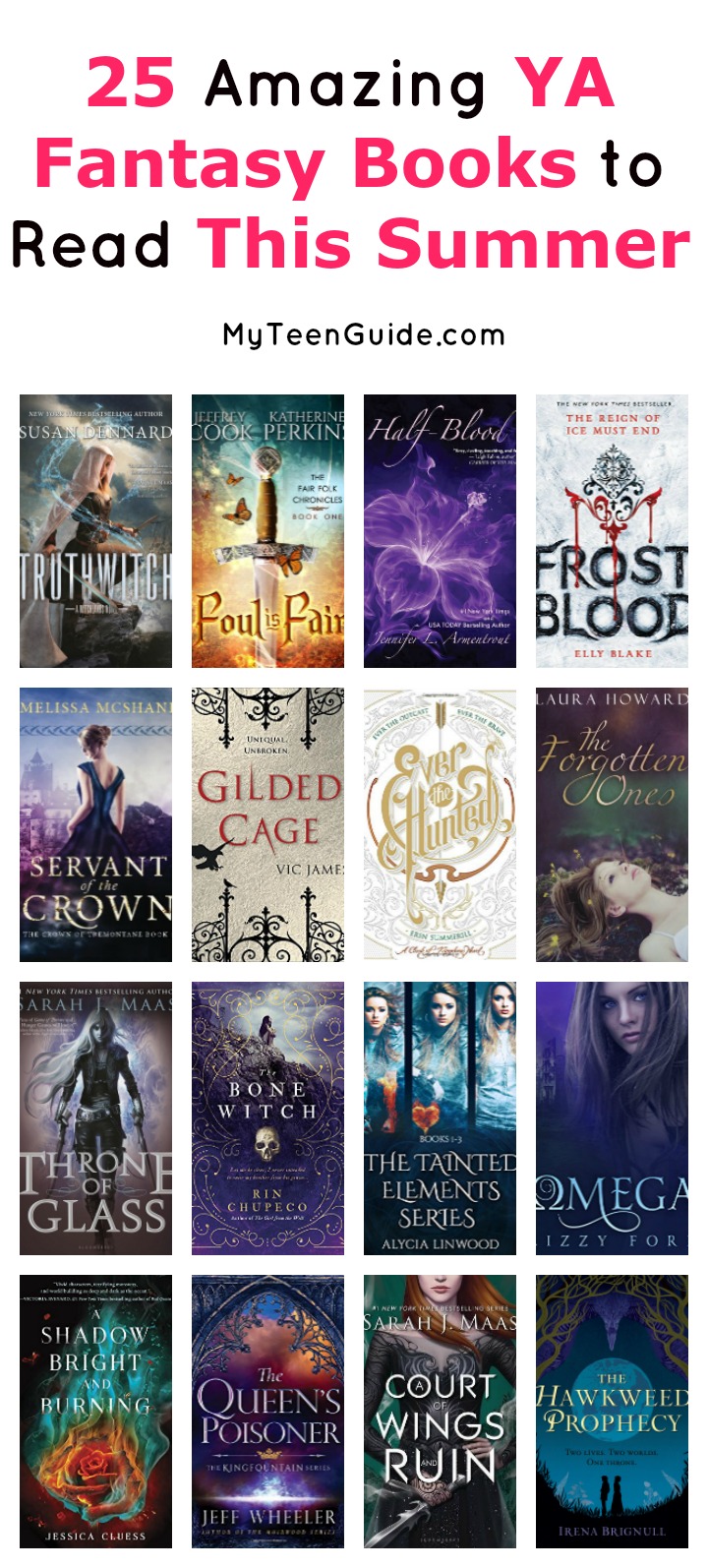 I have been on a huge YA fantasy kick lately. It started right after Christmas when I read the first two books in the Court of Thorns and Roses series by Sarah J. Maas. I finished those in record time and then burned through all the books in her Throne of Glass series. Since I had a while to go before the next book in either series came out, I had to feed my fantasy hunger with other authors. Check out X that are on my must-read list!
25 Must-Read YA Fantasy Books
Affiliate links included below. Thanks for your support!
Head to the YA Fantasy section of any bookstore (real or online) and you'll probably be overwhelmed by all the choices. I know I am! It's pretty much the "it" genre of the moment. I've included a mix of old and new books from both indie and big-name publishers. After all, variety is the spice of life…and reading!
I Do Believe in Faeries
These aren't your average Tinkerbell faeries, my friends!
1- A Court of Wings and Fury

Let's start with the obvious choice, shall we? If you've read the first two books in this series, then obviously Maas' brand-spanking-new 3rd book is a must-read. If you didn't read the first two, what are you waiting for? Check out A Court of Thorns and Roses
and A Court of Mist and Fury
! Trust me, you won't be sorry!
More fab books featuring wickedly cool faeries:
2- Foul is Fair
by Jeffrey Cook
3-The Faerie Guardian
by Rachel Morgan
4- The October Daye
series by Seanan McGuire (not technically YA, but my goodness, these books rock!). Start with Rosemary and Rue.
5-Forgotten Ones Series
by Laura Howard (FYI, first book is free on Kindle)
Magical Worlds in Turmoil
If rich world-building and epic wars are your thing, you'll love these picks!
6- Ever the Hunted
Seventeen year-old Britta Flannery only feels at ease in the woods, armed with her dagger and boy. By day, she tracks criminals with her dad. That is, until he's murdered. Now, Britta has to embark on a dangerous quest in a world of kingdoms at war, crazy monarchs and dark magic to find out who really killed him. Along the way, Britta learns that she's more powerful than she's ever known.
7- Red Queen
series by Victoria Aveyard
8- Gilded Cage
 by Vic James
9-Snow Like Ashes
by Sara Raasch
10- Frostblood
by Elly Blake
Of Witches & Magic
From urban fantasy witches living among us to epic tales of magic in alternate worlds, these YA fantasy books will satisfy your cravings for a little more magic in your own life!
11-The Hawkweed Prophecy
This one has everything: an ancient prophecy, magical powers, love and betrayal! At the heart of all of that, though, is the tale of two friends from very different worlds, trying to hold onto their bond when everything is falling apart around them.
12- Truthwitch
by Susan Dennard
13 Tainted Elements 
 by Alycia Linwood
14- The Bone Witch
by Rin Chupeco
15- A Shadow Bright and Burning
by by Jessica Cluess
Of Queens and Kings
While some of these books can technically fit in other categories, they all have one major thing in common: really rotten kings and queens!
16-The Queen's Poisoner
The first book in The Kingfountain Series (and there are a bunch more out, so you won't have to wait to find out what happens next). What happens when you gamble against a king and lose? Well, as the Duke of Kiskaddon, the price is a lot higher than money. He's forced to hand over his son, Owen, who has to prove his loyalty to the king…or die trying!
17-The Throne of Glass
Series by Sarah J. Maas
18-The Selection
Series by Kiera Cass
19-The Glittering Court
by Richelle Mead
20-Servant of the Crown
by Melissa McShane
Gods Behaving Badly
I am a HUGE fan of books based on mythology. Whether an author stays true to the story or puts a new spin on an old myth, I'm hooked from the start!
21-Omega

Omega by Lizzy Ford is probably one of the most original "gods behaving badly" books I've read in ages. It takes place in a post-modern world (not quite dystopian futuristic, but not exactly the world we live in today) ruled by territorial Greek gods. Alessandra spent most of her life hidden away, protected by a gruff guardian and a barrier that she's told never to cross. When she turns 18, though, she finds out that she's actually the Oracle of Delphi. If you know your mythology, you also know that things never end well for oracles!
22-Magnus Chacse and the Gods of Asgard
by Rick Riordan (while it's technically a middle grade book, if you love a bit of humor mixed into your mythology, you'll love this one!)
23-Chaos of Stars
by the ever-amazing Kiersten White
24- Antigoddess
by Kendare Blake
25- Half-Blood
by  Jennifer L. Armentrout
Of course, there are like a zillion more books in the YA fantasy genre, but these should definitely get you through your summer! I didn't even cover mermaids and dragons yet (don't worry, we'll get to those by the end of the summer).
What's on your YA fantasy summer reading list? Share below!