Don't you just love movies like Bad Times at the El Royale that really have it all?
From crime and mystery to thrills and even a little dark, sardonic humor, this one has everything.
It is due to be released in theaters on October 12, 2018.
I absolutely love these types of movies, you know, the ones that keep you on the edge of your seat and also keep you guessing right until the very end.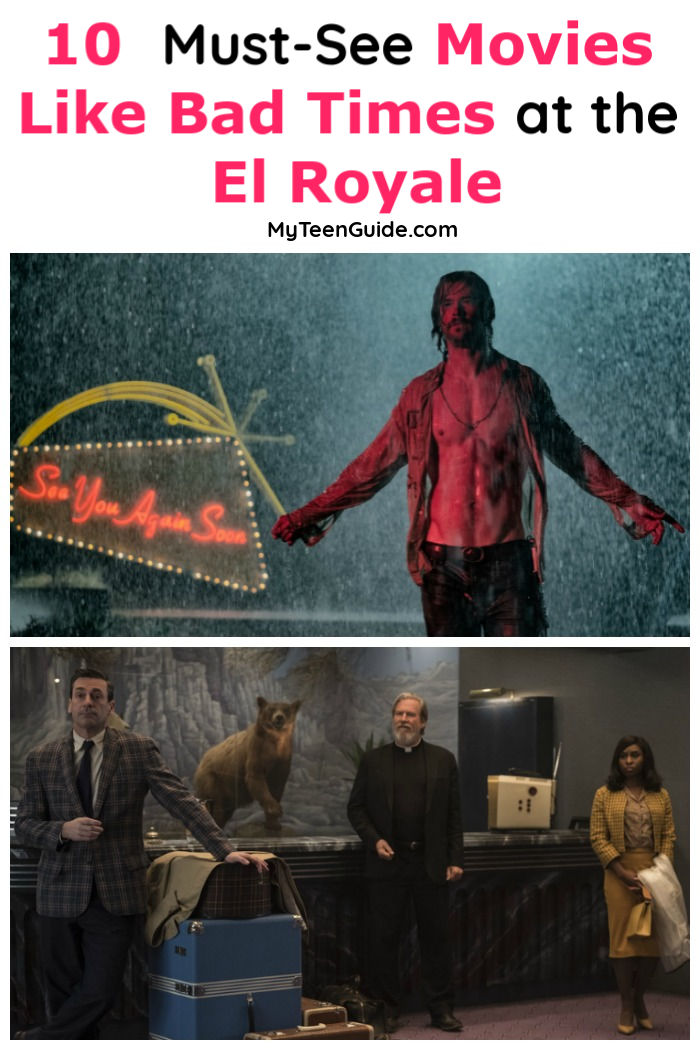 So, while you're waiting for Bad Times at the El Royale to be shown in movie theaters, here are some other awesome movies for you to watch, all of which I absolutely love!
Related: 100+ Amazing Movies Like the One You Just Watched (Plus Free PDF)
Movies Like Bad Times at the El Royale
This post contains affiliate links. If you make a purchase through these links, we earn a small commission at no extra charge to you.
Check out the trailer, above,  for Bad Times at the El Royale, then read on for some of my favorite similar movies!
RELATED: 10 Amazing Biographic Movies Like Can You Ever Forgive Me
1. The Million Dollar Hotel
The Million Dollar Hotel is a 2000 drama, mystery, thriller movie.
It is set in a rundown hotel, where its residents are mostly those with a mental illness and can't afford medical insurance.
After a strange death occurs at the hotel, FBI Agent Skinner (Mel Gibson), looks into the details surrounding the death.
The movie also stars Jeremy Davies and Milla Jovovich, residents at the hotel who are lovers.
This movie scored 5.9/10 on IMDB and 25% on Rotten Tomatoes, but don't let that fool you: it's a great flick! The "audience liked it" score on RT is a bit higher at 68%.

2. 21 Grams
https://www.youtube.com/watch?v=L2rK8w2ZpGw
21 Grams is a 2003 crime, drama, thriller movie. (Okay, folks, this may seem complicated, but stay with me, okay)?
The movie tells interweaving stories of Jack Jordan (Benicio del Toro), an ex-convict and recovering addict; Paul Rivers (Sean Penn), a math professor with a fatal heart condition and Cristina Peck (Naomi Watts), a recovering drug addict, active swimmer and devoted mother.
Now, these characters and their stories start to intertwine when one night, Jack kills Cristina's husband and children, as the result of a hit-and-run accident, and Paul receives the heart from Cristina's husband.
If you haven't seen this movie, I highly recommend it. It is an awesome movie and the 3 main cast members do an outstanding acting job.
Critics and audiences really liked this one, giving it a high 7.7/10 on IMDB and 80% on RT.

3. Identity
Identity is a 2003 mystery, thriller movie. It centers on 10 strangers who are stranded together, at an isolated hotel, when a big rainstorm moves into the area. The strangers settle in and start to become acquainted with one another, until they realize that they're being killed, one by one, by an unidentified murderer.
The 10 strangers include, Ed Dakota (John Cusack), a former cop, currently a limo driver; Caroline Suzanne (Rebecca De Mornay), a former popular 80's television actress; Samuel Rhodes (Ray Liotta), a correctional officer who is transporting Robert Maine (Jake Busey), a convicted killer; Paris Nevada (Amanda Peet), a prostitute; newlyweds Lou (William Lee Scott) and Ginny (Clea Duvall) Isiana and the York family- George (John C. McGinley), Alice (Leila Kenzle) and 9-year-old Timmy (Bret Loehr).
So, this is another great movie that will leave you guessing until the very end. Oh, and if you think you know who the killer is…think again!
Reviewers gave it a 7.3/10 on IMDB and 62% on Rotten Tomatoes, but I'd actually give it something more like an 8.1. It was THAT good!

4. Crash
Crash is a 2004 crime, drama, thriller movie that was inspired by the real-life event, in 1991, in which Paul Haggis' (director) Porsche was carjacked outside a video store in Los Angeles. The movie features characters whose stories intertwine over the course of 2 days in Los Angeles. The stories focus on loss, race and redemption.
The characters include, Graham Waters (Don Cheadle), a police detective; Graham's younger brother Peter Waters (Larenz Tate), a gang associate; Rick Cabot (Brendan Fraser), a district attorney; Rick's wife Jean Cabot (Sandra Bullock); John Ryan (Matt Dillon), a racist police officer; John's partner, Tom Hansen (Ryan Phillippe); Cameron Thayer (Terrence Howard), a Hollywood movie director; Farhad (Shaun Toub), a Persian immigrant/shop owner and Daniel Ruiz (Michael Pena), a hard-working locksmith.
Did I confuse you? I hope not, but once you watch the movie, it will all become clear.
IMDB users scored it 7.8/10 while Rotten Tomato critics gave it a 74%. The Academy Awards committee thought it was even better than that. It was named Best Picture and Best Original Screenplay.

5. Across the Hall
Across the Hall is a 2009 horror, neo-noir, thriller movie. It features the story of Terry (Danny Pino), the unbalanced and unstable finance of June (Brittany Murphy).
When Terry discovers that June has checked into a rundown hotel with another man, he calls his best friend Julian (Mike Vogel), telling him that he's checked into the room across from June, with the intention of killing her lover.
So, I am sure you can guess how this movie ends, but if not that's okay…you'll be shocked and surprised. Oh, and this is one of Brittany Murphy's last movies she starred in before she died, at the age of 32, on December 20, 2009, from pneumonia. Her very last movie, Something Wicked, wasn't released until years after her death.
Scores a 6.1/10 on IMDB. No rating is available for RT.

6. Coherence
Coherence is a 2013 mystery, sci-fi, thriller movie that combines an apocalyptic vibe with a mystery.
It centers on a group of 8 friends at a dinner party, including Emily (Emily Baldoni), Kevin (Maury Sterling), Mike (Nicholas Brendon), Lee (Lorene Scafaria), Hugh (Hugo Armstrong), Beth (Elizabeth Gracen), Amir (Alex Manugian) and Laurie (Lauren Maher).
When a comet passes over the dinner party, strange occurrences start happening.
This movie did really well with critics, scoring a 7.2/10 and an 88% respectively on IMDB and RT.

7. Now You See Me
Now You See Me is a 2013 crime, mystery, thriller movie.
It follows Dylan Rhodes (Mark Ruffalo), an FBI Agent, Alma Dray (Melanie Laurent), an Interpol Agent and Thaddeus Bradley (Morgan Freeman), an ex-magician, who are trying to bring down a team of magicians who are using their performances to pull off bank heists, giving their stolen loot to their audience members.
The team of 4 magicians include, Danny Atlas/The Lover (Jesse Eisenberg), Merritt McKinney/The Hermit (Woody Harrelson), Henley Reeves/The High Priestess (Isla Fisher) and Jack Wilder/Death (Dave Franco).
Let me just say this…Mark Ruffalo, Morgan Freeman and Woody Harrelson…need I say more?
This is one of those movies that did better with average, every day reviewers versus movie critics. IMDB users gave it a high 7.3/10 while RT critics only scored it a 50%.

8. Circle
Circle is a 2015 drama, horror, mystery, thriller movie that was inspired by the 1957 movie- 12 Angry Men. In the movie, a group of 50 strangers wake up in a dark room, being held captive.
One person is killed every 2 minutes or when they try to escape.
Eventually, the group discovers that they can vote on which person dies next. Circle stars Michael Nardelli, Carter Jenkins, Lawrence Kao, Allegra Masters and Julie Benz.
While this movie doesn't have any A-list actors or actresses, it is a really good movie with lots of intrigue and suspense.
It scored a 6/10 on IMDB.
DO NOT confuse it with The Circle, starring Tom Hanks and Emma Watson. Trust me, you'll be disappointed!

9. The Invitation
The Invitation is a 2015 drama, mystery, thriller movie. It focuses on Will (Logan Marshall-Green) and his girlfriend Kira (Emayatzy Corinealdi), who are attending a dinner party at the home of Eden (Tammy Blanchard), Will's ex-wife and David (Michiel Huisman), Eden's new husband.
It doesn't take long for Will to suspect that Eden and David may have sinister intentions for their dinner guests.
Again, this movie doesn't have any popular actors and actresses, but still a great movie with lots of mystery and suspense. Just goes to show that you really don't need an A-list cast in order for a movie to be good!
Don't believe me? Critics gave it a 6.7/10 on IMDB and  88% on Rotten Tomatoes, so that should be proof!

10. Hotel Artemis
https://www.youtube.com/watch?v=S4ExcW_ia0Q
Hotel Artemis is a 2018 action, crime, thriller movie with an amazing cast!
It follows Jean Thomas (Jodie Foster), a nurse who runs a secret hospital for criminals only.
The movie also stars Sterling K. Brown (Waikiki/Sherman), Jeff Goldblum (Niagara/The Wolf King), Zachary Quinto (Crosby Franklin) and Jenny Slate (Morgan).
Critics gave it a 6.3/10 on IMDB and  59% on Rotten Tomatoes, so it's about average. I really enjoyed it, though!

As you can see, there are some really outstanding movies like Bad Times at El Royale to keep you busy until the movie comes out! The hardest part is deciding which one to watch first!
Tell us: which of these films would you watch first? What are some of your other favorite movies like Bad Times at the El Royal? Tell us below!