I've been on the search for more great TV shows like Grimm since the series ended.
It was one of my all-time favorites and it's definitely hard to replace!
If you miss Nick Burkhardt and the crew as much as I do, these great 12 shows will help fill the hole.
Plus, learn about the cast of Grimm and check out a season 6 episode guide!
Let's get started!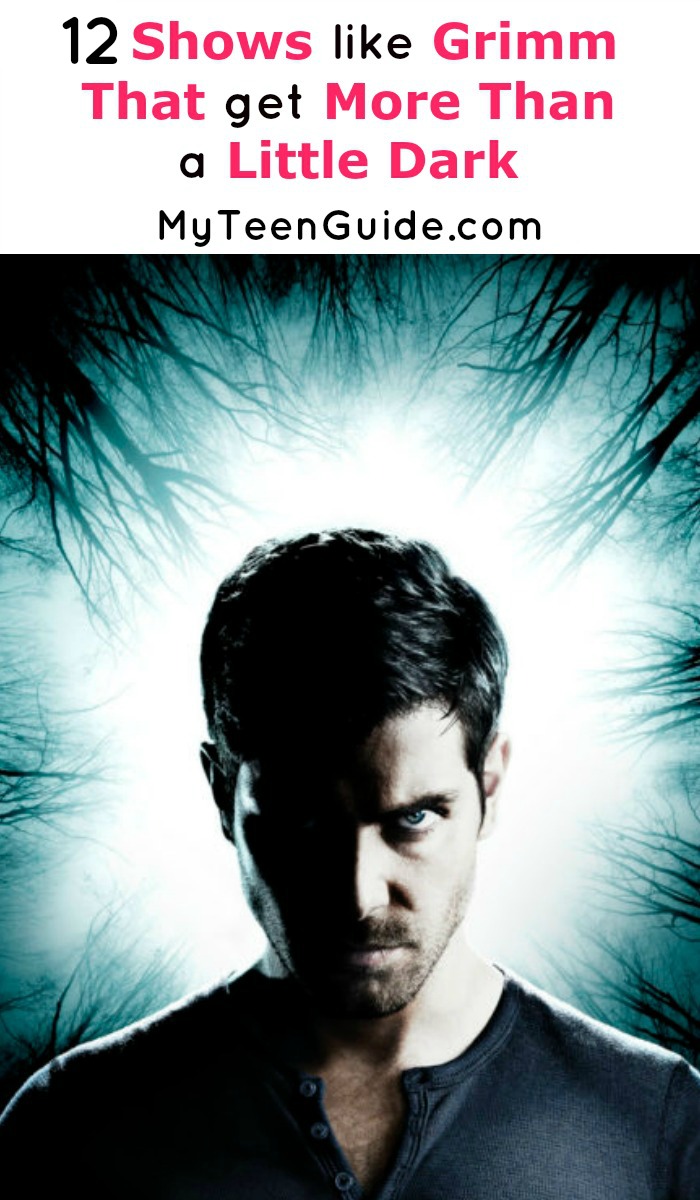 Related –>5 TV Shows Like Orange is the New Black That Live Up To The Hype
GRIMM- OVERVIEW
First, let me start with the opening of the Grimm episodes-
"There once was a man who lived a life so strange, it had to be true. Only he could see what no one else can—the darkness inside, the real monster within, and he's the one who must stop them. This is his calling. This is his duty. This is the life of a Grimm."
Does the opening tell you anything about the show?
Well, it does tell you a little about the character of Grimm, AKA Nick Burkhardt.
Luckily, I am here to fill in the blanks for you.
Okay, so Grimm focuses on Nick Burkhardt- who works as a Homicide Detective with the Portland Oregon Police Department. But, this is not your ordinary detective.
This guy discovers that he's a descendant of Grimms- a line of guardians who are tasked with protecting humanity from mythological creatures known as Wesen.
How cool is that?
I don't know about you, but I think every police department should have one of these guys!
What do you think?
The Cast of Grimm
SPOILER ALERT: If you haven't watched through to the end, some of these cast descriptions could spoil things for you. 😀
David Giuntoli as Nick Burkhardt
https://www.facebook.com/NBCGrimm/photos/a.256564687687183.76307.220419784635007/1433856613291312/?type=3
Nick is a Homicide with the Portland Oregon Police Department.
He is a descendant of Grimms- a line of guardians who protect humans from Wesen- mythological creatures.
He is married to Adalind Schade, father to Kelly Schade-Burkhardt and step-father to Diana Schade-Renard.
Wanna hear something cool about Nick?
He has an array of powers, including superhuman endurance, hearing, perception, reflexes, speed and strength, as well as combat skills and an eidetic memory.
Can you believe one guy can possess all the skills?
Who wouldn't love to have him around all the time? I know I would!
Russell Hornsby as Hank Griffin
https://www.facebook.com/NBCGrimm/photos/a.256564687687183.76307.220419784635007/1177020868974889/?type=3
Hank is a Homicide Detective with the Portland Oregon Police Department and Nick's partner and best friend.
At first, he didn't know about Nick's secret of being a Grimm, but discovers his secret in season 2, episode 3.
Hank has a fear of mice and rats. Ummm…doesn't everyone? Mice and rats make my skin crawl! Hank is known to be gentle and soft spoken.
Bitsie Tulloch as Juliette Silverton/Eve
https://www.facebook.com/NBCGrimm/photos/a.256564687687183.76307.220419784635007/1393301680680139/?type=3
Okay, this character may be a bit confusing, so stay with me here! Juliette (seasons 1-4) is now known as Eve (seasons 5 & 6).
At the end of season 4, Juliette is shot by Theresa Rubel, with a crossbow.
Then, in season 5, a mysterious woman named Eve appears. Eve doesn't seem to have any of Juliette's emotional attachments, but she does have her memories and powers.
Does that make sense?
She is a former Veterinarian and a current Hexenbiest- a witch-like Wesen that looks like a corpse. Sounds attractive, huh?
She is also Nick's ex-girlfriend.
Silas Weir Mitchell as Monroe
https://www.facebook.com/NBCGrimm/photos/a.256564687687183.76307.220419784635007/1068843579792619/?type=3
Monroe is one of Nick's close friends and is a Blutbad- a wolf-like Wesen.
Boy, this show has some attractive creatures, doesn't it?
Monroe is married to Rosalee Calvert and together they have triplets.
He is known to be calm, laid-back and level-headed…usually!
Sasha Roiz as Sean Renard
https://www.facebook.com/NBCGrimm/photos/a.256564687687183.76307.220419784635007/1155465237797119/?type=3
Sean is the current Captain of the Portland Oregon Police Department and is also a Zauberbiest- a warlock-like Wesen.
He is fluent in both French and Russian.
He is the ex-boyfriend of Adalind Schade and the father of Diana Schade-Renard.
Sean is known to be dignified, regal and ruthless.
Sounds like a charming guy, doesn't he?
Reggie Lee as Drew Wu
https://www.facebook.com/NBCGrimm/photos/a.256564687687183.76307.220419784635007/1260102120666763/?type=3
Drew is a Police Sergeant with the Portland Oregon Police Department and the Assistant to Sean Renard.
In season 5, he was scratched by Eliza Baske- a Blutbad who had Lycanthropia, a rare genetic mutation- causing him to have primal emotions.
Bree Turner as Rosalee Calvert
https://www.facebook.com/NBCGrimm/photos/a.256564687687183.76307.220419784635007/1235888459754796/?type=3
Rosalee is a Fuchsbau- a fox-like Wesen.
She is married to Monroe and the mother of their triplets.
Currently, she works as an Apothecary.
Rosalee is known to be aggressive, assertive and supportive.
Claire Coffee as Adalind Schade
https://www.facebook.com/NBCGrimm/photos/a.256564687687183.76307.220419784635007/1432091530134487/?type=3
Adalind is a Hexenbiest, who works as an attorney with the law firm- Berman & Rautbort Law.
She is married to Nick, with whom she has a son- Kelly Schade-Burkhardt.
She is also the ex-girlfriend of Sean Renard, with who she has a daughter- Diana Schade-Renard.
Adalind is known to be caring, graceful and poised now…but she wasn't always that way!
GRIMM- SEASON 6 EPISODES
This post contains affiliate links. We earn a commission if you make a purchase.
Episode 1- Fugitive
Captain Sean Renard orders a shoot-to-kill manhunt against Nick. Eve feels the complications of being healed by The Stick.
WATCH NOW
Episode 2- Trust Me Knot
Hank and Drew think they have found a way to stop Sean. Adalind receive a strange phone call from Sean.
Episode 3- Oh Captain, My Captain
Nick devises a plan to stop Sean once and for all, with the help of Adalind and Monroe.
Episode 4- El Cuegle
Nick, Hank and Drew investigate a young boy's kidnapping, leading them to a tarrying new Wesen. Warning- let me tell you that this Wesen creature is what nightmares are made of.
Episode 5- The Seven Year Itch
After lying dormant for 7 years, a resurrected Insect Wesen leads Nick, Hank and Drew to a bizarre murder. The ghost of Martin Meisner haunts Sean.
Episode 6- Breakfast in Bed
A mysterious Wesen- who eats dreams- leads Nick, Hank and Drew to a grisly murder at a local hotel.
Episode 7- Blind Love
Rosalee plans a getaway at the Columbia Gorge Hotel for Monroe's birthday and invites Nick, Adalind and Eve to join along. However, things take an unexpected turn when Randy Goode- a waiter at the hotel- seeks revenge against Nick for putting his father in jail.
Episode 8- The Son Also Rises
Monroe and Rosalee find Eve unconscious, after she is attacked by a skull-like creature from a hand-held mirror. Meanwhile, Hank and Drew investigate the murder of some scientists- leading them to a discovery involving Wesen body parts. Well, that sounds just lovely now, doesn't it?
Episode 9- Tree People
Nick, Hank and Drew investigate a case where a man says his friend was murdered by a tree-like creature.
WATCH NOW
Episode 10- Blood Magic
Nick and Hank investigate a series of brutal deaths- leading them to an unlikely perpetrator in a local nursing home.
Episode 11- Where the Wild Things Were
Nick and Eve embark on a surprising journey through the mysterious hand-held mirror. When Sean is asked for his help, he discovers everything may be tied to his daughter- Diana.
WATCH NOW
Episode 12- Zerstorer Shrugged 
Nick and Eve confront their enemy- Zerstorer- who needs a Grimm in order to cross the portal and surprisingly, Diana is the one who opens the portal. Hank and Drew are killed when Zerstorer attacks the police station.
WATCH NOW
Episode 13- The End
After Zerstorer kills Eve, Nick, Kelly Kessler Burkhardt- Nick's mom, Marie Kessler- Nick's aunt and Theresa Rubel kill Zerstorer. Fast forward 20 years later, we see Nick, Adalind, Diana, Kelly and Monroe & Rosalee's triplets, continuing the Grimm legacy.
WATCH NOW
All 6 seasons of Grimm are available as part of your Amazon Prime membership
!
12 TV SHOWS LIKE GRIMM
  Okay, so you're looking for TV shows like Grimm, that feature drama, fantasy and horror elements, right?
Well, look no further, because here are some amazing TV shows that are similar to Grimm.
1. Sleepy Hollow
https://www.youtube.com/watch?v=1hFg9qS_u3w
Sleepy Hollow, starring Tom Mison as Ichabod Crane, is a bit more on the supernatural side than Grimm. But, it's still definitely worth watching.
Based on the works of Washington Irving, Crane gets resurrected and brought back to New York's own Sleepy Hollow.
His mission is to figure out a mystery that occurred centuries ago.
Sadly, one of the main characters left at the end of season 3, and the show lost considerable steam in season 4. It didn't make it to season 5.

2. The Gates
Unfortunately, The Gates was canceled after its initial season.
Even so, the series still has a rather large following of werewolf and vampire lovers. If by chance, you happen to be more into succubus, there's one of those too!
Catch up with the life of Nick Monohan, who just moved from Chicago to be the new chief of police.
It really doesn't take him (or his family) long to figure out their neighbors aren't the friendliest… or all that human.
Chances are, you'll want to watch all 13 episodes in one sitting.

3. The Cape
The Cape is another show like Grimm.
It lasted 10 episodes, which included the two-hour pilot.
Meet Vince Faraday.
He's just an ordinary detective, living in California when he witnesses the brutal murder of the town's chief of police.
Wouldn't you know it?
Shortly, after Faraday leaves the force (because of what he's seen) HE gets framed for the murder.
In an effort to clear his name and solve the case, he goes off the grid and secretly transforms himself into a superhero known as "The Cape."

4. The Listener
Toby Logan is gifted with telepathic powers.
He also happens to be a paramedic. Go along with Logan as he tries to help the police solve cases and make the world a better place.
How does he do it? It's simple, really.
He just listens to the thought of the criminals and the victims.
And, did I mention he can also see what each of them saw at the time of the crime? Spooky!

5. The Finder
The Finder, another show like Grimm, is a spin-off of Bones.
After suffering brain damage, due to a war injury, Walter Sherman can find almost anything.
The bad news is this. He's leery of everything, not to mention a hardcore recluse.
At the same time, he refuses mental-health treatment, because he doesn't want to lose his "gift."
If you're a fan of Bones, this is a must see.
The Finder aired for 13 episodes.

6. Being Human
Being Human has the same drama, fantasy and horror elements as Grimm, with a bit of comedy thrown in as well.
It focuses on 3 roommates- Sally Malik, a ghost, Aidan Waite- a vampire and Josh Levison- a werewolf- as they try living a normal life in Boston, Massachusetts.
Being Human aired for 4 seasons- from 2011 to 2014.

7. Bitten
Bitten has the same drama, fantasy and horror elements of Grimm.
The series is based on the 13-book series– Women of the Otherworld- by Kelley Armstrong.
It centers on Elena Michaels- a female werewolf- who tries to decide between the world of werewolves and her life as a photographer, along with her human boyfriend- Philip McAdams.
Bitten aired for 3 seasons- from 2014 to 2016.

8. Lucifer
Lucifer has the same police and supernatural elements as Grimm.
Lucifer was one of my favorite shows and I was heartbroken when it was cancelled last month.
Thankfully, Netflix picked it up for season 4!
The series showcases Lucifer Morningstar- who heads to Earth and opens a nightclub in Los Angeles, after he becomes bored with his life as The Devil.

9. Once Upon a Time
Once Upon a Time is a bit more light-hearted than Grimm but does include the same drama element.
Here is another great TV show that sadly ended recently, but it did have a great run of 7 seasons.
If you love fairy tales like Cinderella, Little Red Riding Hood, Peter Pan, Pinocchio and Snow White, you'll definitely love Once Upon a Time, as the series incorporates characters and elements from various fairy tales and folklore.
The show aired for 7 seasons before being canceled in 2018.
I suggest just watching the first 6 seasons, as it's a complete story with closure.
For the 7th season, they basically, "rebooted" the show, and it just didn't have the same charm.

10. Penny Dreadful
Penny Dreadful has the same dark fantasy, drama and horror of Grimm.
It showcases various characters from 19th century British and Irish Gothic literature, including Count Dracula, Victor Frankenstein and Dr. Henry Jekyll.
The series takes place in 19th century London, England- where an array of characters fight off supernatural threats.
Penny Dreadful aired for 3 seasons- from 2014 to 2016.

11. Supernatural
Supernatural features the same fantasy and supernatural elements as Grimm, as well as the same dark twists.
It is currently the longest-running live-action fantasy TV series in the United States.
Supernatural follows brothers- Dean and Sam Winchester- who hunt an array of supernatural beings, like demons, ghosts, gods and monsters.
In April of 2018, the series was renewed for season 14. That's incredible!

12. The Originals
The Originals features the same dark fantasy elements as Grimm.
It is a spin-off from the supernatural drama- The Vampire Diaries.
The series focuses on the Mikaelson siblings- Elijah, Klaus and Rebekah- who want to claim back the city they founded- New Orleans.
The Originals aired for 5 seasons- from 2013 to 2018.

These are TV shows that you really should check out if you like Grimm. Cops who deal with the supernatural. What a great combination.
You never know what'll happen next!
Which of these 5 Shows like GRIMM you like the most? Tell me!