These ten movies like Logan Lucky are criminally hilarious! Check them out and add them to your must-watch list now!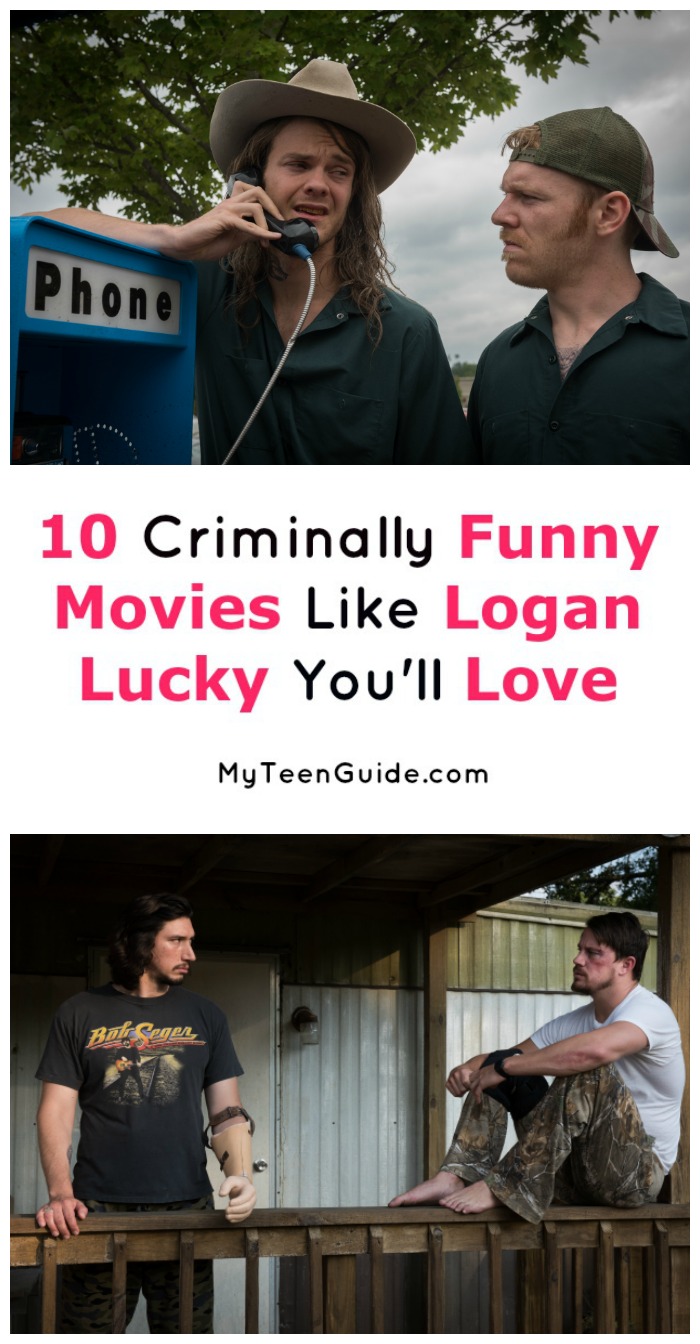 Logan Lucky is a 2017 crime comedy movie that will be released in movie theaters on August 18, 2017. The movie stars Channing Tatum, Adam Driver and Riley Keough, and it looks like it's going to be a real blast! Watch the trailer, then read on to find other hilarious awesome heist movies like Logan Lucky!
Movies Like Logan Lucky
Affiliate links included below.
1- Small Time Crooks
Small Time Crooks is a 2000 crime comedy movie that showcases Ray Winkler, a career criminal and his wife, Frenchy Fox-Winkler, hope to strike it rich by planning a bank robbery. Small Time Crooks stars Woody Allen and Tracey Ullman.
2- Snatch
Snatch is a 2000 crime comedy movie that showcases Turkish, Tommy and Gorgeous George, boxing promoters; Mickey O'Neil, an Irish boxing champion; Vinny and Sol, amateur thieves; Brick Top, a ruthless gangster; Cousin Avi, a gangster/jeweler and Franky "Four" Fingers, a career thief, are all in search of a stolen 86-carat diamond. Snatch features an all-star cast including Jason Statham, Stephen Graham, Adam Fogerty, Brad Pitt, Robbie Gee, Lennie James, Alan Ford, Dennis Farina and Benicio del Toro.
3- Bandits
Bandits is a 2001 criminal comedy movie. It features Joe Blake and Terry Collins, escaped convicts on a bank robbery spree, kidnap Kate Wheeler and both men end up falling in love with her. Bandits stars Bruce Willis, Billy Bob Thornton and Cate Blanchett.
4- Ocean's Eleven
Ocean's Eleven is a 2001 heist comedy movie that is a remake of the 1960 movie of the same name. It focuses on Danny Ocean, who is newly-released from prison and his team Rusty Ryan, his longtime friend; Basher Tarr, an explosives expert, Frank Catton, expert card dealer; Linus Caldwell, a pickpocket expert; Livingston Dell, a technology expert; Saul Bloom, an elder con artist; The Amazing Yen, a professional acrobat and Turk and Virgil Malloy, expert mechanics, plan to rob a trio of casinos in Las Vegas, simultaneously. Ocean's Eleven features an ensemble cast including George Clooney, Brad Pitt, Don Cheadle, Bernie Mac, Matt Damon, Eddie Jemison, Carl Reiner, Shaobo Qin, Scott Caan and Casey Affleck.
5- Stealing Harvard
Stealing Harvard is a 2002 criminal comedy movie about John Plummer and his buddy, Walter Duffy, who plan an array of capers, so Plummer can fulfill a promise he made to his niece, to pay for her college education, after she is accepted to Harvard University. Stealing Harvard stars Jason Lee and Tom Green.
6- Tower Heist
Tower Heist is a 2011 heist comedy movie about Charlie Gibbs, Enrique Devereaux, Josh Kovaks and Odessa Montero, who are employed at an upscale NYC apartment building, lose their pensions at the hands of businessman, Arthur Shaw, plan to break into Shaw's apartment to steal their money back. Tower Heist stars Casey Affleck, Michael Pena, Ben Stiller, Gabourey Sidibe and Alan Alda.
7- American Hustle
American Hustle is a 2013 comedy crime movie that was inspired by ABSCAM, an FBI sting operation during the latter part of the 1970's and the early years of the 1980's. Irving Rosenfeld and Sydney Prosser, a pair of con artists, must set up a sting operation involving corrupt politicians, as part of a deal with Richard DiMaso, an FBI agent. American Hustle stars Christian Bale, Amy Adams and Bradley Cooper.
8- The Family
The Family is a 2013 crime comedy movie that is based on the 2010 French novel- Badfellas- by Tonino Benacquista. The movie focuses on the Manzoni's, a mafia family, who is part of the witness protection program in France, make the decision to change their lives for the better, which is not as easy as they thought. The Family stars Robert DeNiro, Michelle Pfeiffer and Diana Agron.
9- Masterminds
Masterminds is a 2016 comedy heist movie that is based on the October 4, 1997 robbery of the Loomis, Fargo and Co. vault in Charlotte, North Carolina. The robbery was orchestrated by David Scott Ghantt, the vault supervisor; Kelly Campbell, David's girlfriend; Steve Chambers and Michelle Chambers, Steve's wife. Masterminds stars Zach Galifianakis, Kristen Wiig, Owen Wilson and Mary Elizabeth Ellis.
10-Going in Style
Going in Style is a 2017 heist comedy movie that is a remake of the 1979 movie, of the same name. It centers on Willie Davis, Joe Harding and Albert Garner, three retirees who plan to rob a bank, after they discover their pensions were cancelled. Going in Style stars Morgan Freeman, Michael Caine and Alan Arkin.
Of these heist movies like Logan Lucky, I have to say that Ocean's 11 is probably my favorite. It kind of makes me want to be a criminal mastermind! Well, in my imagination, anyway. I don't look good in prison suit orange, so I'll just stick to watching high crimes in movies instead of committing them!
Do you have any favorite heist movies like Logan Lucky? Share below!