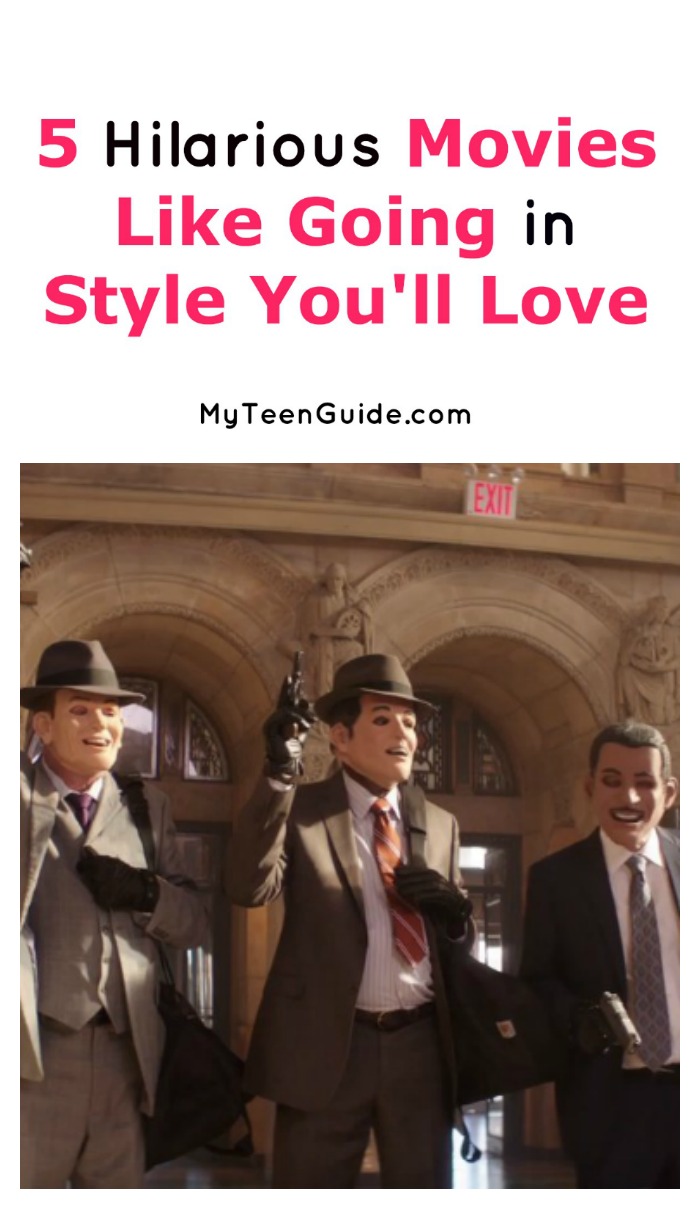 When I'm feeling down in the dumps, I love watching funny heist movies like Going in Style. Even though I'd never actually commit a crime myself, there's something satisfying about watching good guys do bad things…and get away with it! I always thought it would be fun to be an international jewel thief or something crazy like that. Of course, I get nervous when I think someone might even THINK I'm doing something wrong. Seriously, did you ever see that funny meme where it says "Leave the store after buying nothing. Act natural so they don't think you shoplifted!"? That's totally me! Still, I do love a good heist movie! If you're in the mood for one, check out these five that are along the lines of Going in Style!
Movies Like Going in Style
Affiliate links included below.
Going in Style is an upcoming heist comedy movie that will hit theaters on April 7, 2017. It is a remake of the 1979 movie of the same name, which starred George Burns, Art Carney and Lee Strasberg. This time around, the movie stars Morgan Freeman, Michael Caine and Alan Arkin. Here are some cool movies like Going in Style.
Bandits
Bandits
is a 2001 criminal comedy movie. Two bank robbers, Joe Blake and Terry Collins, both fall in love with a woman they kidnapped, Kate Wheeler, after they broke out of the state prison in Oregon. Bandits stars Bruce Willis as Joe, Billy Bob Thornton as Terry and Cate Blanchett as Kate.
Scorched
Scorched
is a 2003 criminal comedy movie. Three bank employees decide to rob the bank they work for, Desert Savings Bank, at the same time. However, they have no clue about each other's plans. Shelia Rio and Stuart Stein are bank tellers and Jason Valley is the bank's assistant manager. Scorched stars Alicia Silverstone as Shelia, Paulo Costanzo as Stuart and Woody Harrelson as Jason.
Flypaper
Flypaper
is a 2011 crime comedy movie. Tripp, a man who is obsessive-compulsive, is a hostage in a bank robbery. His only goals are to ensure his secret crush, Kaitlin, a teller at the bank, is unharmed, while he tries to uncover the mystery of simultaneous bank robberies. Flypaper stars Patrick Dempsey as Tripp and Ashley Judd as Kaitlin.
Life of Crime
Life of Crime
is a 2013 crime comedy movie that is based on the 1978 book, The Switch, by Elmore Leonard. A pair of ex-cons, Ordell Robbie and Louis Gara, kidnap the wife, Mickey Dawson, of a corrupt real estate developer, Frank Dawson. Their plans quickly unravel when Frank won't pay their ransom demands. Life of Crime stars Mos Def as Ordell, John Hawkes as Louis, Jennifer Aniston as Mickey and Tim Robbins as Frank.
American Hustle
American Hustle
is a 2013 crime comedy movie that was inspired by ABSCAM, an FBI sting operation that occurred from 1978 to 1980. Irving Rosenfeld, a con man, who is married to Rosalyn Rosenfeld and Sydney Prosser, his partner-in-crime, are forced into working with FBI Agent, Richard DiMaso, in a sting operation to bring down corrupt politicians. American Hustle stars Christian Bale as Irving, Jennifer Lawrence as Rosalyn, Amy Adams as Sydney and Bradley Cooper as Richard.
Do you have any other favorite heist movies like Going in Style? Share below!