Whether it is a comedy, a drama or a romance, there are just some movies everyone needs to watch before they turn 20. Some will make you laugh, some will make you cry, but most of all, these movies will make you think.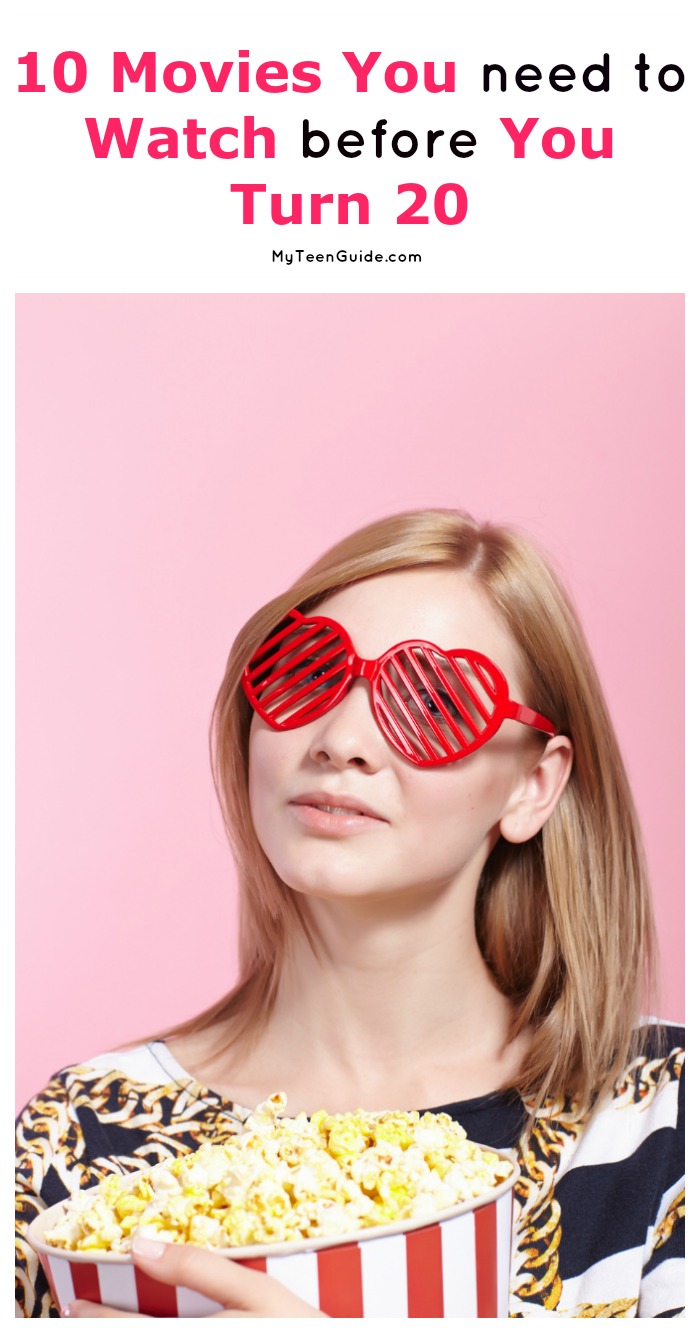 Movies You Need to Watch Before You Turn 20
Affiliate links included below. Thanks for your support!
1- Almost Famous
Almost Famous
is a 2000 comedy drama movie that is loosely based on the teenage years of Cameron Crowe, who is an actor, author, director, journalist, producer and screenwriter. William Miller, an aspiring journalist with Rolling Stone Magazine, is eager to publish his first cover story. The movie stars Patrick Fugit.
2- Mean Girls
Mean Girls
is a 2004 comedy movie that is partially based on the 2002 book- Queen Bees and Wannabes- by Rosalind Wiseman. Cady Heron attends a new high school and becomes part of a popular clique that includes Gretchen Weiners, Karen Smith and Regina George. Mean Girls stars Lindsay Lohan, Lacey Chabert, Amanda Seyfried and Rachel McAdams.
3- Raise Your Voice
Raise Your Voice
is a 2004 musical drama movie about Terri Fletcher, a young woman from a small town, who spends the summer in Los Angeles, while attending a performing arts school. The movie stars Hilary Duff.
4- John Tucker Must Die
John Tucker Must Die
is a 2006 romantic comedy movie about three teenage girls, Heather Straham, Beth McIntyre and Carrie Schaeffer, discover they are dating the same guy, John Tucker and the trio hatch a plan to break his heart. The movie stars Ashanti, Sophia Bush, Arielle Kebbel and Jesse Metcalfe.
5- Sydney White
Sydney White
is a 2007 romantic comedy movie that is a modern Snow White story. College freshman, Sydney White, discovers that being part of a sorority isn't what she imagined. Sydney White stars Amanda Bynes.
6- 500 Days of Summer
500 Days of Summer
is a 2009 romantic, comedy, drama movie about Tom Hansen, a young architect, who falls in love with Summer Finn, a young woman who doesn't believe that true love exists. 500 Days of Summer stars Joseph Gordon-Levitt and Zooey Deschanel.
7- Letters to Juliet
Letters to Juliet is a 2010 romantic drama movie that is inspired by the 2006 book, of the same name, by Lise and Ceil Friedman. Sophie Hall travels to Italy where she happens upon the Secretaries of Juliet. Letters to Juliet stars Amanda Seyfried.
8- The Tree of Life
The Tree of Life
is a 2011 experimental, epic, drama movie that is narrated by Jack O'Brien, a middle-aged man, who reflects on his life growing up in the 1950's. The movie stars Sean Penn.
9- Moonrise Kingdom
Moonrise Kingdom
is a 2012 coming-of-age movie and tells the story of Sam and Suzy, a pre-teen couple who run away from their small town, causing a search party to look for them. Moonrise Kingdom stars Jared Gilman and Kara Hayward.
10- Warm Bodies
Warm Bodies
is a 2013 paranormal, romantic, comedy movie that is based on the 2010 book, of the same name, by Isaac Marion. It showcases the romance that develops between Julie Grigio, a human girl and R., a zombie. Warm Bodies stars Teresa Palmer and Nicholas Hoult.
Of course, there are probably a ton more movies that you should watch before you turn 20, but these are just a few of our all-time favorite picks!
What are some other movies everyone should watch before they turn 20? Share below!