When it comes to movie cliches, it seems like some screenwriters forgot all the lessons they learned in high school English class. You know what I'm talking about, right? Don't use no double negatives, always avoid alliteration, and avoid cliches like the plague. See what I did there? Ha! Anyway, it seems like just about every movie has at least one cliche that makes us want to roll our eyes. Let's check out some of the more annoying ones!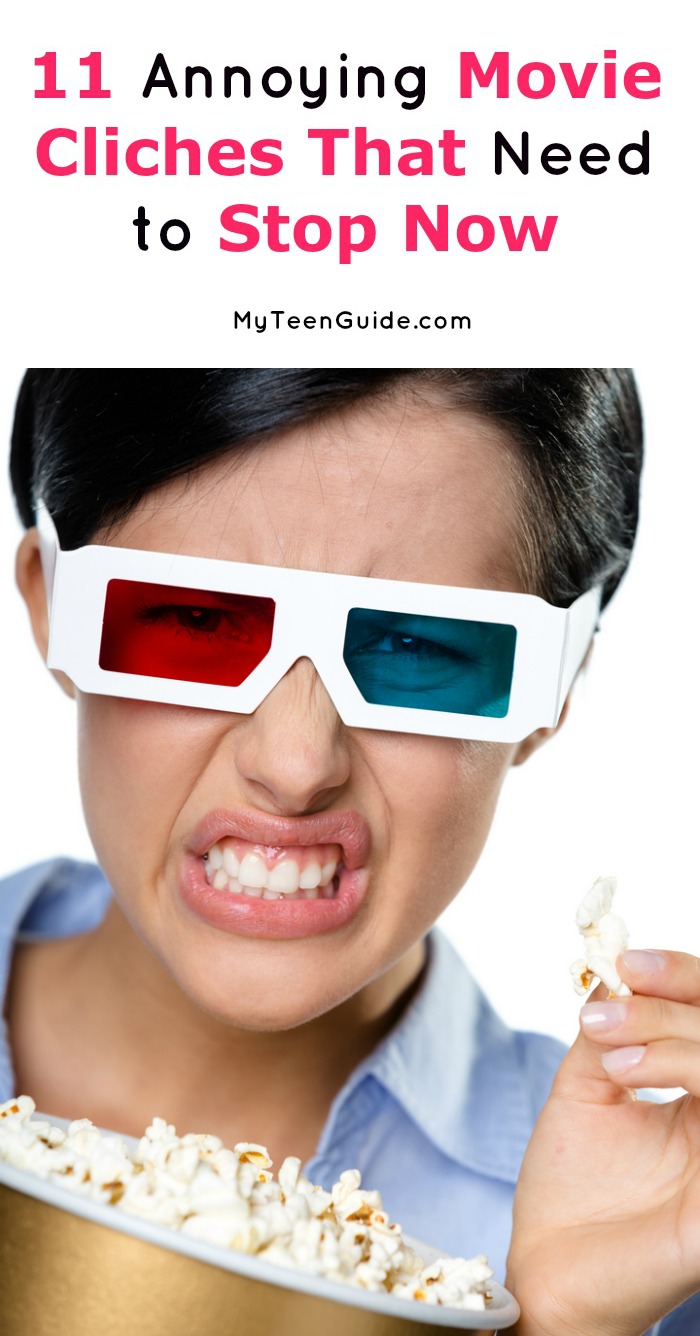 A cliché is an expression, idea, phrase or thought that has been overused to the point it has become boring and unoriginal. With so many movies released throughout the years, it is no wonder that clichés exist in movie plots and scenes. Unfortunately, some of them are so predictable that they have become annoying. Here are some of the 11 most annoying movie clichés, with an example of each.
Most Annoying Movie Cliches Ever
1- Cigarettes flicked into gasoline that causes a huge explosion
This scene has been played out in action movies numerous times. The problem is that it is unrealistic, unlikely to happen in real life.
1997- Con Air- Cyrus Grissom (John Malkovich) burns Francisco Cindino (Jesse Borrego), by flicking a cigarette into a puddle of jet fuel, where Francisco is standing.
2- Anyone can be a computer hacker
Movies make computer hacking look so easy. It seems all you need is an operating system, and boom you can take charge of a whole system.
1993- Jurassic Park- Teenager Alexis Murphy (Ariana Richards) accesses the security grid of the park, without knowing anything about hacking, but she does know the operating system it runs on. Since when does knowing an operating system mean you can run the park's entire software?
3- Bad guys that are presumed dead
It's the same old storyline- the good guy kills the bad guy. Or at least you thought they killed the bad guy. Think again!
1978- Halloween- Michael Myers (Nick Castle) is shot 6 times by Dr. Sam Loomis (Donald Pleasence), falls 2 stories but still manages to get up and walk away. In fact, Michael Meyers is presumed dead in 8 out of the 10 movies in the Halloween film series.
4- The not-so-attractive sidekicks
So, you have a beautiful or handsome star of a movie and then you have a not-so-attractive best friend or love interest.
2005- Hitch- Albert Brennaman (Kevin James) has a crush on the beautiful Allegra Cole (Amber Valletta).
5- The sarcastic hand clap
One of the main actors or actresses in the movie has just done something heroic or good and suddenly the villain appears, doing a sarcastic clapping of the hands.
2008- The Dark Knight- The Joker (Health Ledger) is inside his jail cell when it is announced that James Gordon (Gary Oldman) has been promoted to Police Commissioner. The Joker starts clapping his hands in a sarcastic, mocking manner.
6- Not saying goodbye when you hang up the phone
Does anyone in movies say goodbye when ending a telephone conversation? Apparently not! Just hanging up the phone seems to be the thing to do.
1998- Armageddon- General Kimsey (Keith David) is talking to the President of the United States, says a few words and hangs up the phone. Who in the world doesn't say goodbye to the President of the United States?
7- Movies with horrible babysitters
Seriously, what is it about movies that depict horrible babysitters? What happened to the nice teenage girl who played Monopoly with the kids she was sitting? Movie cliches like this make you never want to leave your kids with anyone but grandma!
1992- The Hand That Rocks the Cradle- Mrs. Mott/Peyton Flanders (Rebecca De Mornay) is crazy and delusional, thinking the children she is babysitting are actually her own children, even breastfeeding the baby. Seriously?
8- Lines that always occur during mountain climbing movies
In almost every single mountain climbing movie, there are lines that you will likely hear in every one of them: "We have to move fast," "I know they're still alive," and "Leave me here. By yourself, you have a chance." Just check out the movies below to see what I mean.
2000- Vertical Limit
2003- Touching the Void
2015- Everest
9- Movies that change tones
If a movie is a comedy, it should remain so throughout the entire movie. If the movie is a drama, it should remain so throughout the whole movie. I hate these movies that start on one tone and end on another.
1986- Something Wild- Starts out quirky but turns very dark.
1987- Good Morning Vietnam- Begins as a comedy but turns dramatic.
1999- Audition- Starts out sweet and turns to horror.
2007- Atonement- Begins as a comedy and turns sad, melodramatic.
10- Dogs who always seem to die
Do dogs seriously have to die in almost every movie they star in? Please, stop killing off the dog! Here are a few great dog-centric movies where the dog doesn't die.
1957- Old Yeller- Old Yeller was a Mastiff/Labrador Retriever mix.
1989- Turner & Hooch- Hooch was a French Mastiff.
2007- I Am Legend- Sam was a German Shepherd.
2008- Marley & Me- Marley was a Labrador Retriever.
11- Uber-Cool Bedrooms
Ever notice how every teenager in movies has a crazy-cool, over-the-top decorated room? Every inch of space is filled with artwork, posters, road signs, etc. While that may  be realistic, movie teens often have rooms bigger than my entire house!
1986- Pretty in Pink
1995- Clueless
2010- Pretty Little Liars (not technically a movie, but every Liar has an insanely huge bedroom, and they're not all as rich as Spencer)
These are just a few of the more annoying movie cliches. Watch any flick (seriously, ANY, even your all-time favorite) and I bet you'll find a lot more! Word of warning, though: once you see them, you can't unsee them!
What movie cliches annoy you the most? Share below!