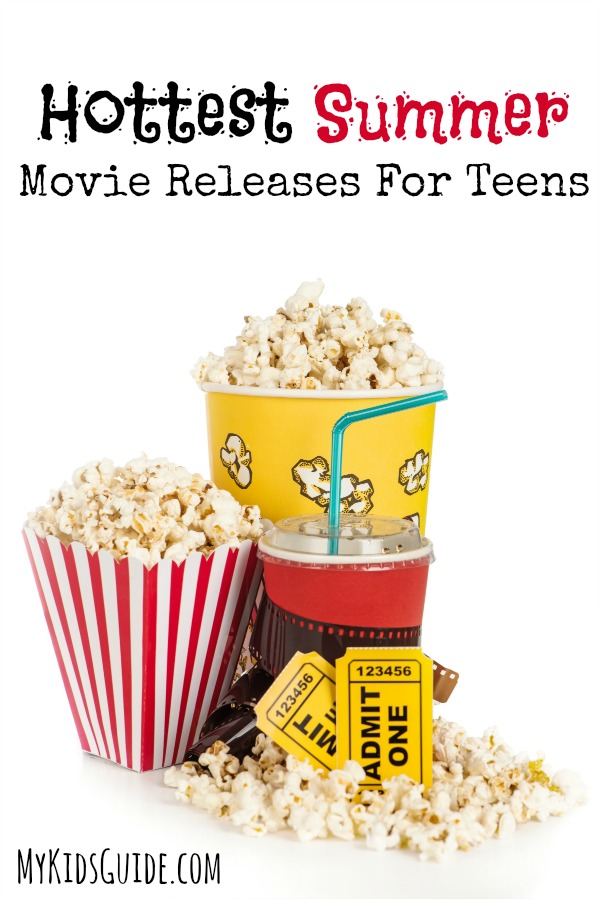 Check out the Hottest Summer Movie Releases For Teens to go see this year!  We love the new movies coming out this year.  There are some great sequels to hot movies, as well as a few awesome revamps of classic movies.  We have included all of the movies we feel are teen appropriate with ratings PG-13 and below, or stated as not yet rated at the time of this post.  There  are additional movies that may be of interest to your teen this year, but they fall in the R rating category, so proceed with caution as you feel comfortable taking your teen to see them.
Hottest Summer Movie Releases For Teens
Avengers: Age of Ultron:  This second installment in the Avenger's series brings all of your favorites back with a few new additions.  Iron Man, Thor, Captain America, Black Widow, Hawkeye and Hulk all show up for this second movie along with a few surprise new cast members.  Sure to be a hit and perfect for viewing in IMAX, this is a great choice for any teen this summer.
Tomorrowland:  George Clooney stars in this other worldly adventure about a time shift that memories are stored in.  A great all star cast with a fun message that everyone in the family will love.
Pitch Perfect 2:  This second installment follows your favorite characters the Barden Bellas into their senior year of college where they enter an international competition that no American team has ever won before.  Typical laughs, and suspense that takes you back to your college days, and has your kids excited for theirs.
Jurassic World:  Chris Pratt stars in the latest Jurassic Park themed movie where 23 years after the epic events we remember, the island now houses a fully functional theme park as originally intended.  As is customary with this series, something goes wrong and our star has to save the day.  A great way to relive the movie of your youth with your kids before going to see this one on the big screen.
Terminator: Genisys:  Anyone who remembers the famous line, "I'll Be Back" remembers that Terminator ruled the box office in the 1980's and into the 1990's.  This year a new version will be released that is a complete game changer for all those who love the Terminator of years past.  Sure to be action packed, it is a great choice of one of the hottest summer movie releases for teens.  Since it is prone to have violence, language and some nudity potential you may want to view prior to allowing your teens to make sure it is in your comfort zone.
https://www.youtube.com/watch?v=rGSxss7gWak
Minions:  Minions aren't just for the little kids.  Everyone loves these yellow critters and this prequel is sure to be a hit for all ages.  Super family friendly, funny and of course chock full of weird noises – it is a sure fire hit with the teens this summer.
Mission Impossible: Rogue Nation:  The latest instalment of Mission Impossible brings in Avenger's Jeremy Renner alongside Tom Crusie for an epic adventure.  As this had not been rated at time of this post, you may want to inquire to it's rating and any cautions that may be unsavory for your teen to view.
The Fantastic Four:  Another adaptation of this classic comic book team of heroes is sure to explode in the box office this summer.  Everyone loves these characters and the rescue missions to save Earth in this feature film are sure to please.
This is a great list to get you started having fun with your teens this summer!  Don't miss any of these hottest summer movie releases for teens!