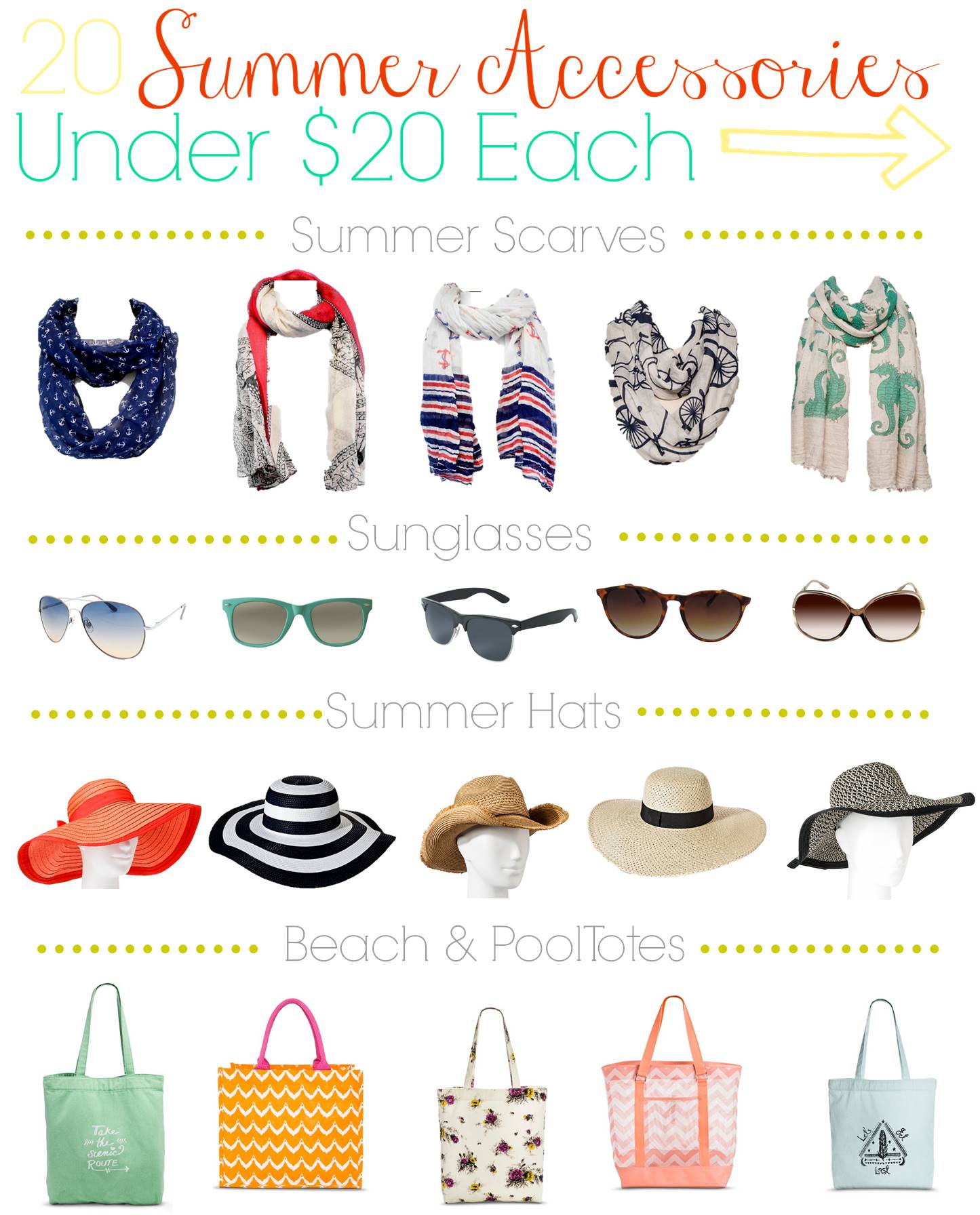 Summer teen fashion is all about the accessories. You can dress up even the simplest pair of shorts and a t-shirt with the right scarf, hat, bag or sunglasses. The best part: accessories are pretty inexpensive. In fact, if you bought every single item on this list, you wouldn't even spend $400! Of course, you don't need everything! Well, then again, maybe you do! Seriously, these are so cute, it's hard to decide which to get! Let's check out these great summer teen fashion accessories under $20.
Related: Michael Kors Teen Fashion Accessories Under $100
20 Summer Teen Fashion Accessories Under $20
This post contains affiliate links. Thanks for the support.
Scarves are one of my favorite teen fashion accessories because you can do so much with them. Wear them around your neck in the classic style, use them to hold back your wild beach hair or tie them around your waist as a belt. When you have a great scarf, you can get away with a plain solid-colored t-shirt underneath. Check out our favorites under $20.
Summer Scarves Under $20:
Anchor Print Infinity Scarf– $17.99
Deer and Forest Print Oblong Scarf– $17.99
Nautical Anchor Print Oblong Scarf– $17.99
Bicycle Print Infinity Scarf– $17.99
Seahorse Print Oblong Scarf– $17.99
Sunglasses are a must in the summer for protecting your eyes. They're also a fun teen fashion statement. I recommend trying on sunglasses in a store to see which shapes work best with your face. Once you have an idea of the styles you like, then you can shop online to get the good deals.
Related: 20 Stylish Teen Swimsuits for Under $50
Summer Sunglasses Under $20:
Aviator Sunglasses– $16.99
Surf Sunglasses, Turquoise– $12.99
Retro Frame Sunglasses, Black– $14.99
Harvard Yard Sunglasses— $16.99
Oval Sunglasses, Tan– $16.99
Like scarves, hats can take a plain outfit to whole new levels. They're also fantastic for keeping your scalp from getting burned on the beach. Again, as with sunglasses, I would try on a few at a store, just to see how they look. Not all hats work well with all head shapes.
Summer Hats Under $20:
Floppy Brim Hat with Bow– $16.99
Striped Floppy Hat– $14.99
Cowboy Hat with Knot Tie Sash– $14.99
Black Ribbon Floppy Hat– $14.99
Floppy Brim Hat with Black Trim– $14.99
I have a total addiction to totes! I'm not kidding, I must have at least 50 different tote bags in various sizes. While you don't actually WEAR totes, they are as much a fashion statement as any other accessory. This is also where you can get a little crazy! Go wild with different prints and colors, even if you'd never actually wear those prints on your body.
Summer Totes Under $20:
Take the Scenic Route Tote– $14.99
Chevron Print Tote– $19.99
Floral Print Canvas Tote– $14.99
Let's Get Lost Canvas Tote– $14.99
These summer teen fashion accessories under $20 are a great way to extend your wardrobe all season long and get more mileage out of it. Before you shop, take inventory of what you already have to work with. That will prevent you from buying a scarf that matches absolutely nothing in your closet and forcing you to spend more money on clothes to match it.
Which of these summer teen fashion accessories is your favorite? Tell us in the comments!