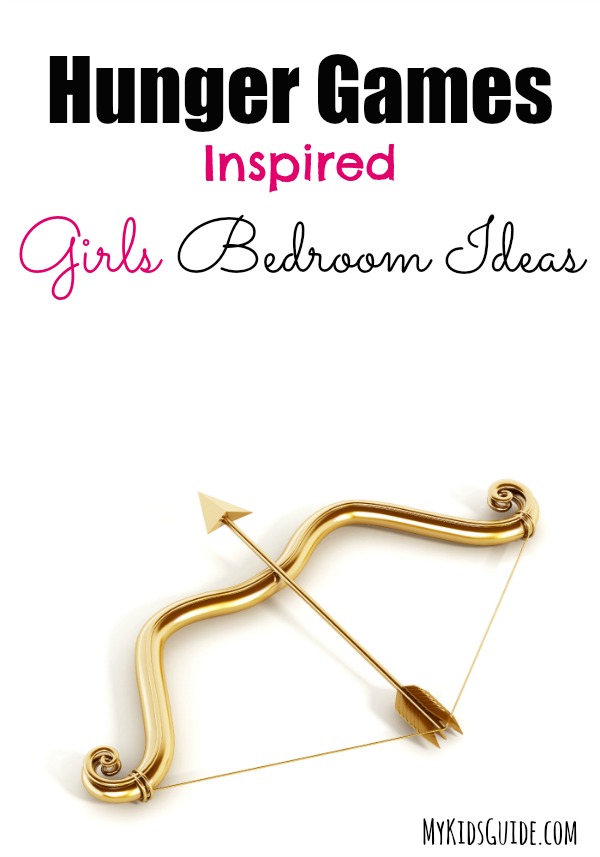 Our love of all things Katniss Everdeen have led me to come up with what I think are the best 5 Hunger Games Inspired Girls Bedroom Ideas! Of course, I think these are fantastic ideas that will make your bedroom a totally fun place to hang out.  Not only will you feel like you have been transported into the movie, but you'll also be able to get creative and use your imagination to make these ideas totally your own!
Related: 8 Things You Need To Survive The Hunger Games
3 Hunger Games Inspired Girls Bedroom Ideas
Affiliate links included below.
The Capital Bedroom:  Everyone loves the totally bright colors of the Capital!  Paint your walls a fun bright color like pink, purple, green or blue.  Add some tulle panels to the ceiling and walls around your bed to make it like a canopy bed.  Tulle is super inexpensive and a great choice for making it feel like the Capital and totally luxe.  Add some bright colored flowers, and a bit of glitter on things like your mirrors, picture frames or even a lamp.  You can go completely Capital look in no time!
The Mockingjay Bedroom:  A dark bedroom with hints of blue, black, white, gray and tons of gold or red.  Find fun Mockingjay pillows and posters to go around the room.  You might even find an old bow and paint it a solid black to hang on your wall.  Avoid the arrows, though – that can be a bit on the dangerous side.  If you don't want to buy the actual Hunger Games bedding sets, you can buy plain solid colored sets instead in the same colors as the Mockingjay stuff would be.
District 12 Bedroom:  It was a coal miner community, but it doesn't have to be all ugly and dirty.  Think about the classic dresses, fun hairstyles and basic stuff they had in their district.  A simple bed with a homemade quilt would be just what Katniss would have had in her District 12 bedroom. Maybe some antique looking mirrors, pictures and wall hangings and simple primary colors in pastels and grays.
Related: 10 Hunger Games T-Shirts For Your Summer Wardrobe
I love the idea of creating a Hunger Games inspired girls bedroom ideas that Katniss would have approved of.  I can imagine her rebelling against the luxe of the Capital, the basic look of her powerful Mockingjay persona and of course the comfort of her own district and familiar sites.  Not only are these all super fun and cool bedroom ideas, but they can also be created pretty easily and on a budget.  Just what parents like to hear when you want to redecorate!
Which of these Hunger Games-inspired girls bedrooms would you recreate? Tell us in the comments!