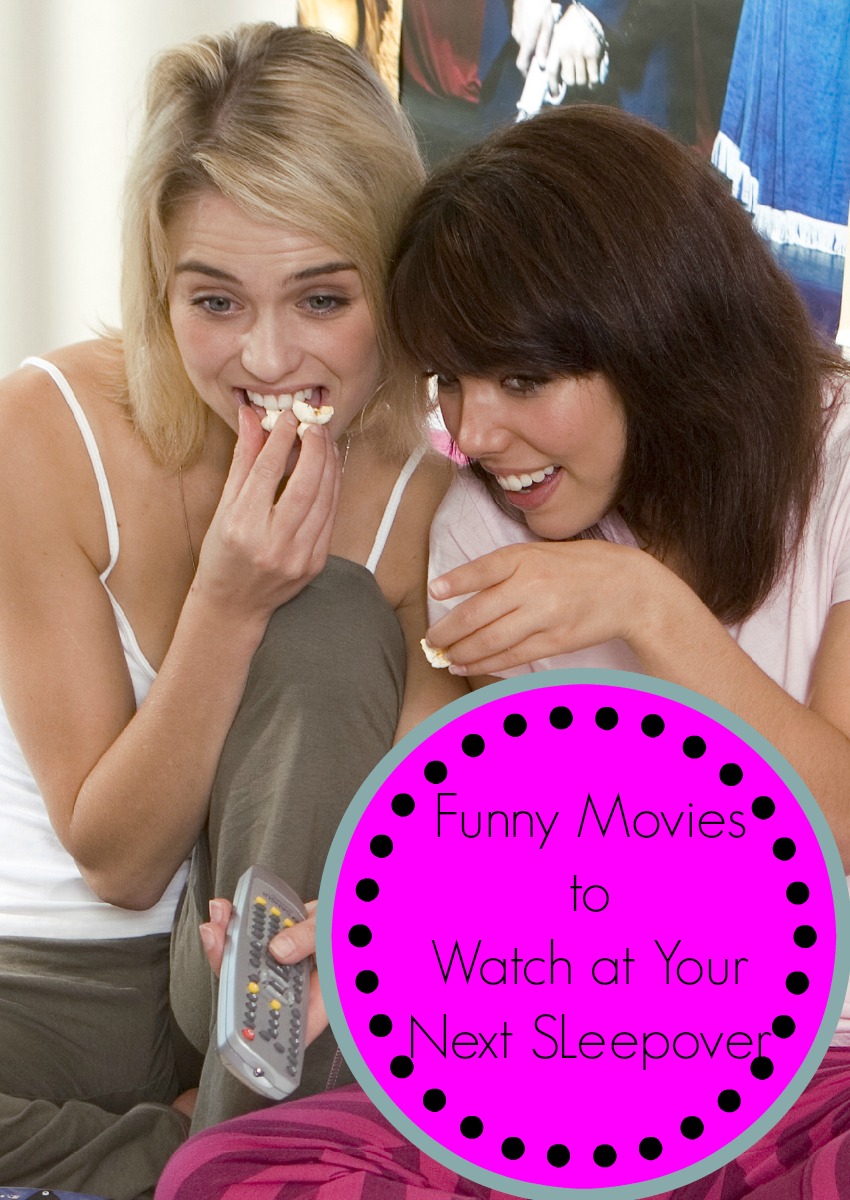 After the make-overs and selfies, what else do you do at your sleepovers but watch funny movies!  I love to laugh, I have been told I laugh at everything (it's true I do, I am one of those people who laughs at the most inappropriate timestoo).  Nothing is better than a night spent with your besties and some great funny movies to watch.  Here are some of my faves.
Funny Movies to Watch at Your Next Sleepover
17 Again: Zac Efron.  Oh you want to know more about the movie?  Before you get to see Efron on screen, you meet Mike, played by Matthew Perry.  In high school, Mike was a star basketball player, but his future was changed when his girlfriend told him she was pregnant.  Fast forward, they are married and have 2 kids, but Mike blames his wife for his life today, and longs for what could have been as a basketball player.  Something happens with a mysterious janitor while Mike was visiting his high school and he is transformed into his 17 year old self, cue Zac Efron.
10 Things I Hate About You: I still love this movie!  Kat (played by Julia Stiles) is a very independent and sometimes not-so-nice person.  Her sister Bianca is just the opposite; into boys and dating (even though their dad doesn't allow it).  Bianca gets asked to the prom and as you can guess, so badly wants to go!  She won't be able to unless Kat goes (who you might have guess loathes this kind of thing!)  After a sisterly talk (probably the first time ever) Kat agrees to go, with a boy who was paid from a bet, to go with her (obviously she doesn't know this).  But oh when she finds out, she is not happy!  She took a school assignment as an opportunity to tell him she still loved him in a poem called '10 Things I Hate About You'.  You have to watch to see what they are!
Confessions of A Teenage Drama Queen: Lindsay Lohan stars as Lola, a girl who dreams of Broadway, but moves to Jersey.  She narrates the movie at times, which is your classic high school girl drama, which is centered around the school's drama production.  Parties, drama, mean popular girls…sounds like a classic teen girl movie to me!
Never Been Kissed: I love a good Drew Barrymore movie!  She plays a journalist who is given the job to go undercover as a high school student in order to write a piece and help parents be more aware of what goes on in their children's lives.  When she was in high school herself, she was not very popular (as you might be able to tell from the movie title).  She was a geek, and being back in the walls of a high school, she quickly reverts back to what felt comfortable.  She is about to be forced to get more comfortable when her editor tells her she has to get in with the popular crowd!  I won't give away the entire movie, you will have to just watch for yourself.
50 First Dates: I said I loved Drew Barrymore, so here is another one.  She is even better when she teams up with Adam Sandler!  Even better, it takes place in Hawaii.  Barrymore plays Lucy, a gorgeous, bubbly blonde with memory issues after a car accident.  She relives the same day over and over again.  Her dad and brother cater to this.  Henry, played by Sandler (who lives and works at the aquarium, pretty cool!) falls in love with Lucy even though she never remembers who he is the next day.  Even though this is a comedy, grab some tissues in case, it can get a bit emotional at the end.

There are so many great, funny movies to watch at your next sleepover, this is just the beginning.  Romantic comedies are a great choice!  Pop the corn, put your phones away and settle in with your besties for some great laughs!  What are some of your favorite funny movies?  Check out this list for some more great titles
  Share your favorite funny movies with us in the comment section below!