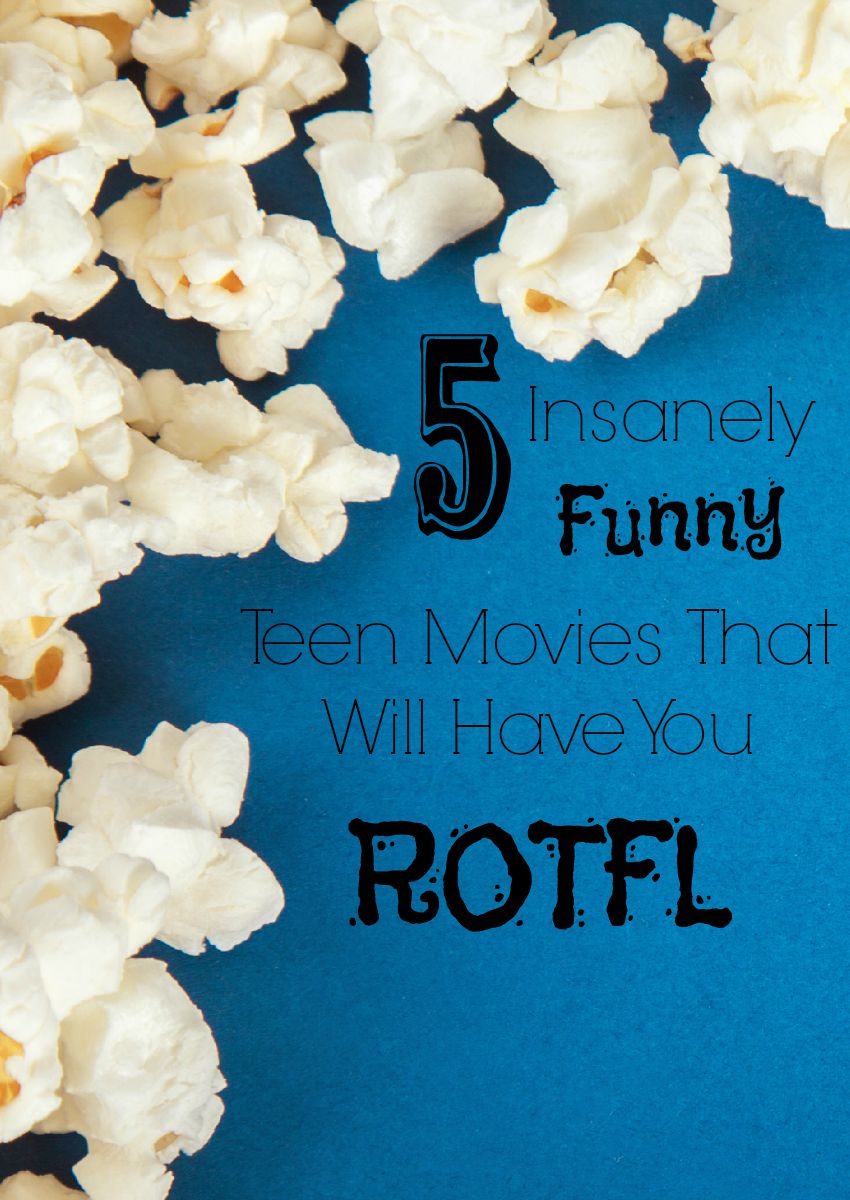 There are many  funny teen movies out there, but which ones are so insanely funny they don't just have you LOL but ROTFL?  Romantic dramas, action movies, there are so many teen movies to choose from but there is nothing like belly laughing with your friends.  I mean tears streaming, can't catch your breath funny.  Not many things will get you laughing like these funny teen movies!
5 Insanely Funny Teen Movies That Will Have You ROTFL
Accepted: Jonah Hill and Justin Long.  Ok there are a few other people in the movie as well, but this is the movie said to have launched Jonah's career.  High school was coming to a close and a few didn't get into a college.  So what do you do?  You create your own school of course!  (What?  No one ever did that?)  Justin Long wanted to please his father, so he created South Harmon Institute of Technology.  One of them even created a functional website!  Just go ahead and rent it or stream it and watch how they create this fake school with an actual student body!
John Tucker Must Die: Ahh finally the movie that gives girls the power when they have been cheated on!  I don't know why guys seem to think they can pull this off, especially in the same school.  John Tucker gets caught, and instead of getting nasty with each other (why do we always blame the woman?) they get together to get revenge.  These girls are good!  They eventually realize that John Tucker is still consuming their lives, because they are continuously trying to ruin his, so they stop.  Actually, the guys might not like this one.  Save this gem just for the girls.
EuroTrip: It got a 2004 nomination for Teen Choice Awards category for Choice Movie Your Parents Didn't Want You to See.  Right after graduation, Scotty's girlfriend dumps him.  He writes his pen pal (back in the olden days, before texts and social media, people had to write letters on paper, but this was via e-mail).  She lives in Germany and suggests they meet in person.  Scotty gets mad and tells her to stay away from him, because he thought the entire time that she was a he (he thought Mieke was 'Mike').  Once his brother informs him of his stupid mistake, he tries to contact her, but she has blocked him.  Hence, EuroTrip.  You can imagine what kind of trouble a few freshly graduated high school males can get into.
Not Another Teen Movie: This one got a 1.5 star rating from Rotten Tomatoes, but a 3.5 star rating from Amazon.com so you can't always believe the stars.  The title couldn't be more fitting as this has blatant references to so many of the teen movies that came before.  You might actually die laughing if you have seen even some of those other teen movie, such as Bring It On, She's All That or Friday Night Lights.  Don't worry, you aren't going to have to go out and see all of those teen movies in order to enjoy it, it is hilarious in it's own right.  But it is fun to sit and pick out which movie they are referencing!
Tucker and Dale V. Evil: This has to be one of the funniest movies I have seen!  We have all seen the horror movies, teens running in the woods, bad people chasing them, someone gets hurt (or dies).  They are all the same, except for this one.  You get both sides of the story here.  Tucker and Dale (dressed in overalls and just looking scruffy) are staying at their rundown mountain cabin, when they are attacked by a group of preppy college kids.  Or is it that the preppy college kids are being attacked by Tucker and Dale?  I am not giving anything away by giving you an example of a scene.  College kids think Tucker and Dale are after them.  In one scene Tucker or Dale (I can't remember) is about to be attacked by bees, so he runs, but the preppy college kids think he is running after them, so they run and scream.  No matter how hard I try, I just can not do this one justice, just watch it, trust me on this one.  You can watch it on Netflix.

This list of 5 could have been a much longer list, but these are definitely some great ones that will make you ROTFL!  The bonus is that this list is not just for the guys or the girls, watch them on date night for a good laugh or with a mixed group of friends.
What funny teen movies would be on your top 5 list?  Post your faves below in the comments!