There's nothing quite like back to school movies on Netflix to help get you in the spirit of the season (the books, lockers and 6AM wake-up-call season, that is!).
The hot, lazy days of summer have come and gone.
Sorry, but it's true!
Related: Back To School Party Ideas for Teens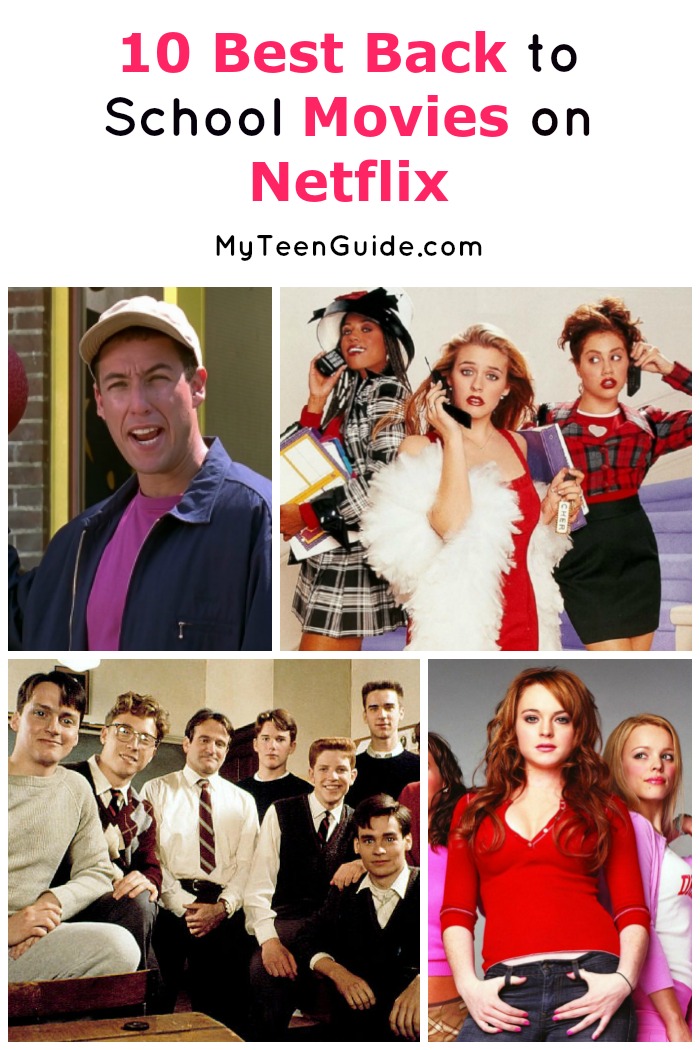 School isn't always a bad thing as it is a time for new ideas, friendships and experiences.
Check out our picks for the best teen back to school movies on Netflix that are perfect for a movie marathon night with friends!
Related: Funniest College Comedy Movies on the Planet
Best Back to School Movies on Netflix
Affiliate links included below. If you make a purchase through these links, we earn a small commission at no extra charge to you.
We've also included Watch Now links to Amazon in case you prefer to watch the movies there.
1. Clueless
Clueless was always one of my favorite back to school movies! It is a 1995 coming-of-age comedy movie starring Alicia Silverstone, Stacey Dash, Brittany Murphy and Paul Rudd.
Clueless is about Cher, a teenage girl who attends high school in Beverly Hills and is popular, rich, charming and pretty.
Tai, a transfer student attending the same high school as Cher, draws the attention of Cher, who thinks Tai needs a transformation.
Cher takes Tai under her wings, gives her a makeover and finds her a boyfriend. Cher wants a boyfriend of her own, but no guy seems right.
Cher goes through a makeover of her own and it makes her realize that maybe there is more to life than fancy clothes and being popular.

2. Old School
If you're looking for a hilarious flick to watch with friends, you need to check out Old School.  Old School is a 2003 comedy movie starring Luke Wilson, Vince Vaughn, Will Ferrell and Jeremy Wilson.
Old School is about three guys, Mitch, Beanie and Frank, who want to re-live their glory days after their personal lives start to untangle.
They decide to start a fraternity with an array of misfit college students, elderly retires and losers.
Of course, not everything goes as planned for them. (I absolutely love this movie. Vince Vaughn and Will Ferrell are totally hilarious. Go watch it)!

3. Billy Madison
Billy Madison is probably the funniest "back to school movie" of all time, if not one of the top 10 funniest movies in general! It is a 1995 comedy movie starring Adam Sandler, Bradley Whitford, Bridgette Wilson, Norm Macdonald and Darren McGavin.
Billy Madison is a 27-year old immature and unmotivated guy.
His father is the owner of a big hotel chain, who consider having Eric take over the business when he retires.
Billy is determined to prove to his father that he is capable of running the business.
His dad makes a deal with him saying he must repeat grade school all over again and he has two weeks in each grade. (Can you picture Adam Sandler as a 1st grader?)

4. The Breakfast Club
The Breakfast Club is another must-watch for every teenager in high school. This oldie but goodie is a 1985 coming-of-age comedy-drama film starring Judd Nelson, Molly Ringwald, Emilio Estevez, Anthony Michael Hall, Ally Sheedy and Paul Gleason, aka The Brat Pack.
Five high school students at Shermer High School, who seem to have nothing in common, spend an entire Saturday together in detention.
Claire is a princess, Allison is a basket case, Andrew is an athlete, Brian is a nerd and John is a criminal.
By the end of the detention period, after telling each other their problems, deepest emotions, secrets and fears, they realize they have more in common than they think.

5. Dead Poets Society
For something a little more serious yet incredibly inspiring, check out Dead Poets Society. It's a 1989 drama movie that is set in 1959 at an elite, conventional boarding school.
John Keating is an English teacher at the school, who inspires his students through his poetry.
The movie stars Robin Williams, Robert Sean Leonard, Ethan Hawkes, Josh Charles and Gale Hansen. (If you haven't seen this movie yet, it is definitely a must-watch. It is such an amazing movie)!

6. A Cinderella Story
A Cinderella Story is a 2004 teen, romantic, comedy movie that is a modernization of the Cinderella fairytale.
Sam Montgomery, who is constantly tormented by her evil step-mother and two step-sisters, is excited to meet Austin Ames, her Internet pen pal, at the high school Halloween dance.
The movie stars Hilary Duff and Chad Michael Murray.

7. Boyhood
Boyhood is a 2014 coming-of-age, drama movie that won a Golden Globe Award for Best Motion Picture-Drama.
It follows the life of Mason Evans Jr. from the age of 6 to the age of 18.
The movie stars Ellar Coltrane.
Wanna hear something cool about this movie? Of course, you do! Well, this movie was actually filmed over the course of 11 years, from 2002 to 2013. Pretty neat, don't ya think?

8. Tanner Hall
Tanner Hall is a 2009 coming-of-age, drama movie.
It showcases the life of 4 teenage girls- Fern, Victoria, Kate and Lucasta- who attend an all-girls boarding school.
The movie stars Rooney Mara, Georgia King, Brie Larson and Amy Ferguson. (Would you find it awkward or weird attending an all-girls school?)

9. Friday Night Lights
Friday Night Lights is a 2004 sports, drama movie that is based on the 1990 book- Friday Night Lights: A Town, a Team & a Dream- by H.G. Bissinger.
The movie follows the high school football team- The Permian High Panthers- as they try their hardest to get to the state championships.
The movie stars Billy Bob Thornton, Lucas Black, Garrett Hedlund, Derek Luke and Jay Hernandez.
If you loved watching the Friday Night Lights television series that aired from 2006 to 2011, then you totally need to watch the movie.

10. Mean Girls
Mean Girls is a cult classic flick that has inspired many memes over the years. It's one of those movies that every teen should watch before graduation.
The 2004 teen comedy movie that is based on the 2002 book- Queen Bees and Wannabes- by Rosalind Wiseman.
Cady Heron attends a new high school and becomes friends with the popular girl clique, until she falls for Aaron Samuels, the ex-boyfriend of Regina George, the leader of the girl clique.
The movie stars Lindsay Lohan, Jonathan Bennett, Rachel McAdams, Lacey Chabert and Amanda Seyfried.

Of all these movies, The Breakfast Club was the epitome of the "teen experience" during the 80s. It pretty much showed members from every clique found in high schools across America. If you're looking for something that shows a slightly more modern spin on high school, Mean Girls is my top pick.
What are your favorite back to school movies on Netflix that show the life of teens (whether real or totally far-fetched)? Share in the comments!