Ohhh, if you put these ideas together it has to be the perfect Valentine's Day Party for teens!
The love, the sparkles, the romance, I seriously love this holiday.
I find the years I have enjoyed Valentine's Day the most is when I let myself get swept into the fun little details to help make things extra special.
This year I'm not just celebrating with Bae, I'm inviting all my friends over to a party, and I want them all to feel special and loved.
Check out my party ideas below!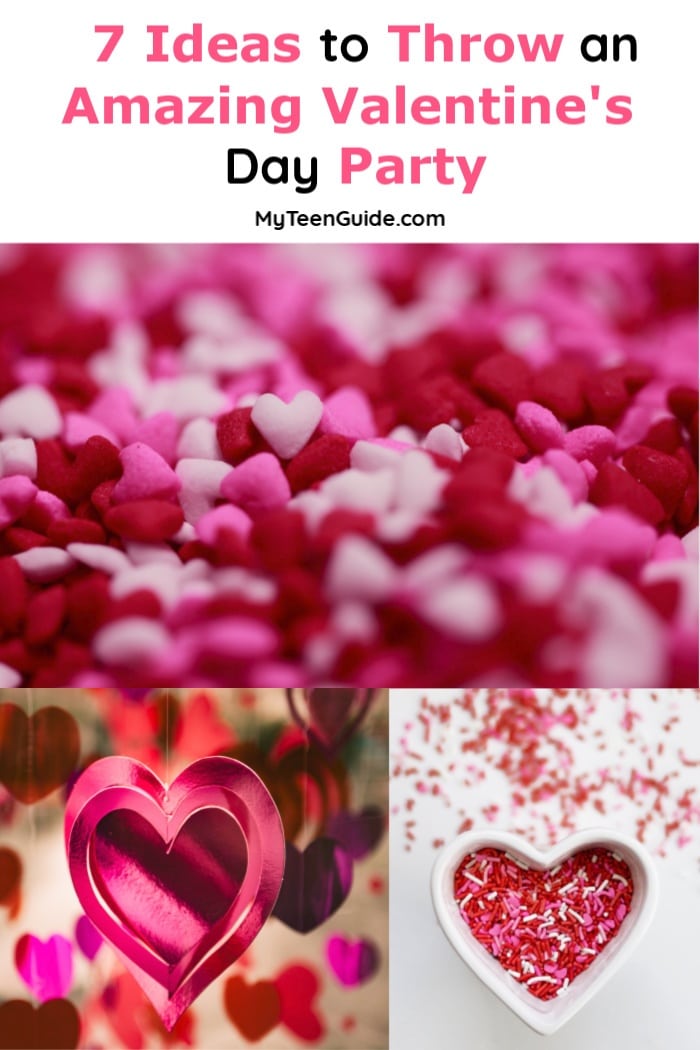 Ideas To Throw An Amazing Valentine's Day Party For Teens
Hot Chocolate Bar
A Valentine's Day party should leave you feeling warm and cozy from your heart to your toes.
Make sure all of your party goers are toasty inside by having an adorable hot chocolate bar.
Then that couple you know is going to get together can finally say their eyes met over a steamy cup of cocoa. Don't forget pink marshmallows!
Giant Conversation Hearts
Conversation hearts are so much fun and always get people talking. I am in love with this giant plush conversation heart.
I can see these ending up in all my photos with my squad. If you are not confident in your sewing skills, why not cover cardboard with sparkly fabric instead?
Then leave a few bowls of candy hearts around for even more fun.
Strawberry Shortcake Kabobs
Sweet strawberries scream Valentine's Day, which is why I am totally making these cute strawberry shortcake kabobs.
By putting this treat on a stick, that leaves you an extra hand free so you can post a pic on Instagram of your delicious treat.
Need a shortcut?
Thread bites of store-bought angel food cake and strawberries before drizzling with white chocolate. Yum!
Hugs And Kisses Tablecloth
Here is a super simple project that will give your party a little extra splash. Grab your BFF and make this simple hugs and kisses tablecloth.
All of your pretty party treats will look extra special when you lay them on this fun project.
Not sure where to find a cheap white tablecloth? Use a white flat sheet from the dollar store instead, savvy girl!
Chocolate Dipped Krispie Treats
I make a mean Rice Krispie treat and def easy for a teen who is a beginner in the kitchen.
I know I can totally up my game with these yummy chocolate-dipped treats. If you use brink pink sprinkles against dark chocolate, the color of the sprinkles really pops.
These treats are perfectly delectable, and a great snack for a Valentine's Day party!
Related: Your Guy Will Love these Awesome Valentine's Day Gift Ideas!
Heart Garland
What do you get when you combine duct tape with Valentine's Day?
This adorable heart garland. Mix up the colors, and even add some glitter for an extra splash of fun.
Heart Garland Plus MORE
If you need some extra simple decorations for your party, check out the ideas in this video.
The garland she hangs behind her bed is by far my fav, I totally want to make that into a photospot for my squad.
This video also has some additional super cute ideas that are also not expensive to make.
So lovelies, are you feeling the love and the sparkle? Which one of these fab Valentine's Day party for teens ideas are you going to snag?