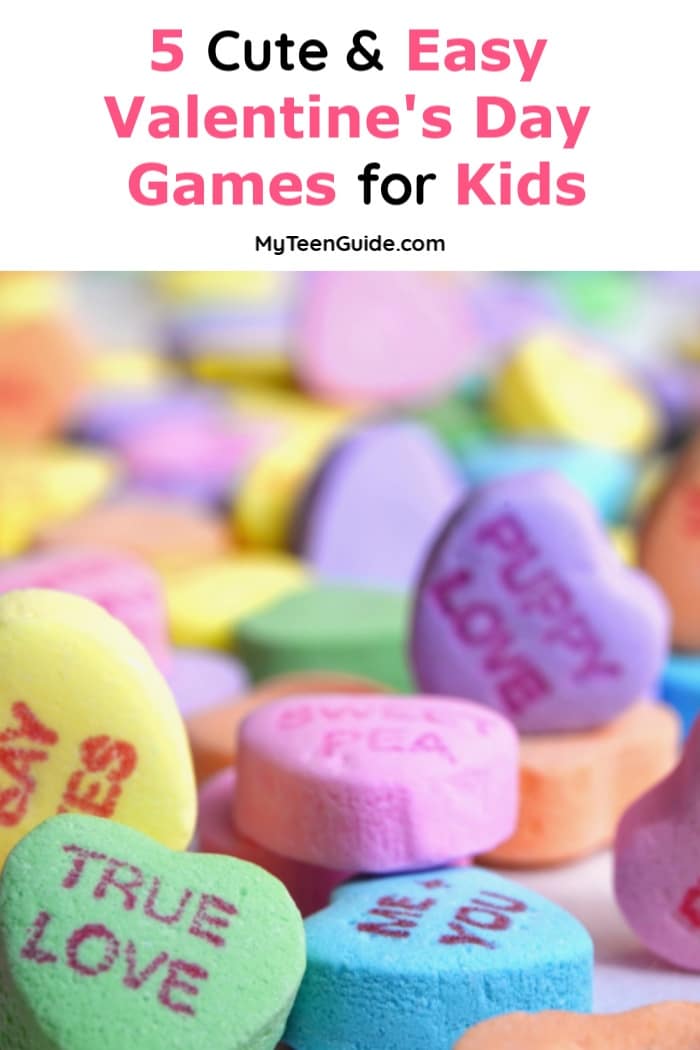 Valentine's Day is all about love.  
Love for your significant other, your friends and your family.  You can celebrate  that with your kids by creating  games using hearts and and the "love" theme.
From fun and active games to quiet games, below is a list of various kinds of Valentine's Day party games to play with your kids on the special day!
Valentine's Day Party Games for Kids

Affiliate links included below. We earn a commission if you make a purchase.
Musical Hearts:
https://www.instagram.com/p/BdiSVl_FfZc/
Musical chairs with a twist!  
This will get them moving, reading and spare them from boredom on a cold day.  
Cut a bunch of hearts in different colors (or purchase foam hearts, they will last longer) and write actions on the back.  
Write things you want them to do such as 5 jumping jacks, spin around 5 times, jump up and down while singing the ABC's, you get the idea?  
Make it fun!  
Place them on the floor in a circle and press play on the music.  
When it stops, they have to pick up the heart they are on, read it, and do what it says.
Candy Heart Relay:
https://www.instagram.com/p/B6oj3xqAUqB/
All you need is a few cups, a bag of the conversation hearts and some spoons.  
Break the kids up into teams of two and place them at separate ends of the room.  
You can put tape on the floor to mark where they stand.  
The first one takes a spoonful of the hearts and tries to walk as fast as she can across the room to pass the spoon to her teammate, without dropping any in the process.

Related: Valentine's Day Party Decorations: DIY Valentine's Day Party Hat
Candy Heart Bingo:
https://www.instagram.com/p/Be9IT3xn95l/
You can make this as big or as small as you want depending on how many numbers you put under each letter.  
You know how to create a Bingo board right?  
You can Google an image if you need to.  
Using candy hearts as the markers, call out the numbers ("B12!") and if they have it, they mark it with a heart.  
Also a great game for practicing numbers and letters!

Matching Game:
Instead of cards, you can use Hershey's Kisses!  
Print off some different Valentine's Day images, small enough to tape on the bottom of the candies.  
If they find the match, they get to keep the candies!
 Valentine's Day Toss:
All you need is some dixie cups, a marker, and some pom-poms.  
Have enough cups to arrange them into a heart shape.  
You can write numbers on the cups so the kids can keep score, or choose not to.  Toss the pom-poms into the cups!

Get in on the fun!  
Enjoy these games with your kids and spend some quality time together.  You may have even started a new tradition of Valentine's Day games!
Have you played any fun Valentine's Day party games for kids? 
What sort of things have you done?  Post your games below and share the love!