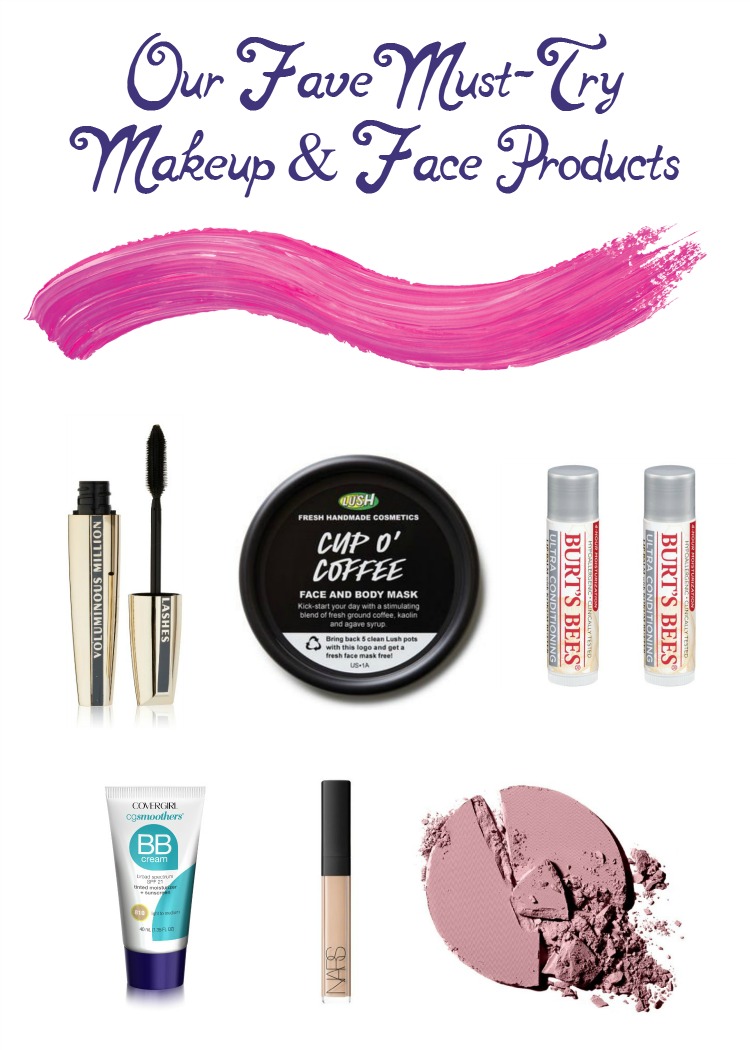 There are so many great makeup and face products on the shelves, but finding the ones you love can sometimes be a challenge. I thought I would share 7 of my absolute favorite products with you. Personally, I like to keep my everyday makeup look fresh and subtle. These 7 products are great whether you're dressing up or looking for a fresh face look. Makeup is a great way to express yourself in an artistic, stylish fashion. Sometimes trying a new makeup or face product can be scary but don't worry; you might discover a product that you absolutely love!
Must Try Makeup and Face Products
Affiliate links included below.
1) Lush Face Masks
– I absolutely love Lush! They're definitely one of my favorite companies. They focus on creating products that are natural and made with real ingredients. When they make their facemasks they take ingredients right from the fridge. Each face mask is made with special ingredients and is guaranteed to leave your face feeling soft, fresh and clean. There's a mask designed for every skin type so you can't go wrong.
2) CG Smoothers BB Cream
– Covergirl created a fantastic product with their BB Cream. I love it! If you're looking for a light foundation that does everything – this product is for you. It won't leave your face feeling heavy and caked with makeup. It's a light makeup product that blends extremely well and even includes SPF 15! Protect your skin while feeling great.
3) MAC Matte Lipstick
– This product is a little more expensive. Despite the cost, it's important to recognize that lipstick lasts for a long time. A good quality lipstick can truly make all of the difference. You won't have to reapply this lipstick every five minutes because it will last. The matte color is also a unique feature. I love the idea of a matte lipstick because it's different and makes a statement. Why not try something new?
4) L'Oréal Paris Voluminous Million Lashes
– I've used this mascara for years, which is definitely saying something positive. Are you looking for big, bold lashes? Then this is the product for you! This mascara doesn't clump or leave dark circles under your eyes. Your lashes will be long and full with this product.
5) NARS Concealer
– This concealer is truly a lifesaver for those quick touch-up moments on the go. It's stick like form allows you to cover those troublesome spots without having to re-do all of your make-up. This product is one of my favorites in the mornings and on the go. It's a must have.
6) L'Oréal Paris True Match Blush
– This is the only blush I've ever used. It blends so beautifully with your skin tone. It provides your cheekbones with a little pop of color while accentuating your bone structure. There's a color for everyone!
7) Burt's Bees Ultra Conditioning Lip Balm with Kokum Butter
– This one definitely has the longest title but it's a great product. I always find that my lips get chapped in the winter. This is my go-to product for chapped lips as it leaves my lips feeling smooth and refreshed. A mixture of this lip balm and drinking a lot of water will help get rid of those chapped lips.
I hope you enjoy trying some of these great products! They're all apart of my make-up and facial routine.
Do you use any of these products already? What are some of your favorite products? Let us know in the comments below! We love hearing from you. So what are you waiting for? Go try some of these fantastic products!