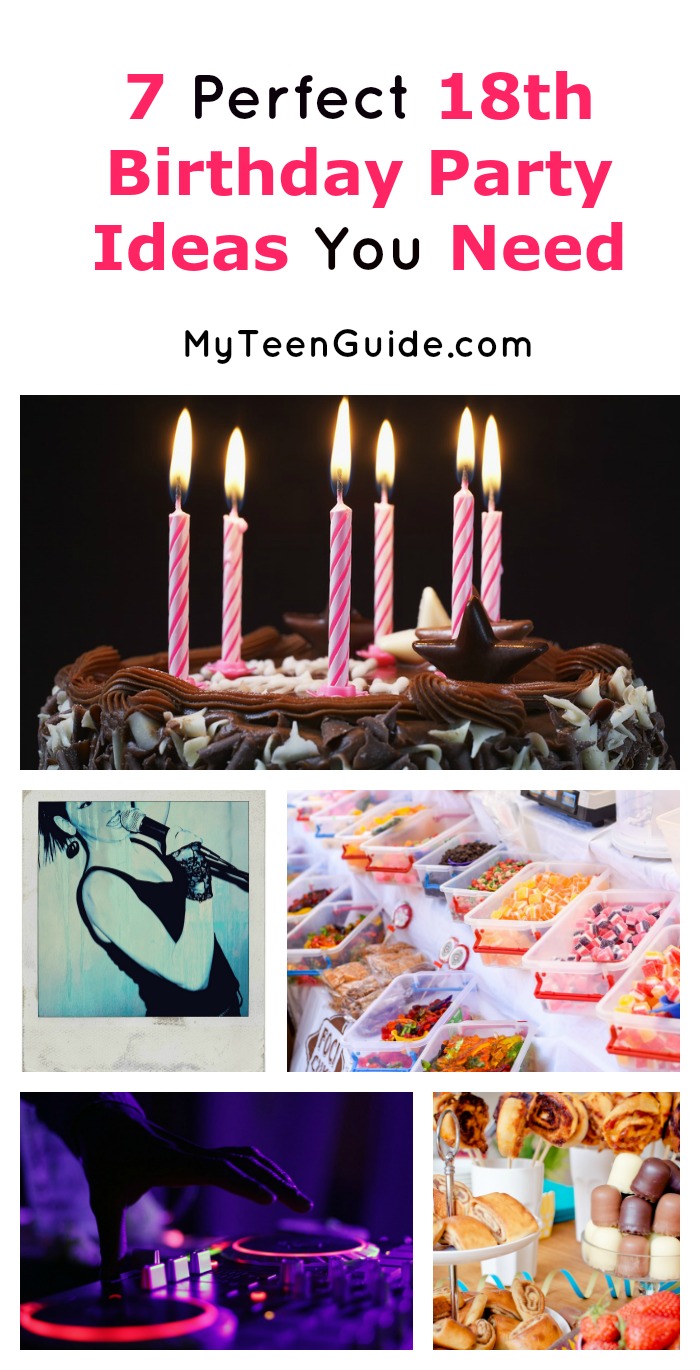 Throw the most spectacular milestone birthday and enter adulthood in style with these 7 perfect 18th birthday party ideas!
Everyone says that your 16th birthday is the big one, and sure it's awesome.
I mean, it's the year you get your driver's license (in most states), right?
I think your 18th birthday is really the biggest milestone, though. It's the year you become an adult.
You get to call the shots now.
From where to go to college to what to do with the rest of your life, your giant life decisions are up to you.
Celebrate it in the ultimate style with these 7 fab ideas!
18th Birthday Party Ideas
Affiliate links included below. We earn a commission if you make a purchase, at no extra cost to you.
1. A photbooth is a must have
https://www.instagram.com/p/B7WTIcBFaWY/
No one wants to go to a party and not take pictures!
By offering a photo booth
, you can ensure that you and your guests have tons of images to look back on when the day is over.
You can hire a company or make your own photo booth.
Be sure to provide props, such as hats, a picture frame, boas and other fun accessories.
Or you can just grab an instant camera and have a dedicated photographer to snap pics and print as you go.
[amazon box="B01CQRI3NK,B081DLG4M5″ template="list"]
2. Candy to thank you guests
https://www.instagram.com/p/B3rv0GGhvbp/
Everyone loves candy!
One of the simplest yet most fun party favors for your 18th birthday is candy.
Set up a candy bar with all sorts of sweets.
Chocolate, rock candy
, licorice, gummy bears
and other delicious treats should be included! Your guests will thank you.
[amazon fields="B00QDWIDVC" value="thumb" image_size="large" image_alt="Karaoke Machine – Singsation All-In-One Karaoke System & Party Machine – Performer Speaker w/Bluetooth Microphone Sing Stand – No CDs! – Kids or Adults. YouTube your Favorite Karaoke Videos & Songs"]
3. Set up an Instagram hashtag
https://www.instagram.com/p/B7Bc2ETg-1x/
Aside from a photo booth, you can expect people to post their selfies and other pictures to social media.
Create an Instagram hashtag that your friends can use when posting their pictures online! Something like #Beths18thBday would work.
Just make sure everyone knows the right hashtag, so you don' t have half your friends doing #Beth18bday or something.
4. Have a fancy cake
Fancy bold cakes aren't just for weddings.
Have a cake that fits your theme and colors. Be sure to display your cake on a cake stand
so that everyone can see it's beauty!
A crown cake topper or iced rosettes are possible options for your cake. If chocolate is your thing (it's everyone's thing, right?), this one is absolutely perfect:
https://www.instagram.com/p/BUXLB8bjpnE/?tagged=18thbirthdaycake
5. Incorporate the number "18" into the decor and food
https://www.instagram.com/p/B7SAiE6j9p5/
Don't let anyone forget that the occasion is all about you turning 18!
You can use balloons, wooden numbers
and even a banner to keep the number 18 alive and well at your party.
If you can, use glitter somehow! Another clever way to incorporate the number 18 is through food. For example, you can set out 18 different decadent snacks (yes, I know, that's a lot of food, but it's a once-in-a-lifetime party).
6. Music is a must!
Dance the night away at your 18th birthday party by hiring or DJ or using an iPod
to have your musical choices right at your fingertips.
Be sure to use fun lighting to keep the dance floor alive all night! Mix in songs from your birth year along with recent hits.
7. "18 Things" Scavenger Hunt
Here's a fun twist on a traditional scavenger hunt!
Rather than giving each guest (or team) a list of random items they need to find, give them a theme and make them find 18 things that relate to it.
For example, you could go with colors and have team one find 18 red things and team two find 18 blue things, or shapes (18 round things, 18 square things). Trust me, it's not as easy as it sounds!
https://www.instagram.com/p/BUTsSfRllzq/?tagged=redthings
There are so many different things you can do to make an 18th birthday party special! From throwback themes (think reliving your childhood one last time with a slumber party or princess bash) to destination parties to just hitting the town with your besties, as long as you're happy, it's the perfect party.
What did you do at your 18th birthday party? Did you take a lot of time to plan your special day? Let's chat or better yet, share your pictures!