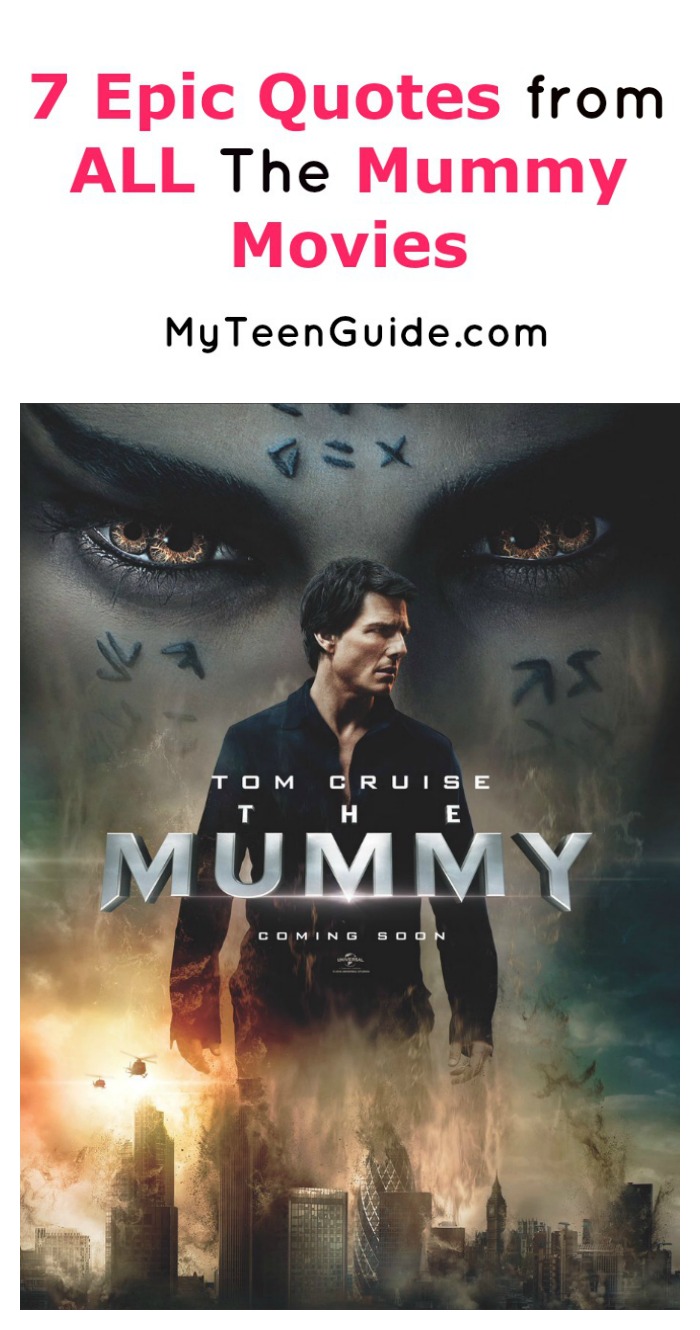 Looking for The best Mummy Movie Quotes? How about awesome lines from ALL of the modern Mummy movies so far? As you may know, the upcoming Tom Cruise movie is a reboot of a 1999 franchise that starred Brenden Fraser. The action, fantasy and adventure is set to hit theaters on June 9, 2017.  Check out the trailer, then read on for a few quotes from the upcoming movie as well as from the original trilogy.
The Mummy Movie Quotes 2017 
Affiliate links included below. Thanks for your support!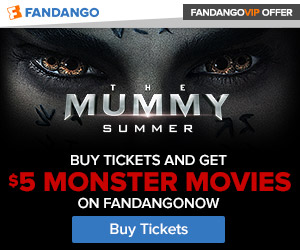 1. Conversation between Sgt. Vail and Nick Morton:
Vail- "Oh, no, no, no! We don't know what's down there."
Nick- "Treasure, that's what's down there. Come on, Vail. Where's your sense of adventure?"
Sgt. Vail is played by Jake Johnson, while Nick Morton is played by Tom Cruise.
2. Conversation between Nick Morton and Dr. Henry Jekyll:
Nick- "Who the hell are you?"
Henry- "Welcome to Prodigium. We recognize, examine, contain and destroy evil. But what you have released isn't like anything we've ever faced. The ultimate evil."
Dr. Henry Jekyll is played by Russell Crowe.
3. Conversation between Jenny Halsey and Nick Morton:
Jenny- "I know you're a good man. You gave me the only parachute without hesitation."
Nick- "I thought there was another one."
Jenny Halsey is played by Annabelle Wallis.
Quote from The Mummy- 1999
4. Conversation between Rick O'Connell and Beni Gabor:
Rick- "Well, if it ain't my little buddy Beni. I think I'll kill you."
Beni- "Think of my children."
Rick- "You don't have any children."
Beni- "Someday I might."
In this movie, Brendan Fraser plays Rick and Kevin O'Connor plays Beni. Beni is obsessed with being rich and betrays Rick when Imhotep offers him gold to be his henchman.
5. Conversation between Beni and Rick after a shipwreck:
Beni: Hey, O'Connell! It looks to me like I've got all the horses!
Rick: Hey, Beni! Looks to me like you're on the wrong side of the river!
Quote from The Mummy Returns- 2001
6.  Conversation between Rick O'Connell and Evelyn Carnahan-O'Connell:
Evelyn- "No harm ever came from opening a chest."
Rick- "Yeah, right, and no harm ever came from reading a book. You remember how that one went?"
In this movie, Fraser reprises his role as Rick and Rachel Weisz reprises her role as Evelyn. Rick was referring to the last movie, where Evelyn accidentally awoken Imhotep, when she read The Book of the Dead.
Quote from The Mummy: Tomb of the Dragon Emperor- 2008
7. Conversation between Alex O'Connell and Rick O'Connell:
Alex- "When I saw you lying there Dad, I've never been so scared in my life."
Rick- "That makes two of us."
Alex- "You're not supposed to die. I mean you're Richard O'Connell, right? You get beat up, you get tossed around, but you're always standing there in the end. I never really thought of the world without you."
Luke Ford plays Alex, the son of Rick and Evelyn O'Connell.
Don't forget, Fandango has a great "gift with purchase" special going on to celebrate the June 9th release of The Mummy. Get $5 monster movies on FandangoNOW with ticket purchase. Offer valid 5/19-6/12. Terms apply.

Have you heard any other awesome The Mummy movie quotes? Share below!