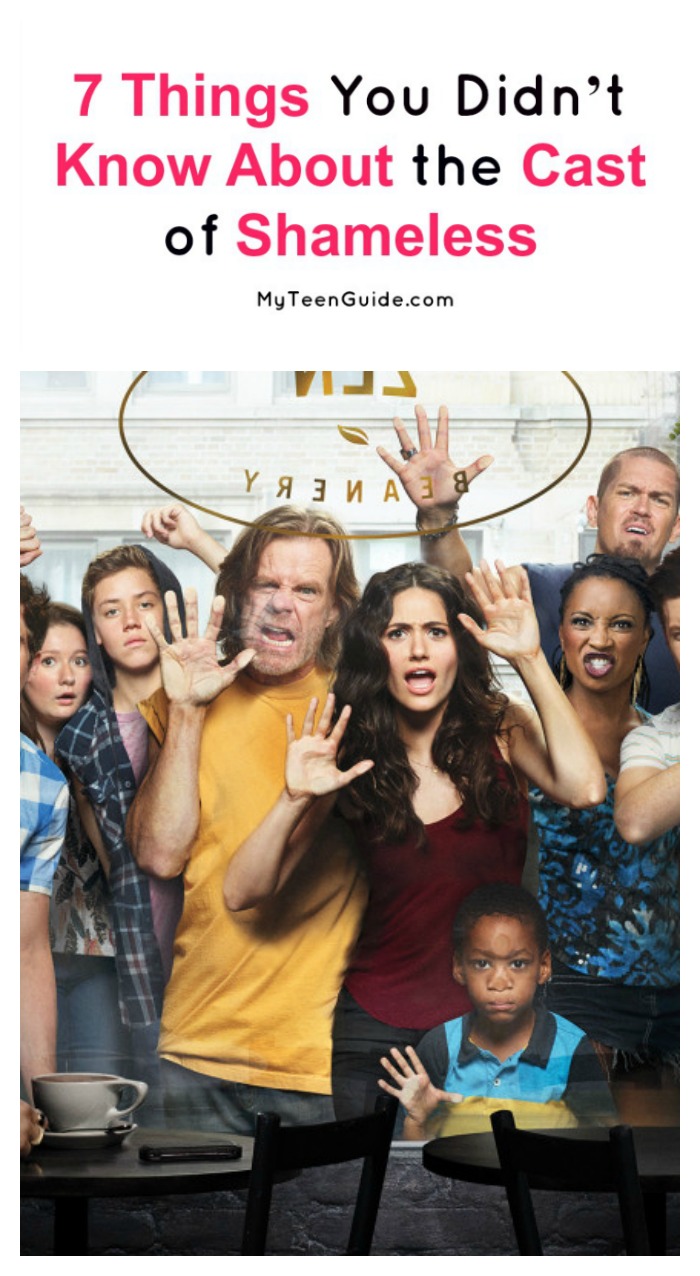 Think you know everything there is to know about the cast of Shameless? I bet I can still dig up a few surprises! I'm kind of obsessed with this show, going totally crazy waiting for the next season to start! Honestly, at this point, I'd be happy to just to know the answer to "when will Shameless season 8 begin?" No one seems to know right now, but shooting did start this month according to Emmy Rossum.
https://twitter.com/emmyrossum/status/809090828031250433
For now, I'm satisfying my Gallagher cravings by brushing up on fun facts about the cast. Whenever I get really into a show, I like to know everything about the people who star in it. Check out a few things about the cast of Shameless that were surprising to me!
Fun Facts about the Cast of Shameless
Affiliate links included below. Thanks for your support!
William H Macy (aka Frank)
https://www.instagram.com/p/BOFoOCOBof0/?taken-by=williamhmacy
Macy's had quite a career, including a breakout role in Fargo that really got him noticed. He's played everything from quirky to creepy, but there is one role that really surprised me! The same man who plays a foul-mouthed, degenerate, horrible father also lent his voice as the narrator of the Curious George TV show for 30 episodes! If that doesn't show off his diversity as an actor, I'm not sure what does!
Chloe Webb (aka Monica)
https://www.instagram.com/p/BTlqNeFg1NP/?tagged=chloewebb
You might know that Chloe Webb's career really took off after she played Nancy Spungen in the biopic movie, "Sid and Nancy, " but here's something kind of cool about that. Webb was born in Greenwich Village in New York, the same part of the city where Sid and Nancy died. I like random weird stuff like that! I mean, I know a lot of people are born and die in New York, but still, it's kind of a neat little fact. If that's not enough for you, though, here's something else about Webb: she originally wanted to be a singer! She used to sing in bars, even though she was underage.
Emmy Rossum (aka Fiona)
https://www.instagram.com/p/BQBQzGChfxV/?taken-by=emmyrossum
You probably know that Rossum starred in quite a few movies before landing the role of Fiona in Shameless, including the role of Sean Penn's daughter in Mystic River and young Audrey Hepburn in the made-for-TV movie, The Audrey Hepburn Story. But did you know that along with acting, she's also a pretty amazing singer? She sang in the Metropolitan Opera Children's Chorus from age 7-12, until she outgrew the children's costumes, and for roles like Christine in the onscreen adaptation The Phantom of the Opera. She even released her own albums! One, Inside Out, is made up of songs she wrote while another, Sentimental Journey
, includes covers of songs from the 1920s through the 60s.
Jeremy Allen White (aka Lip)
https://www.instagram.com/p/BLFPR0lDAzM/?taken-by=jeremyallenwhitefinally
Like other members of the cast of Shameless, White has other talents that we don't get to see much of on the show. He didn't originally want to be an actor at all. Up until age 13, he was a dancer! When he started middle school, he decided he wanted to go into acting. I'm glad he did, Lip is one of my favorite characters and I can't imagine anyone else playing him!
Cameron Monaghan (aka Ian)
https://www.instagram.com/p/BOFloj6BW2w/?taken-by=cameronmonaghan
Although Monaghan starred in a movie called Prom, he never actually went to one himself. He was homeschooled for his entire education. Monaghan has also guest starred in numerous hit TV shows, including Malcolm in the Middle (for which he won an award), Criminal Minds, The Mentalist, and Fringe. His favorite movie is Fargo!
Emma Kenney (aka Debbie)
https://www.instagram.com/p/BThGDK4lm_G/?taken-by=emmarosekenney
Kenney started acting at age 5, along with her best friend. She wanted to do improvisation! Shameless launched her career. Prior to that, she had starred in a commercial for Scholastic Books, a few short films, and one starring role as Emma in Bittersweet. 
Ethan Cutkosky (aka Carl)
https://www.instagram.com/p/BADeqZAlKiR/?taken-by=ekat19
Although Carl is one year younger than Debbie, Cutkosky is actually just under a month older than Kenney. He was born on August 19th, 1999 and she was born on September 14th of the same year. Carl does a lot of crazy tricks on skateboards in Shameless, which makes sense because Ethan is actually a pretty good skater! While his character isn't exactly kind to animals, Cutkosky himself is a huge animal lover.
Okay, so that's kind of more than 7 trivia facts about the cast of Shameless, but I did break it down into the 7 main characters! I hope you learned a few new things about the actors in this amazing show (that, FYI, is for adults only)! While I have no idea when season 8 of Shameless begins, I can tell you that if you want to get caught up, you can watch seasons 1-6 on Netflix, then season 7 on Amazon through their Showtime add-on. If you don't have it, you can Join SHOWTIME with a Free Trial
. That's what I did! Then I'll restart it when Season 8 begins.
Can you think of any other fun facts about the cast of Shameless? Share below!