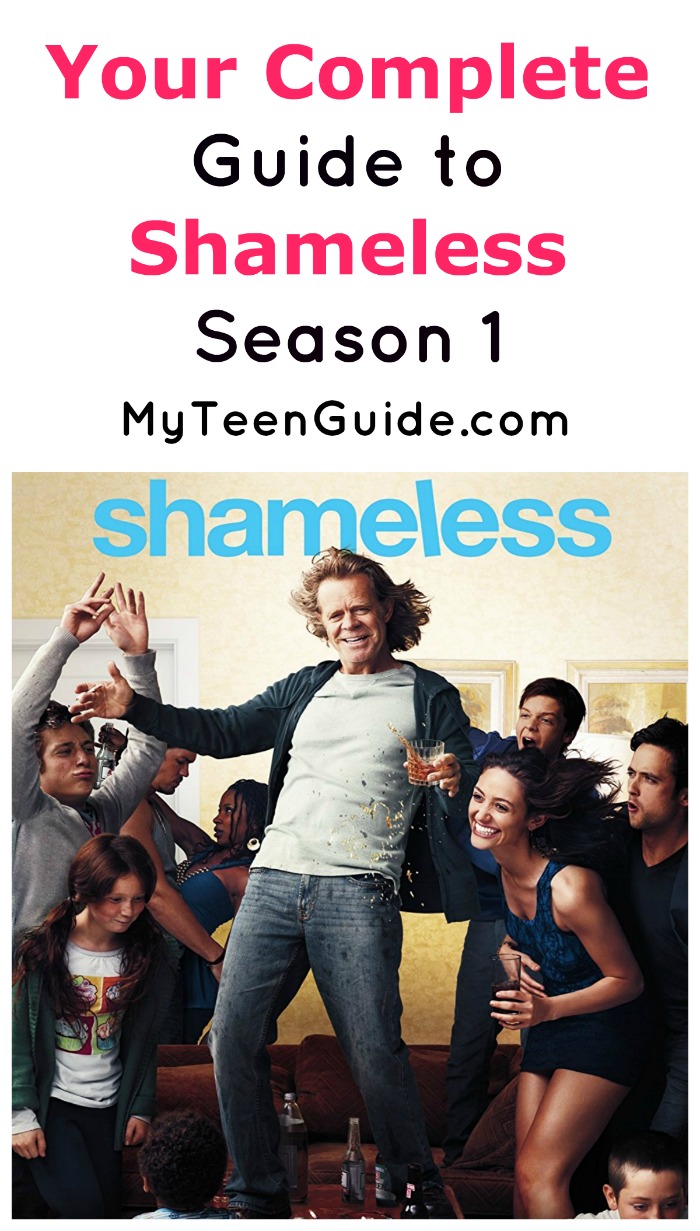 *Spoiler alert! If you haven't watched Shameless Season 1 yet, you may want to hold off on reading this, unless you're trying to get caught up faster!
Just getting started on Showtime's most popular dysfunctional family show? We've got your guide to Shameless season 1 right here! Find out where it all started for the family that makes even the craziest of us look totally normal! If you haven't heard of it, Shameless is a comedy-drama television series that airs on Showtime. The series premiered on January 9, 2011 and is in the middle of its 7th season, which premiered on October 2, 2016. While we have no idea when Shameless season 8 will begin (no one does yet), rest easy knowing that it IS coming back!
The theme song for Shameless is titled The Luck You Got by The High Strung, an indie rock band. Shameless centers on the Gallagher family, consisting of Frank, the alcoholic drug user patriarch of the family and his six children: Sammie, Fiona, Lip, Debbie, Carl and Liam. He also raises Ian, who is the result of an affair Frank's ex-wife, Monica, had with one of his brothers. Here is what you need to know about season 1 of Shameless.
Guide to Shameless Season 1
First of all, let me just say that Shameless is NOT a show you can watch with kids around…at all. It's definitely not meant for anyone under 18. Aside from drug and alcohol references galore, it's also heavy on sexual situations and nudity.
Season 1 of the series introduces the audience to the rather dysfunctional Gallagher family. Also in season 1 is the on-again, off-again relationship between Fiona and Jimmy. The Gallagher's next door neighbors, Kevin and Veronica are introduced. Monica returns to town with Roberta, her lesbian lover.
https://www.youtube.com/watch?v=Er48FQwl5K4
Season 1 aired from January 9, 2011 to March 27, 2011. It was in the 10:00 PM time slot for season 1, until it moved to its current time slot of 9:00 PM. The 3 most watched episodes of this season were episode 1, Pilot, which received 1.4 million U.S. viewers; episode 2, Frank the Plank, which had 1.34 million viewers and episode 5, Three Boys, which had 1.27 million viewers.
The main characters from season 1
Note: the ages listed are current ages to the best of our ability, but aging on Shameless is kind of weird. The timeline is just as crazy as the show! Some seasons start in the summer and end mid-school year, others start in the middle of the year and end at Christmas.
Frank Gallagher– played by William H. Macy. Frank is the patriarch of the Gallagher family, something that he reminds his  6 children of often even though he does nothing to earn the title. He abuses drugs and alcohol like crazy and has absolutely no morals. He will do just about anything to make a fast buck, which he usually spends on more drugs and alcohol.
https://www.instagram.com/p/BOFoOCOBof0/?taken-by=williamhmacy
Fiona Gallagher– played by Emmy Rossum. Fiona is 19 years old in season 1, around 24 or 25 now. She works low-paying jobs in order to support her 5 siblings. Fiona is the glue that holds everyone together. She's been taking care of the other kids since she was 9 years old, when her mother ran out on them.
Carl Gallagher– played by Ethan Cutkosky. Going into season 8, Carl will be 15. In season one, he was about 9 or 10. Throughout the first season, Carl displayed sociopathic tendencies that made me worry that he would eventually become a serial killer. Carl's character goes through some of the most extreme changes throughout the series.
Debbie Gallagher– played by Emma Kenney. Debbie is 16 years of age now, so she was around 10 or 11 during season one. She's one year older than Carl.  Throughout this season, Debbie is known as a plain jane and extremely reserved. Despite everything that Frank has done to her family, she's still a daddy's girl at heart.
Ian Gallagher– played by Cameron Monaghan. Ian is 19 years old in Season 7, around 15 in season 1. During the season, he finds out that he is not actually the biological son of Frank. Ian was the result of an affair Frank's wife, Monica, had with one of Frank's brothers. The problem? He's not quite sure which brother and, honestly, he doesn't care to find out.
Lip Gallagher– played by Jeremy Allen White. Lip's real name is Phillip but everyone calls him Lip and he is 21 years old. He was a straight-A student all through high school and he received a perfect score on the SAT's. Lip makes extra cash for the family by taking SATs for other students.
Jimmy/Steve Lishman– played by Justin Chatwin. Jimmy (Steve in this season) is in love with Fiona and refers to her as his dream girl. He makes his living stealing cars and while he probably doesn't have an honest bone in his body, he is always there when Fiona needs him most…at least in season 1!
Karen Jackson– played by Laura Slade Wiggins. Karen is the daughter of Shelia and Eddie. Karen is known as a bad girl around town. She is tutored (and a bit more) by Lip.
Kevin Ball– played by Steve Howey. Kevin lives next door to the Gallagher family with his wife, Veronica. He also owns The Alibi Room.
Shelia Jackson– brilliantly played by the fabulous Joan Cusack. Shelia is Karen's mother and an agoraphobic. She's incredibly caring but entirely clueless. Frank, of course, finds a way to use that to his advantage.
https://www.instagram.com/p/BKToYrUAAby/?taken-by=joancusack_
Veronica Fisher– played by Shanola Hampton. Veronica lives next door to the Gallagher family, with her husband Kevin. Veronica is also best friends with Fiona.
The recurring characters/guest stars from season 1 include:
Carol Fisher– played by Vanessa Bell Calloway. Carol is mother to Veronica. She is a very sociable person and owns a beauty salon.
Eddie Jackson– played by Joel Murray. Eddie was the husband to Shelia and father to Karen. After Eddie found out his daughter was sleeping around, he committed suicide at the end of season 1.
Ethel- played by Madison Davenport. Ethel is the teenage foster child of Veronica and Kevin. She has a son, Jonah, as a result of her time in a polygamist colony. The character is recurring for seasons 1 and 2.
Jasmine Hollander– played by Amy Smart. Jasmine is Fiona's friend and often invites her to parties and sets her up with a variety of men. Jasmine's character is recurring in seasons 1 and 2.
Kash– played by Pej Vahdat. Kash is the owner of the Kash and Grab grocery store, where Ian is also employed. Even though Kash is married, to Linda, he has an affair with Ian. The character is recurring in seasons 1 and 2.
Kate– played by Kerry O'Malley. Kate is the manager of The Alibi Room and the character is recurring in seasons 1, 2, 3 and 4.
Kermit- played by Jim Hoffmaster. Kermit is an acquaintance of Frank's at The Alibi Room. The character is recurring in seasons 1, 2, 3 and 4.
Linda– played by Marguerite Moreau. Linda is Kash's wife. The character is recurring in seasons 1 and 2.
Mandy Milkovich– played by Emma Greenwell. Mandy is Mickey's sister and Terry's daughter. She is very close friends with Ian and she also has a casual sexual relationship with Lip. Mandy's character is recurring in seasons 1 and 2 and becomes a main character in seasons 3 and 4.
Mickey Milkovich– played by Noel Fisher. Mickey is Mandy's older brother and Terry's son. He has a long prison record. While Mickey comes off as a thug, he is actually secretly gay. Mickey's character is recurring in seasons 1 and 2 and becomes a main character in seasons 3 and 4.
Monica Gallagher– played by Chloe Webb. Monica is the biological mom of the Gallagher children. She abandoned her kids because of the fact she is a drug user and also diagnosed with bipolar disorder. Her character is recurring in seasons 1 and 2, but she later dies in season 7 from brain damage.
Peg Gallagher– played by Louise Fletcher. Peg is the mother of Frank. She is very hostile in nature. Peg has a guest role in seasons 1 and 2.
Terry Milkovich– played by Dennis Cockrum. Terry is the father of Mandy and Mickey. He has been known to evade arrest on a number of occasions. The character is recurring in seasons 1, 2, 3 and 4.
Tommy- played by Michael Patrick McGill. Tommy is a regular at The Alibi Room. He is also the crew manager for a construction company, where he hires Lip as a temporary worker. The character is recurring in seasons 1, 2, 3 and 4.
Tony Milkovich– played by Tyler Jacob Moore. Tony lives next door to the Gallagher's and is a police officer. Tony dates Fiona until it is revealed that he is gay in season 6. The character is recurring in seasons 1, 2, 3 and 4.
Most Important Highlights from Shameless Season 1
Now that you have a general idea of who's who, let's talk about the most important things that we learned in Shameless season 1.
You can't count on Frank! Rule number one of Shameless: you can't count on Frank. Well, not in the sense that most of us count on our parents. Throughout the years, he does come through occasionally, but if you're looking for him to put his family first at the end of the day or any other sort of "gee, he really is a good guy deep down" revelations, it's not going to happen. Frank only looks after Frank.
Fiona never thinks of herself. As the oldest sister (for now), Fiona puts all the pressure on herself to make sure her family stays together. She works non-stop and drops everything when her siblings need her. Everything. All the time. No matter what. Remember this now, it's important later.
Ian comes out. We viewers know right away that Ian is gay, but his family doesn't know. Lip is the first to find out and the only one who knows until much later in the season. Early in the season, Ian is having an affair with an older man, the owner of Kash & Carry (the store where he works). Later, he gets involved with Mickey Milkovich, who is still very much in the closet. He and Mickey's sister, Mandie, become a fake couple to help keep Ian's secret.
Aunt Ginger is dead. If you're wondering how a family who can barely afford food can manage to keep a roof over their heads, you're not alone. When I found out that the house belonged to Frank's aunt, it made more sense. Auntie Ginger isn't residing in some far-off nursing home like Frank told everyone, though. Nope, she's dead and buried…in the back yard! The catch? The government has no idea, so Frank gets to keep collecting her social security checks.
Debbie has middle child syndrome in a major way. Poor Debs, she really seems like she needs someone to pay more attention to her. First, she steals a baby, then she wants to keep a stolen granny! Okay, a borrowed granny, but seriously, the way Debbie acts during season 1 fortells what happens in season 6.
Frank, you are NOT the father…of Ian! As mentioned above, it turns out that Frank is not Ian's bio-dad. It's okay, though, he stills treats Ian the same way he treats the rest of his kids! If you've been paying attention, you know that's not saying much. We really don't find out for sure which of Frank's brothers is Ian's real dad and it doesn't really come up often in the future.
Frank, you ARE the father…of Liam! Liam, who is still an infant/toddler in season one, is predominantly African American, so everyone in the family assumes he's the result of an affair. After all, Monica wasn't well-known for being monogomous. Turns out that Frank has a bit of African American ancestry and those genes popped out in Liam.
Monica is a hot mess. We don't see Monica, mom to the Gallagher kids and wife to Frank, until pretty late in the season. When we do, we realize that life is actually better when she stays away. In this season, she's living with her girlfriend, who really wants to steal Liam and raise him together. I guess it's not technically stealing since Liam is her son, but Fiona and the rest of the siblings do everything they can to make sure it doesn't actually happen.
Steve is Jimmy, Jimmy is Steve. Fiona's love interest begins the season as Steve. Later, Debbie discovers that he's actually Jimmy, a guy from a rich family (although he doesn't rely on their money). Fiona doesn't find this out until season 2.
Have you watched Shameless season 1? Who are your favorite characters? What did I miss that you think is important to the season? Share in the comments!