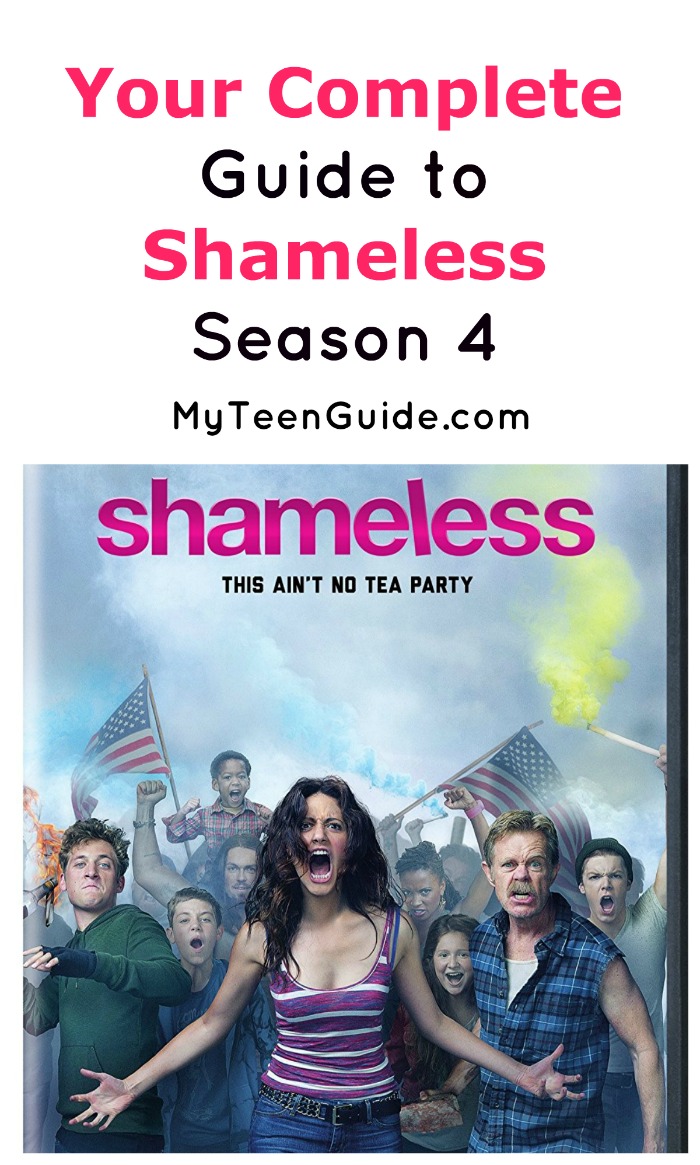 Can't get enough of that crazy Gallagher family? We can't either! Get caught up with their antics with our complete guide to Shameless season 4! In this season, you'll find Fiona moving on up to a corporate job (of course, that doesn't go as well as you'd think), Frank getting some really horrible news and Veronica getting some rather startling news! Starting from the beginning? Don't miss our guides to Shameless season one, two and three! Check out the Shameless season 4 promo trailer, then read on for your guide to who's who and what's what!
Don't miss Shameless Season 4
(affiliate links, thanks for the support)
Guide to Shameless Season 4
In season 4 of Shameless, Fiona has landed a corporate job, but ends up in an affair with her boss. Frank finds out that his liver is failing and he needs a liver transplant. Also in this season, Fiona ends up in jail after Liam is hospitalized after tasting cocaine at a party. Veronica discovers that she is pregnant with triplets, Kevin's business, The Alibi Room, is losing money and Lip and Amanda start a relationship.
Season 4 of Shameless aired from January 12, 2014 to April 6, 2014. The 3 most watched episodes of the season were episode 12, Lazarus, with a viewer rating of 1.93 million U.S. viewers; episode 6, Iron City, which garnered 1.90 million viewers and episode 7, A Jailbird, Invalid, Martyr, Cutter, Retard and Parasitic Twin, received 1.89 million viewers.
The main characters from season 4 include:
Carl Gallagher- played by Ethan Cutkosky.
Debbie Gallagher- played by Emma Kenney.
Fiona Gallagher- played by Emmy Rossum.
Frank Gallagher- played by William H. Macy.
Ian Gallagher- played by Cameron Monaghan.
Kevin Ball- played by Steve Howey.
Lip Gallagher- played by Jeremy Allen White.
Mandy Milkovich- played by Emma Greenwell.
Mickey Milkovich- played by Noel Fisher.
Mike Pratt- played by Jake McDorman.
Shelia Jackson- played by Joan Cusack.
Veronica Fisher- played by Shanola Hampton.
The recurring characters/guest stars from season 4 include:
Amanda- played by Nichole Bloom. Amanda is the adopted daughter of a wealthy couple. She is very rebellious and has a sexual relationship with Ron. The character is recurring for season 4.
Bonnie- played by Morgan Lily. Bonnie is a friend of Carl's, whom she met in juvenile detention. The character is recurring for season 4.
Carol Fisher- played by Vanessa Bell Calloway.
Chuckie- played by Kellen Michael. Chuckie is the son of Sammi, has a low IQ and gets in trouble with the law often. His character is recurring in season 4.
Derek Delgado- played by Luca Oriel. Derek is an aspiring mixed martial artist. He dates Debbie but leaves her once he discovers she got pregnant with his baby on purpose. The character is recurring in season 4.
Jimmy Lishman- played by Justin Chatwin.
Kate- played by Kerry O'Malley.
Kermit- played by Jim Hoffmaster.
Robbie Pratt- played by Nick Gehlfuss. Robbie is Mike's brother and an alcoholic. Robbie has an affair with Fiona while she is dating Mike. Robbie's character is recurring for season 4.
Ron Kuzner- played by Adam Cagley. Ron is Lip's college roommate. The character is recurring for season 4.
Sammi Slott- played by Emily Bergl. Sammi's character is recurring for season 4. She learns that Frank is her father when he seeks her out after finding out he needed a liver transplant. She was not a match, however. Sammi is a recurring character for season 4.
Svetlana Fisher- played by Isidora Goreshter.
Terry Milkovich- played by Dennis Cockrum.
Tommy- played by Michael Patrick McGill.
Tony Milkovich- played by Tyler Jacob Moore.
Have you already watched Shameless season 4? What was your favorite episode? Share below!