A rustic-themed wedding is one way to bring the beauty of nature indoors and create a special atmosphere for you and your guests. By combining creative ideas with thoughtful planning and mindful choices, you can ensure that everything comes together for the perfect day. It's possible to maintain rural charm while still giving off an air of sophistication, ensuring that all event elements are highly memorable.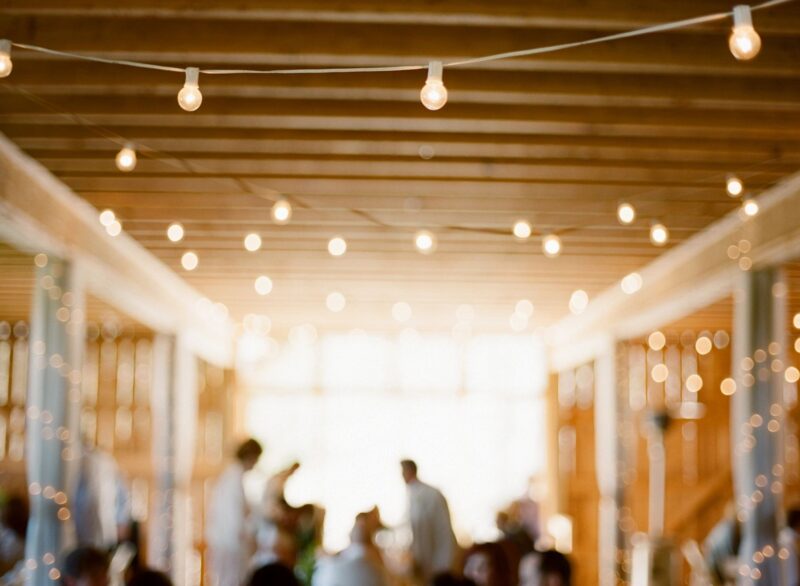 Below are a few tips to make rustic-themed weddings beautiful and undeniably romantic.
8 Brilliant Ideas for a Perfect Rustic Theme Wedding
Selecting Your Venue
Choosing your wedding venue is a big decision, and with a rustic theme in mind, you want to find one that perfectly fits the theme. Barns, farmhouses, and vineyards are all great locations for creating stunning natural settings.
When scouting venues, remember the size you need to accommodate all your guests, the flexibility to customize it to your vision, and the decor options available.
Choosing Decor Elements
Now that you have chosen your rustic venue, it's time to create the perfect look with your decor elements. You can add a nature-inspired atmosphere with wildflowers, hay bales, and mason jars filled with lavender or daisies. A unique touch could be a chalkboard sign or a recycled pallet.
Save money by using items you already have at home, like old picture frames and lanterns, and only rent essential items like tables and chairs if necessary. With creative and cost-effective choices, you can have an impressive and budget-friendly rustic wedding.
Picking Out Music
The choice of music and DJ really matters as it can bring life to the event. According to Drop Top Entertainment, you should choose someone who knows how to entertain your guests and coordinate music with the timeline of your wedding.
Hire a band to create an intimate atmosphere during dinner with traditional acoustic tunes, then pump up the energy with high-energy songs for the dance floor. Add charm to cocktail hour with live fiddlers and dancers. To top it off, supplement with DJ sets from local DJs specializing in rural music like bluegrass, folk rock, and Americana classics. Many DJs also offer amenities such as Self Powered Subwoofers, lighting, and sound systems to add a more elegant touch to your celebration.
Selecting a Color Palette
Transform your venue into a natural wonderland by incorporating earthy tones of browns, greens, and blues into your color palette. Enhance the rustic ambiance by adding natural elements like wood, burlap, and lace into your decor. Utilizing these neutral colors both inside and outside your venue will help create a memorable rustic atmosphere.
Be Strategic with Lighting
When planning a country party or wedding, lighting can create an atmosphere and ambiance. Instead of harsh fluorescent lamps or spotlights, opt for softer options such as string lights, chandeliers, or lanterns. This will set the mood for your event, not to mention it'll be much more flattering during pictures and videos.
Crafting Your Menu
Incorporate rustic vibes into your menu by serving classic comfort foods like mac and cheese or mashed potatoes. Instead of individual meals, offer batches of assorted snacks for a more eclectic feel, such as homemade pretzels or popcorn in attractive burlap-lined baskets. For drinks, consider beer flights from local breweries or create a soda fountain vibe with vintage jars filled with delicious mint lemonades or old-fashioned ginger ale. Finally, top off the day with a dessert bar featuring pies, cakes, and other natural ingredient baked goods.
Complementing Attire
Add some genuine country flair to the attendants' ensembles for a rustic-themed wedding. Ladies can try replacing dainty heels with cowboy boots, embellishing their dresses with lace trimmings, and opting for straw hats as accessories. The gentlemen could also express the theme by wearing tweed bowties and bolo ties for an extra bit of charm. With these unique touches, everyone will be sure to adore their outfits throughout the entire event.
Capturing Memories
A rustic theme wedding is a truly special event, and capturing memories from this breathtaking setting is essential. The rural charm and rustic decor provide an ideal backdrop that can add an incomparable touch to wedding photos.
Set up your own photo booth with props such as bandannas and wooden signs to ensure that you get the perfect shot. A skilled photographer will be able to capture the special moments of your day, as well as the unique beauty of your chosen venue. Not only will you be able to save these precious memories for life, but you'll also have beautiful photos to look back on and share with friends and family.