How you learn a new hobby has changed drastically over the past few years. No longer do you need an expert in your neighborhood to teach you because you can go online and learn all you need.
For various hobbies and talent development – including playing the guitar – online resources such as social media are more than enough. Thanks to the unique features of different social media platforms, they can all help you in some way to master this art.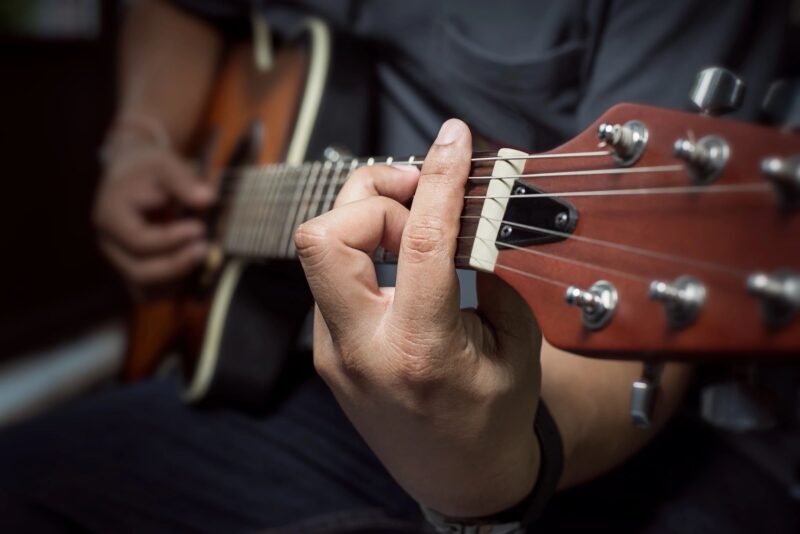 YouTube – Quality Online Lessons
Playing a musical instrument requires theory but also good technique. If you see an expert in action, you can copy what they do, as well as follow their advice. This is easy if you use YouTube videos as guides to learning guitar.
Tutorials are popular on this platform, so there are many people sharing videos that others can learn from. You can use a specific individual's channel or search for specific aspects of guitar playing that you need help with. There's a good chance someone has posted a 'how to' video on that exact topic. You can watch the footage over and over until you grasp the concept.
Of course, it may take a while before you're playing as well as your musical heroes, or you can create stock music to sell online. But with quality audio and video footage, YouTube videos are surprisingly helpful to help you progress quickly. You have access to a variety of experts, so you can learn from ones that use your favorite songs as part of the lessons. This can make the process more enjoyable and keep you committed.
The more you learn and practice, the faster your playing will improve. Using YouTube for learning the guitar is almost like having multiple music teachers on standby. You can learn guitar on the go whenever you have a spare moment.
Instagram – Find a Mentor
Your challenge may be to find a guitar mentor you feel comfortable working with. To solve this problem, browse Instagram and view guitar experts' images and videos for free to discern who you'll enjoy learning from.
Many reputable guitar teachers use marketing campaigns that also include Instagram ads. Through relevant hashtags, you'll quickly find multiple individuals to contact about in-person or online lessons. Some of them also share videos teaching guitar concepts via their Instagram profiles. Try a few and follow your favorites, so you don't miss out on their latest lessons.
LinkedIn – Connect with the Masters
Although LinkedIn is a social media platform focused on business professionals, don't underestimate its value for the artistic community. Talented and respected guitar teachers may use Linkedin as part of their marketing strategies. And because the platform allows sharing of information, including videos, there are many resources available, including free guitar course trials.
You can even get a shareable certificate if you complete some courses. If you're learning guitar for career purposes, this is a valuable resource to prove to others what you're capable of.
Facebook – Interact with Other Guitarists
Facebook is all about connecting with a community, so become part of groups focused on learning guitar. Some players simply enjoy sharing their experiences with other like-minded people. Hearing that others also struggle to learn a certain song or chord will make you feel less alone in chasing a goal, which could motivate you to keep going.
A group usually focuses on a certain niche and audience, such as beginner players or a certain music genre. So, compare the 'About' descriptions of different groups and join the ones that are relevant to your current playing ability and align with your favorite types of music.
Furthermore, Facebook has grown to much more than a platform to find 'Friends.' You'll find public groups with quality content, such as videos, downloadable music sheets or guitar tabs, and helpful tips.
With Facebook's 'Write Something' function, you can ask a question and get replies from multiple people in the community. This will give you valuable perspectives and information to incorporate into your guitar learning journey.
TikTok – Learn and Share with the World
TikTok also gives guitarists a user-friendly platform to distribute guitar lessons in video format. You can browse these to learn from them, but also challenge yourself to share your skill with others. Practice a song and then record it to share on TikTok. The wish to make a good impression will spark an adrenaline rush, and you may be surprised at how well you play. Also, the likes and comments from others are sure to keep you motivated.
Reddit – Get Answers to Questions
As a discussion platform, Reddit is a great source of information. One of the benefits of using this when you're looking for specific information about guitar playing is that comments get voted up or down. This can show you which advice is the best to follow.
In Conclusion
One of the best reasons for using social media to learn the guitar is that so much of the content is available for free. So, if you don't have the budget to learn, but you're passionate about playing this instrument, you now have easy access to resources that will help you improve your skill. Start watching videos and turn into the start you know you can be.