Looking for the best Ready Player One movie quotes? These 8 prove that this is definitely going to be a new sci-fi classic that our grand-kids will even be talking about! Check them out, plus check out the Ready Player One film trailer and cast information!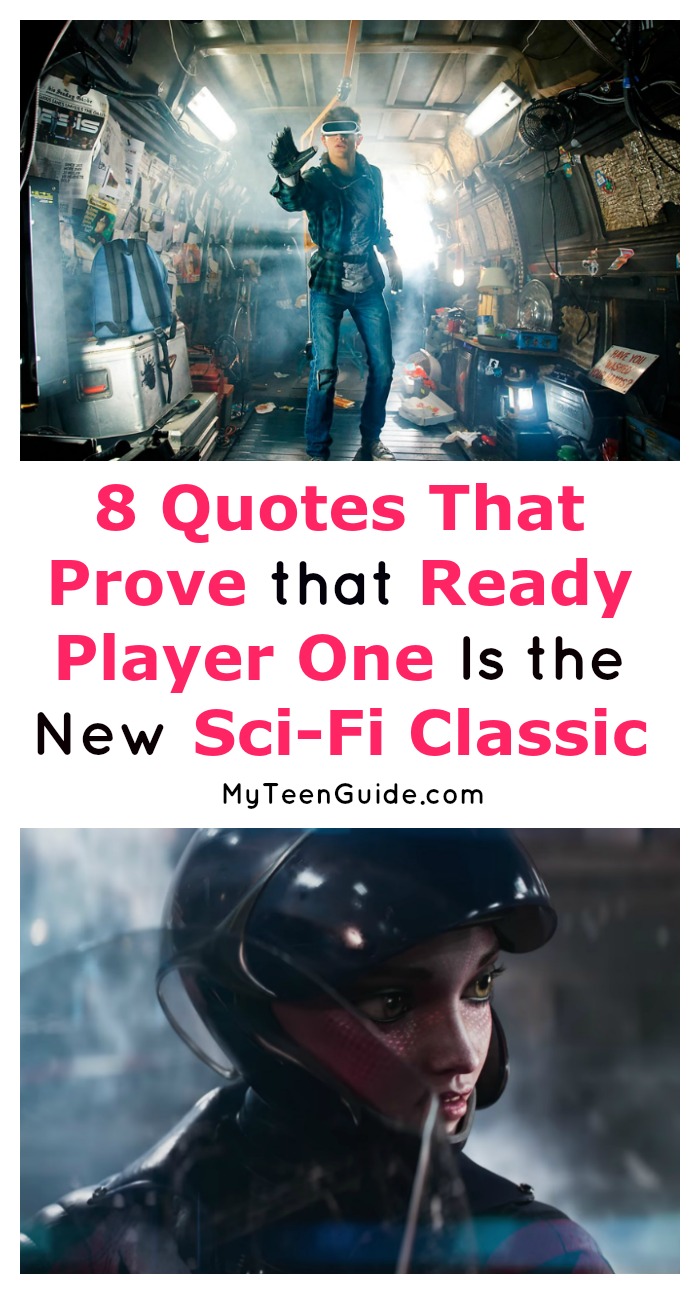 8 Ready Player One Quotes You'll Love + Cast Info You Can't-Miss
Affiliate links included below. If you make a purchase through these links, we earn a small commission at no extra charge to you.
When one of the most prominent directors of today, Steven Spielberg, decides to take on one of the greatest sci-fi novels of the 21st century, you know you are in for a treat. With the popularity of Ernest Cline's novel Ready Player One
, financial backing by Warner Bros and Spielberg's cinematic mastery, Ready Player One is bound to break some box office records for sure when it releases on March 29, 2018. So, let's take a look at what you can expect from this upcoming sci-fi feature, starting with a peek at the Ready Player One movie trailer.
The Young and Promising Cast
Ready Player One movie depicts a dystopian future on Earth, where people spend most of the time in a virtual reality game called the Oasis. Since modern technology is fastest embraced by the younger population, it is no wonder that the cast of the movie is made primarily of talented up-and-coming youngsters.
The main role of a social outcast who becomes one of the better players in the Oasis and one of the leaders of the rebellion, Wade Watts, is played by Tye Sheridan, well-known for his role in Mud, among other things. Wade Watts also goes by his in-game alter ego Parzival.
Quote 1:
IOI Staff Member: Who is this Parzival and how the hell is he winning?
Simon Pegg, a popular British comedian (Shaun of the Dead) and Mark Rylance, who cooperated with Spielberg in his big-screen adaptation of Dahl's The BFG, play the pair of the Oasis founders, Ogden Morrow and James Halliday, respectively. In fact, Halliday's death is the beginning of it all and triggers the Easter egg quest that that is the heart of the film.
Quote 2:
James Halliday: Hello, if you're watching this, I'm dead. I created a hidden object, an Easter egg. The first person to find the egg will inherit half a trillion dollars and total control of The Oasis itself.
Other key roles in this movie are almost all played by promising actors. Letitia Wright, who Black Mirror fans know from the Black Museum episode, plays Reb, Hannah John-Kamen plays F'Nale Zandor, while the role of Samantha Evelyn Cook, or Art3mis, one of the leaders of the rebellion, is given to the lovely Olivia Cooke.
Quote 3:
Samantha Cook: Welcome to the rebellion, Wade.
Another important role, the one of Nolan Sorrento, leading villain from the movie, is given to the Rogue One actor Ben Mendelsohn. He portraits the heartless head of operations at one of the major corporations looking to win the contest at any cost and take the ownership of the Oasis for their own personal gain and exploitation.
Quote 4:
Nolan Sorrento: I mean it's nothing less than a war for control of the future.
The supporting cast also includes T.J. Miller as the virtual treasure hunter i-Rok, Lena Waithe as Aech, Win Morisaki as Daito, Philip Zhao as Shoto. And in the midst of many popular culture references in the movie, there is one special treat in the form of Vin Diesel reprising his role as the voice of the Iron Giant.
Blurred Lines
As is the case with dystopian movies, the future in this one looks rather bleak and pessimistic. The world is overcrowded and most people live in mobile homes called "stacks", because they are piled on one by one to dizzying heights. The Oasis is the only escape for the youth and the lines between reality and virtual reality seem to disappear rapidly since a lot of people actually go to school or work in the Oasis.
Quote 5:
Wade Watts: [voice over] I was born in 2025, but I wish I'd grown up in the 1980's, like all my heroes. I live here in Columbus, Ohio. In 2045 it's still ranked the fastest growing city on earth, but it sure doesn't seem like it when you live in the stacks. They called our generation The Missing Millions. Missing not because we went anywhere, there's nowhere left to go. Nowhere, except The Oasis. It's the only place that feels like I mean anything. A world where the limits of reality are your own imagination.
When the Easter egg hunt begins, which is actually a sprawling pop-culture reference-filled puzzle, the Oasis becomes a dangerous place to be.
Quote 6:
Samantha Cook: This isn't just a game. I'm talking about actual life and death stuff.
The Oasis quickly becomes the real life, and when corporations with many resources at their disposal join the hunt with the goal of taking the Oasis under their wing, the players must fight to preserve their world, their oasis of sanity and happiness.
Quote 7:
Wade Watts: [voice over] I just came here to escape, but I found something much bigger than myself. I found my friends. I found love! And now people have lost their lives.
A Breath of Nostalgia
Ready Player One is a movie filled with references to popular culture from decades past, especially 80s and 90s. In addition to beforementioned Iron Giant, you will be able to see various characters from the Lord of the Rings series, DC Comics universe, Street Fighter characters, as well as Lara Croft and Freddy Krueger. There are also references to King Kong, Jurassic Park, RoboCop and many others, which makes this movie a must-watch for all trivia buffs out there. In the novel, there are also many references to Steven Spielberg's works, but he tried to avoid including them in the movie.
Quote 8:
Wade Watts: [voice over] This is the Oasis. It's a place where the limits of reality are your own imagination. People come to the Oasis for all the things they can do, but they stay because of all the things they can be.
Since this is destined to be a huge hit, you'll want to get your tickets early. You can grab them on Fandango and get a free movie poster. Sign up here to be first to buy the tickets.
Are you looking forward to seeing this one in theaters? Have you heard any other great Ready Player One movie quotes? Share below!