Looking for all of the best Maze Runner: The Death Cure movie quotes? We've got you covered! Check out some of our favorite lines from the movie, along with everything you want to know about the Maze Runner cast!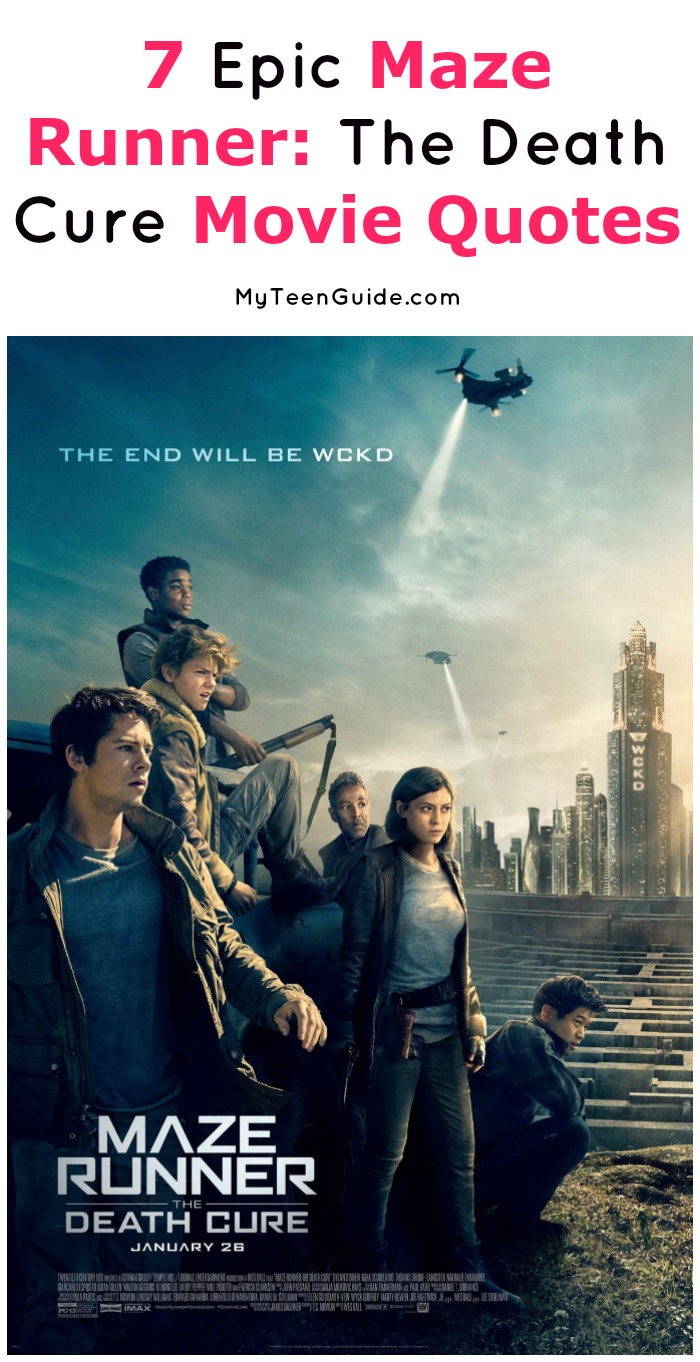 Maze Runner: The Death Cure is a dystopian, sci-fi, action, thriller movie, due in theaters on January 26, 2018. It is based on the 2011 novel- The Death Cure- by James Dashner. It's the final chapter in the series. Yes, there are more than three books in the Maze Runner series, but many of them are just tiny prequels and "in-between" stories. The actual series has three main books.  Here are some quotes from not only the upcoming movie, but its two prequels as well!
Maze Runner: The Death Cure Movie Quotes
Watch the movie trailer for Maze Runner: The Death Cure here:
Quotes from Maze Runner: The Death Cure (2018)
1. Conversation between Janson and Ava Paige-
Janson- "I can handle Thomas. He's going to show up eventually."
Ava- "That's what I'm afraid of."
Janson (Aidan Gillen) was the Assistant Director of WICKED. Ava Paige (Patricia Clarkson) is the Chancellor of WICKED.
2. Vince, talking to Thomas, Teresa, Newt, Frypan and Jorge-
Vince- "They took you because you're immune to a plague that's wiping out the human race. They think you're worth sacrificing to find a cure."
Vince (Barry Pepper) is the leader of the Right Arm, an organization that is opposed to WICKED. Thomas (Dylan O'Brien), Teresa (Kaya Scodelario), Newt (Thomas Brodie-Sangster) and Frypan (Dexter Darden) are all Gladers and Jorge (Giancarlo Esposito) is a WICKED pilot.
3. Newt, talking to Jorge and Frypan-
Newt- "Three years spent behind walls trying to break out, and now we're trying to break back in."
Newt is talking about breaking into the WICKED-Controlled maze, known as the Last City.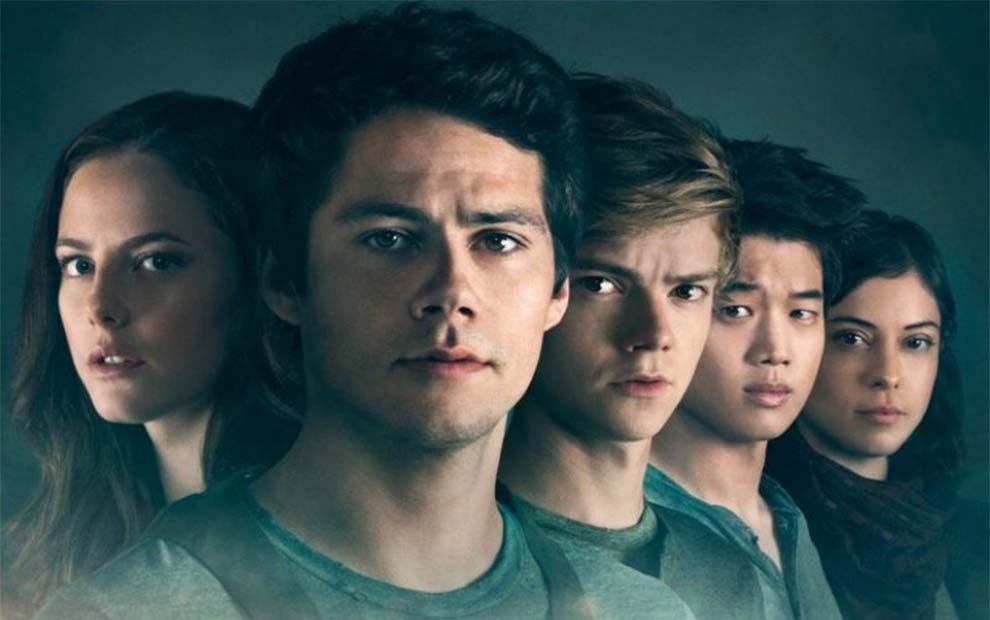 4. Conversation between Thomas and Newt, referring to their dangerous mission through what might be the deadliest of all mazes-
Thomas- "There's no guarantee we can make it back from this."
Newt- "But we started this together, we may as well end it together too."
Quote from Maze Runner: The Scorch Trials (2015)
5. Thomas, talking to Frypan, Minho, Newt, Teresa and Winston-
Thomas- "There's something inside of us that W.C.K.D. wants. It's why we can't let them find us. You guys don't have to come with me, but I know we can make it."
Thomas tries to convince the remaining Gladers to try and escape with him through the Scorch.
Quotes from The Maze Runner (2014)
6. Conversation between Alby and Thomas, when Thomas first arrives at The Glade-
Alby- "My name is Alby. Now, can you tell me anything about yourself, who you are?"
Thomas- "What is this place?"
Alby-  "Let me show you. Hope you're not afraid of heights. Let's go. Come on. This is all we got."
Thomas- "What's out there?"
Alby- "We only have three rules. First, do your part. Second, never harm another Glader. Most importantly, never go beyond those walls."
Alby (Aml Ameen) is the leader of the Gladers.
7. Conversation between Thomas and Newt, as Newt tries to give Thomas a primer on what the maze is about-
Thomas- "What's through there?"
Newt- "That's the maze. It never takes the same shape twice. Every morning when those doors open, there are runners who look for a way out and no one has ever survived a night in the maze."
Thomas- "What happens to them?"
Newt- "We call them Grievers."
Newt is the Gladers' second-in-command.
Maze Runner: The Death Cure movie cast
The cast of Maze Runner: The Death Cure is huge, and I don't just mean star-wise! With so many names and faces to remember, we put together a quick who's who list for you. Here are the main cast members:
Dylan O'Brien- Thomas
Kaya Scodelario- Teresa
Thomas Brodie- Sangster- Newt
Dexter Darden- Frypan
Nathalie Emmanuel- Harriet
Giancarlo Esposito- Jorge
Aidan Gillen- Janson
Walton Goggins- Lawrence
Ki Hong Lee- Minho
Jacob Lofland- Aris
Barry Pepper- Vince
Will Poulter- Gally
Rosa Salazar- Brenda
Patricia Clarkson- Ava Paige
Chances are, you've seen all of these faces somewhere else. Dylan O'Brien played Stiles, my favorite character in the Teen Wolf TV series on MTV. In fact, if you're a fan of the show and wondered why you didn't see nearly enough (or much at all, really) of Stiles in the final season, blame Maze Runner: The Death Cure! Between filming and then getting hurt while filming, his Teen Wolf character only appeared in name throughout much of the final season.
https://www.instagram.com/p/Bd3frKoARN3/?taken-by=mazerunnermovie
Kaya (aka Teresa) has also appeared in some huge movies aside from the Maze Runner trilogy, including the latest Pirates of the Caribbean installment and the British show, Skins.  Fun fact: Kaya is fluent in both English and Brazilian Portuguese!
https://www.instagram.com/p/BdyVlSyAlf0/?taken-by=mazerunnermovie
Phineas and Ferb fans will definitely recognize Thomas Brodie-Sangster's voice. He's Ferb! He also played in a bunch of episodes of Game of Thrones (along with Aidan Gillen), as well as a couple episodes of Doctor Who.
Remember, Maze Runner: The Death Cure comes out on January 26th! That's less than two weeks away! I can hardly wait, how about you?
Have you heard any other great Maze Runner: The Death Cure movie quotes? Will you be seeing this in theaters? Share your thoughts below!