Fall is just around the corner and I am having so much fun checking out all of the Halloween costumes.
I <3 this holiday!
Rather than standing in that absurd line at the pop-up costume shop, check out some of these ah-mazing looks I have rounded up online.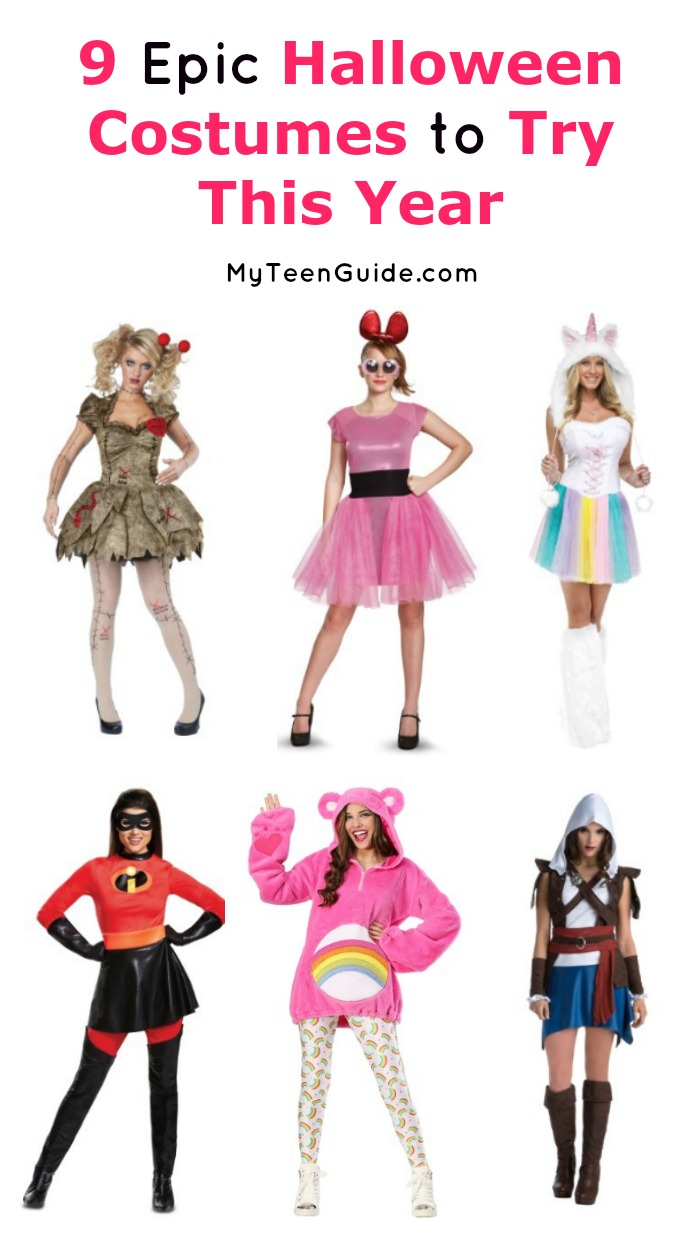 Shop for your perfect costume right from your living room and you will snag that look that turns heads.
Related: 9 Scary Versatile Halloween Hairstyles That You Need To Copy
 Halloween Costumes You'll Want to Try
This post contains affiliate links. If you make a purchase through these links, we earn a small commission at no extra charge to you.
1.  Marvel Captain America Women's Costume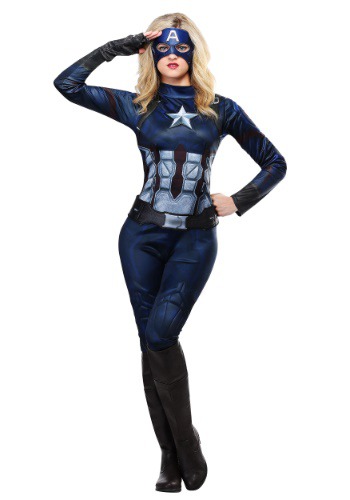 While we'll have to wait until next year for a good Ms. Marvel costume, we fangirls can still get in on the superhero fun with this fab Marvel Captain America Women's Costume. The officially licensed costume includes:
Jumpsuit with quilted foam padding to give it a 3D look
Foam belt has hook & loop fastener at back
Foam eye
The Captain America shield
is sold separately.
2. Powerpuff Girls Blossom Costume
Love the Powerpuff Girls? You must check out this cute officially licensed Powerpuff Girls Blossom Costume. It comes with:
Pink dress with a glittery tulle skirt overlay
Headband with cute red foam bow attached
Plastic glasses with "anime eyes" to complete the look
3. Lion Queen Armor Gown Costume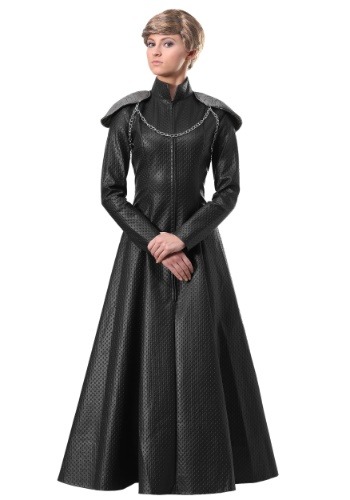 While sexy costumes are fun, sometimes you want to leave a little more to the imagination. For those who are looking for a more modest Halloween costume that's still awesome, try this Lion Queen Armor Gown Costume inspired by Game of Thrones. It includes:
Dress made of textured faux leather, with attached shoulder armor made from printed metallic fabric.
Petticoat with an elastic waist and attached netting layers
4. Care Bear's Cheer Hoodie Costume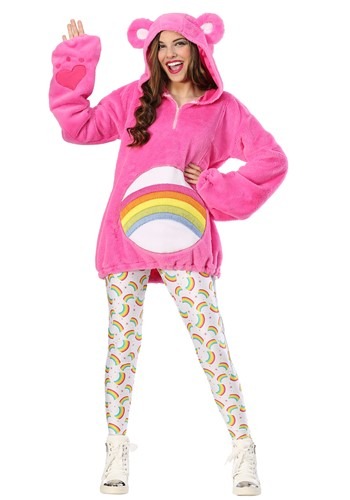 Show off your happy disposition with this insanely cute Care Bears Cheer Bear Hoodie Costume. My favorite thing about this one: you can keep wearing it after Halloween! The officially licensed costume comes with:
Cozy hoodie with faux fur and an embroidered & appliqued belly badge
Leggings with elastic waistband and all-over rainbow print
5. Mrs. Incredible from Disney's Incredibles 2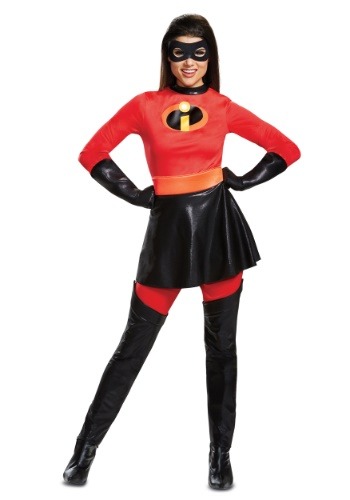 Disney fans absolutely must try this Officially licensed Disney Incredibles 2 Mrs. Incredible Costume! It comes with:
Jumpsuit and skirt made of poly and spandex. The attached shoe covers have an elastic band under the foot to help keep them in place.
Black eye mask to keep your identity a secret
Black gloves, so you don't get your hands dirty cleaning up all that crime!
6. Flirty Queen of Hearts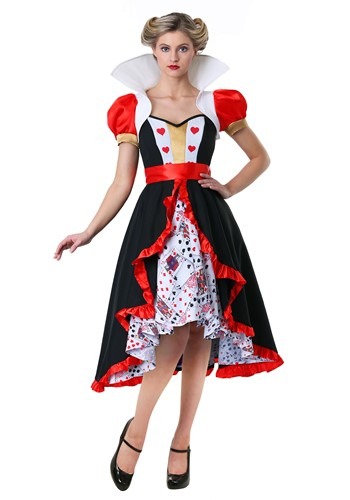 Looking for something flirty but not too revealing? I just adore this Flirty Queen of Hearts Costume inspired by my all-time favorite book, Alice's Adventures in Wonderland
. The costume includes:
Dress with clear length-adjustable shoulder straps and foam bodice. The overskirt has red satin edging and a satin waist sash.
Shrug jacket with puffed satin sleeves, stand-up foam collar
Red satin belt
7. Voodoo Dolly Costume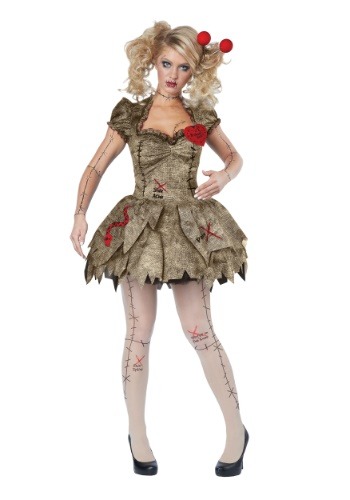 If you want something that's scary but still adorable, grab this Voodoo Dolly Costume! It comes with:
Pull-on dress with printed design on front and back, and attached netting on sleeves & skirt to add volume
Novelty pins made of plastic, with foam ball tops
Heart pin that's stuffed with fabric
Sheer tights with printed design.
8. Unicorn Costume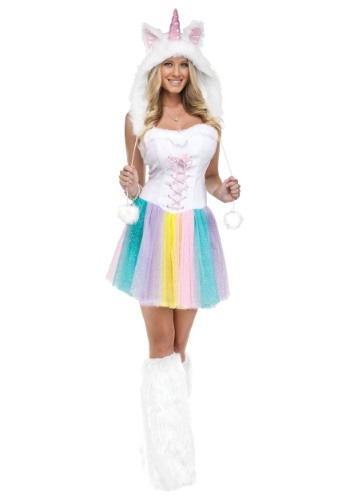 How cute is this Women's Unicorn Costume? I am just SO in love with it! It comes with:
Dress with detachable transparent bra straps and decorative lacing down the front.
Super cute unicorn hood with pompoms attached.
Faux fur leg warmers
9. Assassins Creed Costume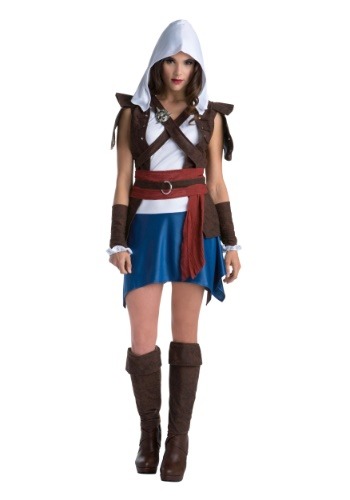 Show off your gamer girl pride with this awesome Assassins Creed Edward Kenway Costume! The Officially Licensed costume comes with:
Dress with hook & loop loop fastener at center back
Attachable hood
Forearm cuffs
Cuffed boot tops
So lovelies, what are you going as for Halloween? Which Halloween costumes from my roundup are your new favs?