These 10 movies like The Predator totally freaked us out!
Seriously, after watching them, I'm pretty sure I don't ever want to find out if there is life on other planets!
If you're looking for some great sci-fi/horror flicks, these are definitely the ones you want to add to your watch list!
Check them out!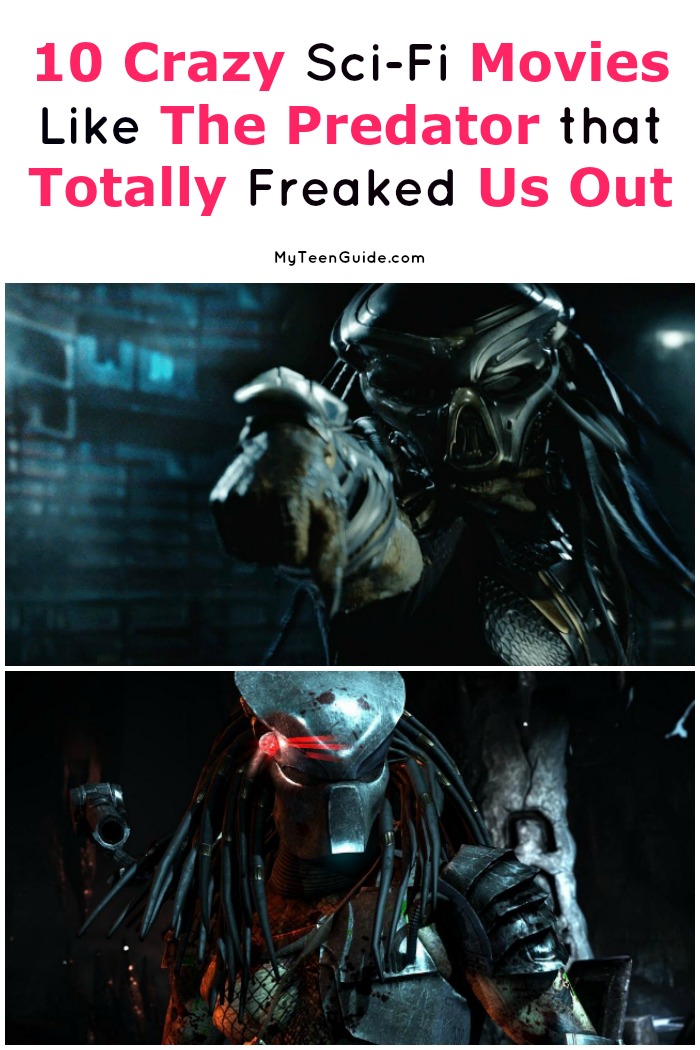 Movies Like The Predator
This post contains affiliate links. If you make a purchase through these links, we earn a small commission at no extra charge to you.
The Predator is an upcoming movie that combines action, adventure, horror and sci-fi and is set to be released in movie theaters on September 14, 2018. If you want to skip the lines when it comes out, make sure you sign up for a Fandango Fan Alert so you can get your tickets online!
While you're waiting for September 14, 2018 to roll around, here are some other awesome movies like The Predator.
1. Pitch Black
Pitch Black is an action, horror, sci-fi movie that is the prequel to the 2004 The Chronicles of Riddick
and the 2013 Riddick
. When it first came out, it was celebrated by sci-fi fans for its originality.
Survivors of a commercial transport ship, that crashed on a desert planet full of alien creatures, try to make it off the planet safely.
Pitch Black stars Vin Diesel, Radha Mitchell, Cole Hauser, Keith David and Rhiana Griffith.
The movie earned 7.1/10 rating on IMDB  making it the best-rated of the franchise.

2. 28 Days Later
Not to be confused with the Sandra Bullock drama, 28 Days
, which is most definitely NOT about zombies!  28 Days Later is a post-apocalyptic, horror, sci-fi movie that is the prequel to the 2007 28 Weeks Later.
One month after a contagious virus wipes out most of the United Kingdom, the 4 remaining survivors- Jim, Selena, Frank and Hannah- try to find sanctuary.
28 Days Later stars Cillian Murphy, Naomie Harris, Brendan Gleeson and Megan Burns.
This highly rated film earned an incredible 86% on Rotten Tomatoes.
Ideal for people who like zombie movies!

3. – I Am Legend
I Am Legend is a post-apocalyptic, horror, sci-fi movie that is based on the 1954 book, of the same name, by Richard Matheson.
Three years after a virus outbreak has wiped out 90% of humanity and turned 9% into vampire mutants, the sole survivor- Lieutenant Colonel Robert Neville- tries to find a cure for the virus.
I Am Legend stars Will Smith and Alice Braga.
This is probably my favorite of all the movies like The Predator on our list. While the book is better, the movie is also pretty fantastic. Disturbing, but fantastic.

4. The Mist
The Mist is a horror, sci-fi, thriller movie that is based on the 1980 book, of the same name, by Stephen King. This movie made me angry beyond words, although I can't tell you why because it ruins the ending.
A group of residents, trapped in a grocery store after bloodthirsty creatures descend on their small town, fight for survival.
The Mist stars Thomas Jane, Marcia Gay Harden, Laurie Holden, Andre Braugher and Toby Jones.
Don't confuse this with the series on the same name on Netflix, which was just brutally awful in my opinion.
This movie earned a 7.2/10 on IMDB.

5. Cloverfield
Cloverfield is a found-footage, horror movie that is the prequel to the 2016 10 Cloverfield Lane
and the 2018 The Cloverfield Paradox
.
After a gigantic creature attacks New York City, six friends- Rob Hawkins, Beth McIntyre, Jason Hawkins, Lily Ford, Hud Platt and Marlena Diamond- try to flee the city.
Cloverfield stars Michael Stahl-David, Odette Yustman, Mike Vogel, Jessica Lucas, T.J. Miller and Lizzy Caplan.
It's interesting to note that Cloverfield earned a 77% on Rotten Tomatoes, it's first sequel (10 Cloverfield Lane) a whopping 90%, and it's second sequel (Paradox) an incredibly low 17%. What happened there???

6. Pandorum
Pandorum is an action, horror, mystery, sci-fi movie that really freaked me out, even if it wasn't that highly rated.
Lieutenant Payton and Corporal Bower, a pair of flight crew members from an interstellar ark, wake up from hypersleep with partial amnesia.
Pandorum stars Dennis Quaid and Ben Foster.
While it only scored a 28% among Rotten Tomato critics, it has an Audience Score of 48%.
This one is currently available on Netflix.

7. Dark Skies
Dark Skies is a horror, sci-fi, thriller movie, and it happens to be one of my favorite movies like The Predator. Keri Russell is a long way from Felicity in this performance!
After strange occurrences disrupt the lives of the Barrett family- Daniel, Lacy, Jesse and Sammy- seek out the help of a paranormal expert- Edwin Pollard- and discover a deadly force is causing the occurrences.
Dark Skies stars Josh Hamilton, Keri Russell, Dakota Goyo, Kadan Rockett and J.K. Simmons.
While it scored a 6.1/10 on IMDB, it earned a meager 43% on Rotten Tomatoes. Too bad, because it's a really good movie!

8. World War Z
World War Z is an action, adventure, horror movie that is based on the 2006 book, of the same name, by Max Brooks
.
Gerry Lane- a former United Nations Investigator- travels around the world to try and stop a zombie pandemic.
World War Z stars Brad Pitt, Mireille Enos, Daniella Kertesz, and James Badge Dale.
The movie scored a 66% on Rotten Tomatoes, which seems to be about average for sci-fi flicks.

9. Alien: Covenant
Alien: Covenant is a horror, sci-fi, thriller movie that is the prequel to the 2012 Prometheus
and is the 6th installment in the Alien movie series, after- 1979 Alien
, 1986 Aliens
, 1992 Alien 3
and 1997 Alien Resurrection
.
Covenant, a colonization ship and its crew, are headed to a remote planet, only to discover that the planet's residents are pale-white Neomorphs.
Alien: Covenant stars Michael Fassbender, Katherine Waterson, Billy Crudup, Danny McBride and Demian Bichir.
The flick earned about a 60% straight across the board on all of the major critic sites, which isn't too shabby for a sequel!

10. Life
Life is a horror, sci-fi movie that stars some of the hottest (literally) actors and actresses of our time! If you subscribe to Starz through Amazon, you can watch this one for free.
On the International Space Station, the six member crew- Rory Adams, Dr. David Jordan, Dr. Miranda North, Sho Murakami, Dr. Hugh Derry and Ekaterina Golovkina- discover that there is life on Mars.
Life stars Ryan Reynolds, Jake Gyllenhaal, Rebecca Ferguson, Hiroyuki Sanada, Ariyon Bakare and Olga Dihovichnaya.
Most of these sci-fi movies like The Predator definitely made me rethink my wish to become an astronaut, and they all definitely made the hairs on my arm stand up at least a few times!
What are some of your favorite sci-fi movies like The Predator? Tell me below!