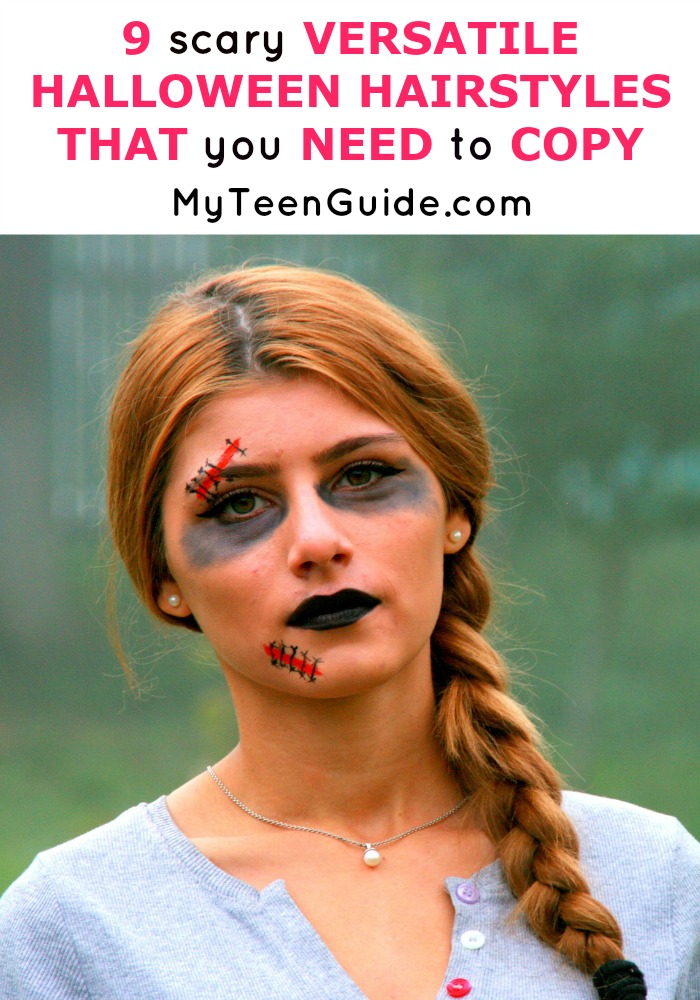 With Halloween just around the corner, it's the perfect time to start trying hairstyles for your costumes! I know once I get my costume picked out, my hair and Halloween makeup are the next items on my list for that Halloween party I'm going to! Check out my versatile hairstyle picks that will complete any look!
9 Scary Versatile Halloween Hairstyles That You Need To Copy
1. Pig Tail Braids – These grand, exaggerated braids are perfect to add to a creepy doll costume or a fun cowgirl costume. This look can easily be adapted to accompany a scary costume or a cute one!
https://www.instagram.com/p/BJ5zRSAA8py/?tagged=pigtails
2. Sleek Pony – This sleek, tight pony is ideal for a ninja costume or a cat (just add ears)! This look is relatively easy. Don't be scared to use a lot of hair gel to ensure that it creates a sleek look.
https://www.instagram.com/p/BI9KGX6DFsJ/?tagged=sleekpony
3. Tight Bun – This compact hairstyle is great to keep your hair out of your face. This look is ideal to compliment a ballerina costume or a horseback rider costume. Super cute and easy! Just grab the bobby pins!
https://www.instagram.com/p/BHqYZUHD2x8/?tagged=tightbun
4. Dutch Braids – This look is a little more complicated but still absolutely adorable! This hairstyle would pair well with a maiden costume or a fairy (just add a flower crown)!
https://www.instagram.com/p/BJ-PnELBOVW/?tagged=dutchbraids
5. Curls – Big, bold, beautiful curls are the perfect addition to an old Hollywood glam costume or a little red riding hood costume. Give those curls a quick spritz of hairspray and you'll be good to go for the entire school dance or party!
https://www.instagram.com/p/BJ7tS0rg4IB/?tagged=bigcurls
6. Half Up Half Down – This look is ideal for a sparkly, gorgeous, princess costume, a genie or just about any animal you can think of! Play with this look, it's versatile.
https://www.instagram.com/p/BJ8ewo1DP94/?tagged=halfuphalfdown
7. Back Combed – Try backcombing (also known as tease your hair) your hair for a mad scientist costume or add a witch's hat! This look is easy and supposed to look messy! Backcomb as much or as little as you want!
https://www.instagram.com/p/9g1wqGzM3U/?tagged=backcombedhair
8. Straight Sleek – A straight sleek look is super versatile and can be done with almost any hair length! This look is simple yet pairs well with almost anything. How about trying a vampire costume?
https://www.instagram.com/p/BFP8hfVy6eN/?tagged=sleekstraighthair
9. Braided Crown – A braided crown is perfect for a circus performer costume. It's also a great option for a fairy costume too!
https://www.instagram.com/p/BJQmeu0gybj/?tagged=braidedcrown
The possibilities are truly endless when it comes to Halloween hairstyles! Play with these styles, make them your own and see what you can create! Grab your friends and start practicing because Halloween will be here before you know it!
Do you have a favorite hairstyle in the list? Let us know in the comments below. We love hearing from you!
Image via Pixabay