Babies begin to get their first teeth when they are 4 to 7 months old and it can be a frustrating time for both you and your child. Teething baby toys help provide counter-pressure, which eases the pressure of the new teeth pushing through their gums. There are many baby toys on the market that your child can chew on to relieve the pressure.
How To Choose Teething Baby Toys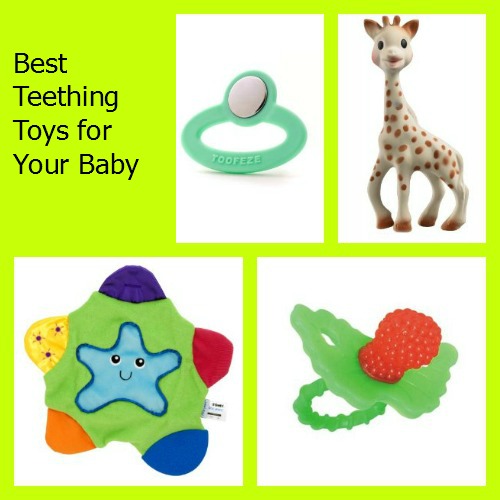 With so many baby toys for teething infants available, parents may be overwhelmed at which ones to choose. When searching for teething baby toys, choose products that will also help with other areas of development, such as sensory and vision.
Vullie Sophie the Giraffe Teether
This baby toy for teething babies is made with food paint and is 100% natural rubber, making it free of BPA and phthalates. It has a soft squeak, is flexible everywhere, and is easy for your child to grasp. Sophie the Giraffe is soft to the touch and is visually appealing to babies.
If you are looking for an inexpensive non-toxic teething toy for your child, then consider the Razberry Teether. It is 100% medical grade silicone and does not contain BPA. It is visually stimulating and is multi-textured. This baby toy looks just like a pacifier and can be frozen to provide extra relief.
Toofreze Baby Teether and Soother
This teething toy is a stainless steel disk that chills instantly in cold water and is made with natural food-grade ingredients. The surface of this baby toy is shiny so your baby can look at themselves and the silicone handle is textured. This baby toy also encourages early motor skills development and has no paint, latex, or phthalates as well as being free of BPA and PCBS.
The First Years Star Teething Blanket
Another inexpensive, but good baby toy is the Star Teething Blanket, which has multiple teething surfaces. It is made with soft terry cloth and crinkly satin. This baby toy for teething infants also has an attach-a-loop for convenience when you are on the go. Babies love the squeaking noise that one of the points of the star makes, too.
Teething toys do not have to be an expensive purchase. There are many baby toys available that are effective, fun, and are reasonably priced. Check for reviews to see what parent's have to say, if it is visually appealing, and make sure it is easy for your child to grasp. Also remember to buy teething toys that look entertaining. There is no purpose in having a baby toy if it isn't fun to play with.