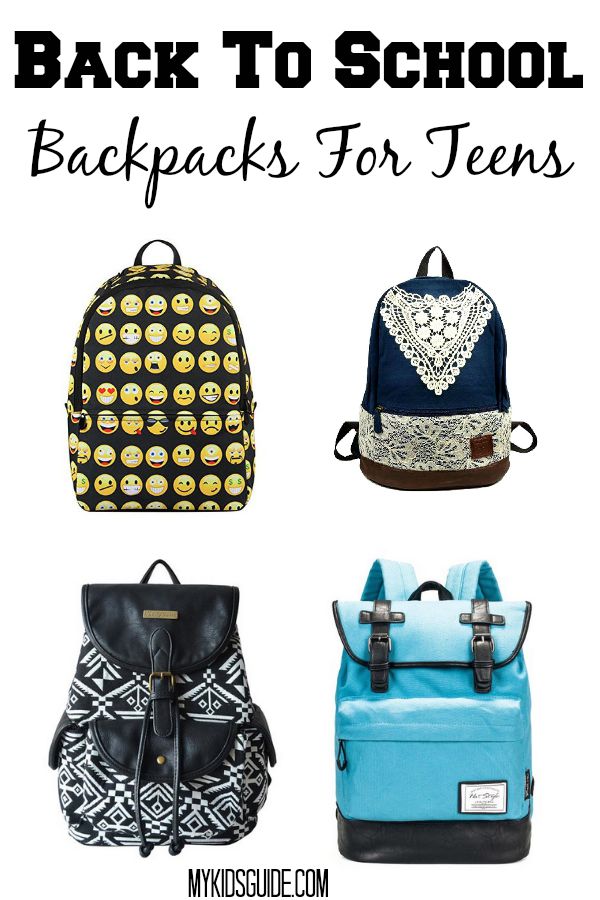 Let's face it, you have to lug a lot of books around with you during the school year. No avoiding it! At least you can do it in style! These Back To School Backpacks For Teens are perfect for keeping all of your books on hand when you need them this year. There are some super cute styles, totally functional styles and of course one that I think is just funny and cool. Grab one, or a few an rotate them out.
Related:  Back To School Supplies That Will Make Your BFF Jealous
Back To School Backpacks For Teens
Affiliate links included below.
Eshops Canvas Casual Backpack: This unisex backpack is perfect for anyone to carry. Canvas is super durable, and easy to wash should it get dirty. It has plenty of pockets to give you room for storage, and the buckles make it safe and easy to keep secure.

Striped Barrel Backpack: This one has a nautical theme that we love. The canvas and leather combination is great and timeless. If you don't like stripes, check out the other colors and designs available in this nice large sturdy backpack for teens.

Vintage Lace Covered Canvas Backpack: This one brings functional with super girly together in one place. I love how cute this is while being fully functional. It has plenty of room for books, supplies, phone, earbuds and even few snacks for in between classes.
Related: Kick Boring Lockers to the Curb with These Hot Looks

World Traveler Damask Backpack: This is a super durable and functional backpack that is also totally trendy with the black and white damask pattern. I love this one. It doesn't have as many pockets, but has plenty for room for everything you need.

Faux Leather & Tribal Print Canvas Backpack: This is a fun and functional backpack that has a great drawstring top with leather flap for even more protection. Cute, functional and totally durable for lugging around all your books for 9 months of school.

Emoji Backpack: This simple backpack isn't very fancy, nor does it have a bunch of pockets. However, it has the best motif with the great lists of Emoji all over it that you will love. Perfect for the social media maven.

Black Multi Compartment Backpack: This is a serious backpack for the person who needs to carry a lot of stuff. It is made for school, work and travel. It is highly durable and has tons of hidden pockets and zippers.

Classic Canvas Retro Backpack With Laptop Storage: This great backpack even has an awesome cushioned laptop storage area. It is a fun bright color, and perfect for carrying books, supplies and sports uniforms.

These back to school backpacks for teens are super fun, functional and durable. They should last all year with ease, and will have you moving in style!