Looking for the best board games for teens to play at your next slumber party? I've got you covered!
Read on for my top 25 all-time favorite board games to play with friends! I'm even including a few that can be played with just two people!
Let's get started, shall we?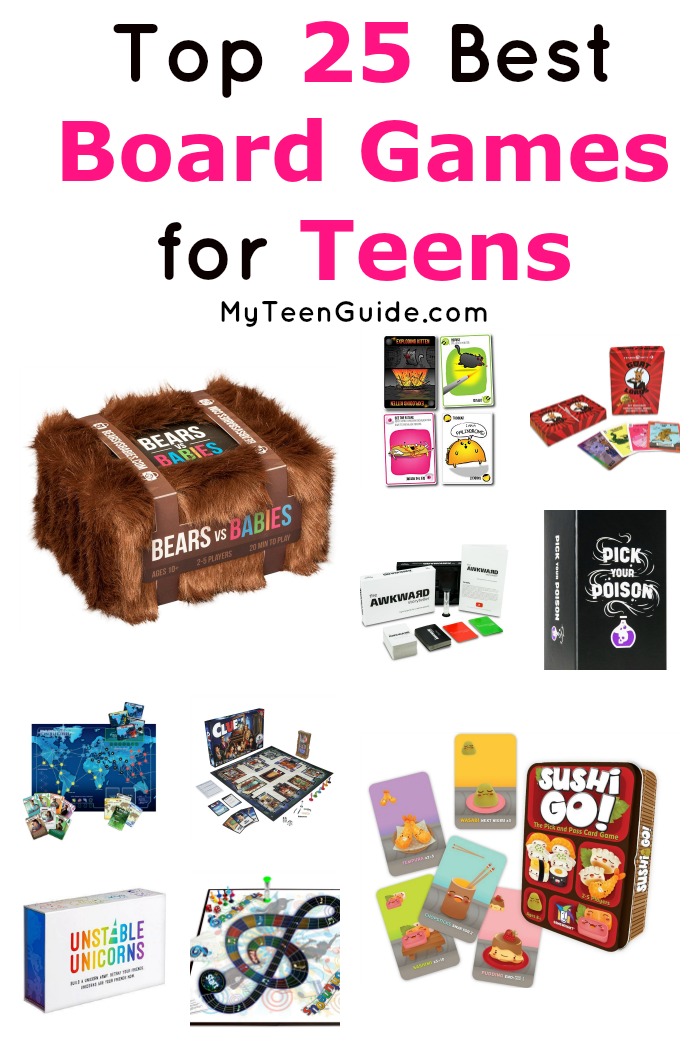 Ultimate Guide to the Best Board Games for Teens
I'll make it super easy for you to find just the right fun board games for teens by breaking this list into categories.
Below, you'll find my favorite classic board games, card games, large-group games, two-player ideas, and strategy board games!
Some games do cross categories (like a card game for 10+ players), so read the descriptions.
I put them in places that made sense to me, and I don't always make sense to others!
FYI: This post contains affiliate links. If you make a purchase through these links, we earn a small commission at no extra charge to you. 
Best Classic Board Games for Teens
The classics are classics for a good reason: they remain fun even after all these years.
1. Trivial Pursuit
Trivial Pursuit is one of my all-time favorite classic board games, and the only one that brings out my competitive side.
Seriously, I could not care less about losing Monopoly, Clue or pretty much any other game on this list, but break out Trivial Pursuit and the claws come out!
While it comes in many versions, the Master Edition is a must-have for any board game closet.
Up to six people can play, but if you grab an expansion pack or two, theoretically you can have as many players as you want.
2. Monopoly
With a seemingly infinite number of versions, you'll never get bored with this classic board game for 2-10 players!
If you're having a throwback party (like 80s night), stick with the Classic Monopoly game.
Not really feeling that one? Here are a few more that I love:
3. Clue
Like Monopoly and Trivial Pursuit, Clue has moved way beyond the classic version, so you're not just solving the same old crime over and over!
I personally love the Harry Potter Clue version, but then I love all things Wizarding World.
Clue works well for smaller groups, since it's made for 2-5 players.
4. Sorry
This game should have been called "Sorry, not sorry," because there's little more satisfying than sending your bestie back to start!
While there are a few different versions of the Sorry board game, I prefer the tried and true classic for 2-4 players.
5. Risk Board Game
If you've ever dreamed of taking over the world, Risk is the game for you!
This classic world conquest game works for 2-5 players, but it's best when you have at least three.
Hasbro made some great updates to the original version, including mission cards that speed up the game and secret missions.
---
Best Card Games for Teens & Adults
Card games rock because you don't need a ton of room to play them (and because they're fun, of course).
Here are a few of my favorites that will have everyone LOLing!
6. Exploding Kittens
The card game that took Kickstarter by storm a few years back is still one of the most entertaining slumber party game for 2-5 players!
Exploding Kittens is easy to learn, but impossible to master (mostly because it's very much a game of luck).
Take turns taking and discarding cards, but watch out for those exploding cats! If you draw one, you better have a defuse card on hand!
7. Loaded Questions
Loading Questions is a 4-6 player game that tests how well you really know each other.
You read a question based on where you land on the board, and your friends all write down their answers.
If you can correctly figure out who said what, you get to move forward!
It sounds simple, but it's actually a hilariously fun challenge!
8. Pick Your Poison
Pick Your Poison is a quirky mix of "Would You Rather?" and "Loaded Questions" for up to 16 players (making it a good fit for large group board games, too).
The game goes like this:
A "judge" picks two cards with different crazy scenarios and answers questions to expand on them.
Players anonymously choose which they'd rather do.
The judge tallies up the votes (A or B) and you find out just how messed up your friends really are!
9. Goat Lords
Goat Lords is a weird yet hilarious card game for fans of Exploding Kittens who need something new to play.
Two to six players compete to become, you guessed it, the Lord of the Goats.
You accomplish this by collecting "breeding pairs" and dueling with other players to protect your goats.
10. Sushi Go!
Another fun card game for small groups (2-5 players), Sushi Go! tests your reflexes and your Sushi master skills!
Compete with your friends to snag the best sushi dish combos as they fly by at record-breaking speeds!
---
Best Large-group Board Games
These fun board games for large groups can either be played in teams or every player for themselves.
11. Taboo
The goal of Taboo is simple: get your team to say the word on the card without saying any of the off-limits words.
Trust me, it's a lot harder than you think, especially when you're racing against a timer!
You can play with as few as 4 people, but it's definitely more fun when you have a group with teams.
12. The Awkward Storyteller
Sometimes you just want to have fun without competing against each other, and The Awkward Storyteller lets you do just that!
The game starts when one player chooses a card with a story-starting sentence.
Other players ask questions, then choose a word or letter card. The storyteller has to continue the story using those cards.
Although it's made for 4-11 players, you could easily add in more people to make the story even crazier.
13. Picwits
Fans of Apples to Apples will love Picwits, a "how well do you know me?" type game for up to 12 players.
The concept is similar but you'll use pictures instead of words to come up with the perfect fit for the judge's card.
Although the game is designed for ages 10-15, it's still crazy fun for older teens.
14. Speed Charades
Sure, you could play regular old Charades with your large group, but Speed Charades is so much more fun!
Teams compete to act out and solve the most clues before the timer runs out.
First team to solve 4 out of the 5 clues on their card wins!
15. Spontuneous
Music lovers will adore Spontuneous, the game that asks, "How well do you know song lyrics?"
It's super simple to learn, just be the first person to blurt out the name of the song containing the word on the card!
Then, you have to sing it! Don't worry, no talent required. In fact, it's even funnier when your friends can't sing!
---
Best Board Games You Can Play with Just Two People
These games are perfect for nights when you just want to chill alone with your best friend without all the chaos of a party.
Sure, you could break out the checkers or chess boards, but these are a whole lot more interesting!
16. Coup
Coup (The Dystopian Game) is perfect for fans of The Hunger Games and Divergent.
Each game only takes about 15 minutes and works well for up to 6 players (in case you invite another friend over).
Your goal in those 15 minutes? Play the role of a corrupt government official and ruin your opponents' credibility, ultimately sending them into exile!
17. Pandemic Board Game
I have an odd fascination with disease, so Pandemic is one of my favorite games!
This cooperative game for 2-4 players has just one goal: stop four deadly diseases from decimating the world!
It's a great game for those times when you're rather play together rather than against each other.
18. Dark Souls Board Game
Dark Souls is a bit, well, darker than the others on this list, but it's SO much fun!
If you love D&D dungeon crawl type games but only have two people, you need to check it out. You can even play it by yourself!
19. Ticket to Ride
Ticket to Ride is one of the most popular board games on Amazon for a good reason: it has massive replay value!
Race against your friends to collect matching train cards and claim railway routes across the country.
Each game takes between 30-60 minutes and lets up to 6 people play (but it's great with just two players).
20. Bears vs. Babies
This odd game with the furry box encourages you to feed babies to the bears!
Don't worry, it's not as creepy or gross as it sounds.
Your goal: assemble the ultimate monster, then be the one to eat the most creepy little babies (like The Beard Baby and the Aerial Ordinance Baby).
This game is worth it for the furry box alone!
---
Best Strategy Board Games for Teens
Prefer strategic board games that really test your critical thinking skills? Check out my top five favorites!
21. Catan
As the winner of The Game of the Century award, you really can't go wrong with Catan!
The "build, grow, and settle" game has infinite replay value on its own, but if you get bored with it, grab one of the many expansion packs (see a few below).
22. Scythe Board Game
Set in the 1920s, Scythe is the perfect strategy game for fans "alternate history" stories.
Each player (1-5) represents a "fallen hero" trying to restore his or her glory, and every choice changes the action.
The most unique part of Scythe, though, is the fact that you don't really take turns.
Everyone plays at the same time, so there's no waiting in between.
23. Carcassonne
Carcassonne is a 2-5 player tile-laying game inspired by the French fortress with the same name.
Your ultimate goal is to fortify your fortress by building up the countryside around it and gaining the most followers.
It sounds complicated but it takes just minutes to learn and each game lasts about 35 minutes.
24. Unstable Unicorns
One of my favorite new games, Unstable Unicorns is perfect for all ages from tweens to adults!
The strategic card game that combines everyone's favorite mythical beast and a universal love of destruction will have you saying "friends, shmends!"
Who needs 'em anyway when you have an army of unicorns!
Although it seems more like it should fit in the card games section, Unstable Unicorns actually requires a good deal of strategics!
25. Deblockle
Deblockle isn't just a fun game to play, it's gorgeous to look at, too!
Seriously, this strategy game was made to be displayed.
The goal is to roll your blocks across the board and be the first to remove all of them.
It's harder than you might think, especially when your opponents are blocking your every move!
26. Yahtzee
Yahtzee is a popular dice game played with five dice and a scorecard. The objective of the game is to score as many points as possible by rolling different combinations of the dice across 13 rounds. Each turn, the player rolls the dice up to three times and must decide which combination to score based on the options available on the scorecard. The game is typically played with two or more players, and the player with the highest score at the end of the game wins. Some popular combinations include "Three of a Kind," "Full House," and the most coveted, Yahtzee (five-of-a-kind). 
The famous board game provides hours of entertainment, and if players don't have access to the physical game, Yahtzee is available for free online in single and multiplayer modes.
All of these cool board games for teens brings something new to the mix, so you'll want to grab a bunch to keep on hand!
What do you think of these best board games for teens? Would you add something else to the list? Share below!