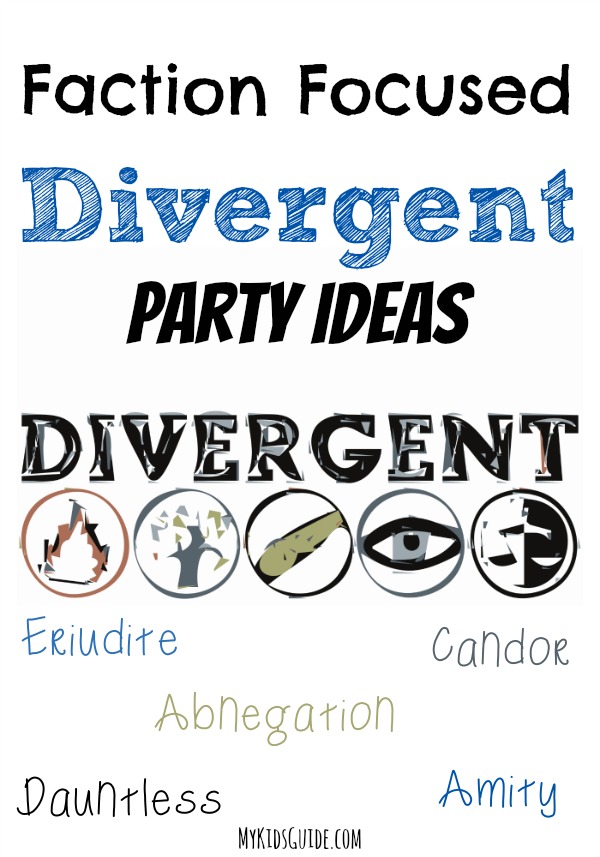 We love the great crossover movies based up on the Divergent book series by Veronica Roth, and these Faction Focused Divergent Party Ideas are a great way to bring the books and movies home. Whether you are hosting a themed party just because, or using it as a way to have a fun themed birthday, this is a great popular idea that all the teens will love. Dressing as part of a faction, taking truth serum drinks or doing fun dares to join a faction can all be great creative ice breakers.
Related: Hunger Games Party Ideas for Teens
Faction Focused Divergent Party Ideas
Affiliate links included below.
Let guests choose a faction when they arrive: Set out a table with bowls for your guests to drop a pebble into as they arrive choosing the faction they want to be a part of. Make sure to add a choice for each faction as well as the multi-faction Divergent.
Dauntless (Brave)
Abnegation (selfless)
Erudite (intelligent)
Amity (peaceful)
Candor (honest)
Divergent (mix of all factions)
Build a Dauntless obstacle course: No zip lines for this (unless you decide to field trip to a local zip line location), but you can easily set up a fun and safe obstacle course for your kids to enjoy together. Rent a bounce house or ball pit for kids to jump into. Set up rope ladders, cones for running through and other fun obstacle courses to make it a fun faction focused Divergent party that lets kids enjoy every faction.
Serve Candor truth serum: Buy bottled juice or sparkling fruit juices in bright colors (HUGS juices are great for this) and print labels that say, "Truth Serum" on them to serve alongside snacks. It's a great element that will reflect the Candor faction.
Encourage guests to bring a donation item: Instead of gifts, ask guests to bring a donation item to collect for the Abnegation boxes to take to a local shelter or women's shelter to help those in need in your own community.
Play Erudite 20 Questions: Make a list of great Divergent facts with names of characters and plot points and play a 20 questions type game around them to test your guests Eruidite intelligence levels. This is a fun way to test your guests knowledge of the books and movies.
Play the compliments game for Amity: Go around the room having each guest say something complimentary of the person to their right. This is a great ice breaker to get to know each other, and shows the true loving and peaceful spirit of Amity.
Teens will love these faction focused Divergent party ideas. Include great snacks like fresh vegetables from Amity or Abnegation, cheeseburger sliders and chips from Dauntless or specially made cakes and cookies that represent the factions for your guests to enjoy. Add elements like a Divergent Edible Image Cake Topper
to really drive the theme home!
Do you have any other Divergent party ideas to add to the list? Share in the comments!