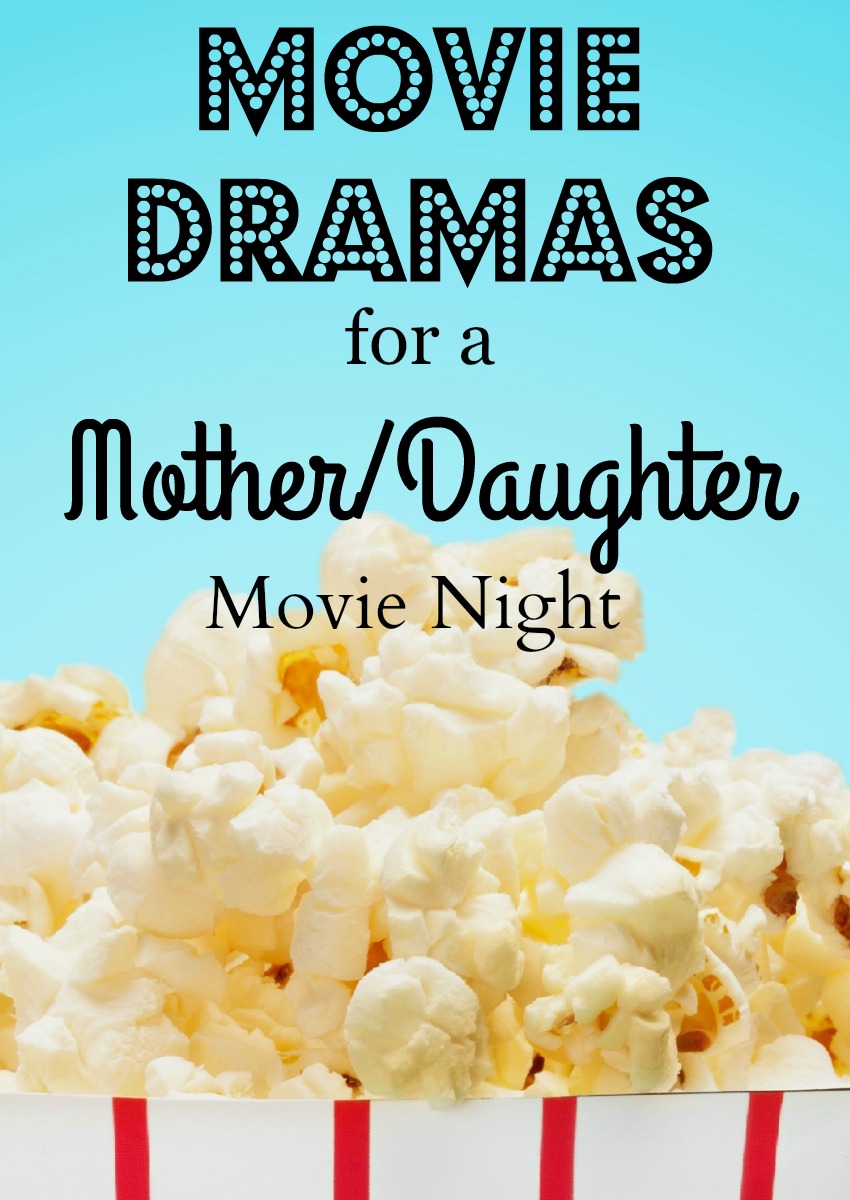 There are some great dramas you can watch if you are looking for some mother/daughter time.  I love settling in for the night, hot popcorn, lights out and most likely a box of tissues, because, well, I know that I cry at most movies (don't judge).  There is something special about having some QT with your mom, here are my faves to get you started.
Related: Best Mother Daughter Movies for Teens and Their Moms
Mother Daughter Drama Movies You'll Both Love
Steel Magnolias: This chick flick stars Dolly Parton and Julia Roberts (just to name a few!) and takes place in Louisiana in the late 80's.  The story follows a mother, M'Lynn (Sally Field) and daughter, Shelby (Julia Roberts) as well as a few of their friends in the small town.  Shelby has diabetes and is told she shouldn't have children, but a few years later she and her husband announce their pregnancy.  After her son turns a year old, Shelby's liver is failing and her mom gives her hers.  Shortly after, Shelby's body rejects the transplant.  It's a sad movie, but a great one showing the special bond a mother and daughter share.
Georgia Rule: Lindsay Lohan was perfect for the role of Rachel, a rebellious teen who is being sent to live with her grandmother for the summer in Idaho.  It's a bit of change from her life in San Francisco!  Her grandmother, Georgia, has strict rules that Rachel must follow while living with her in the quiet Mormon town.  Rachel eventually reveals a secret, possibly the reason she is so rebellious. Her alcoholic mom rushes back to Idaho from California to see if she is telling the truth.  A strong bond between the three women is something that none of them ever thought possible.
Because I Said So: Daphne (Diane Keaton) is the mother of 3 girls.  Two are married, but Milly (Mandy Moore) just ended her relationship with her boyfriend and this concerns her mother.  Being the meddling mother that she is, she places a personal ad for Milly, without her knowing, because she doesn't feel her daughter is capable of finding a 'suitable mate' on her own.  Unaware of this, Milly starts seeing someone.  You can imagine the what happens when Milly accepts a few dates from a man her mother found and a man she found on her own.  But who will she choose?
Anywhere But Here: Growing up with mom Adele, Ann sometimes feels the stress of her mother's eccentricity and spontaneity.  Adele moves her and Ann from the midwest to Beverly Hills 'to fulfill her dreams'.  However, Ann quickly realizes that her mom is not so sure exactly what those dreams are, as one of them is to 'marry a rich man'.  Ann can not leave her impulsive mother, but she starts to resent her for leaving a stable life with her stepfather to pursue an unrealistic one on the west coast.
White Oleander: A young teenager (Astrid) bounces around the foster care system after her mother is sent to prison after for killing her boyfriend after finding out he was cheating on her with a younger woman.  Just as she starts to form a bond with those she lives with, she is forced to move again.  Can you imagine having to visit your mother in prison?  Throughout the movie, Astrid learns about her past and where her feelings of abandonment stem from, and just what kind of mom her mother was and is.
Beaches: I love Beaches.  It is about 2 friends, one a rich debutante and the other with a dream of being an entertainer.  They meet at a beach one summer when and follows each of their lives as they grow up and deal with the ups and downs of life, while maintaining a strong bond.  Grab the tissues for this one, it is definitely a chick flick and a tear jerker!
There are so many great dramatic movies out there you can settle in with your mom and have a mother-daughter movie night with.  Most of them might require the tissues, so stock up!  Be sure to check out this list of great movies to watch with your mom as well to add your to growing list of dramas    
What are some of your faves you have seen with your mom, or plan to?  Share your favorite dramas with the rest of us below so we can plan nights with our moms!