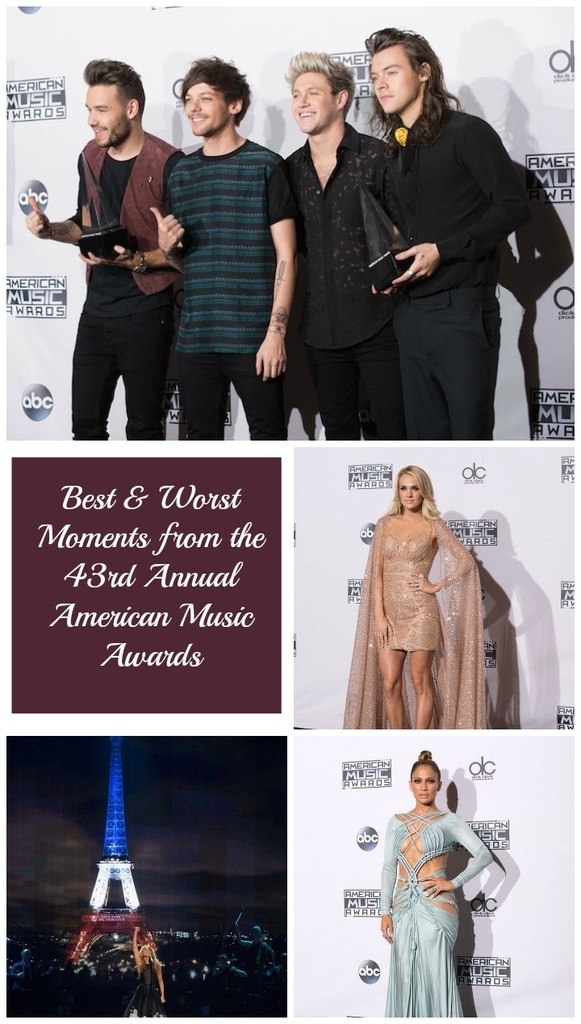 Yesterday, the 43rd Annual American Music Awards were held in Los Angeles. This year, we have Jennifer Lopez hosting the ceremony. She also is the one opening the show, staring off by singing her song, Waiting for Tonight and then sings a medley of hit songs from this year's nominated songs. It was a good number, complete with an array of dancers.
43rd Annual American Music Awards Recap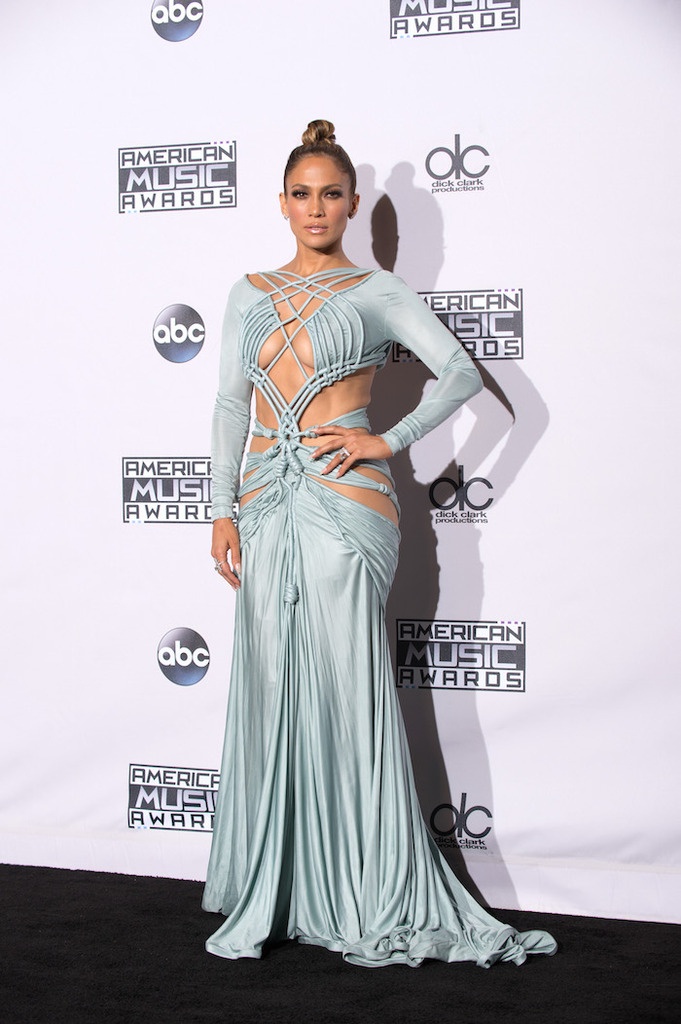 The first award of the night is presented by Prince. He is wearing sunglasses. Really? He does know that he is inside a building right? I always found him to be strange. The award is Best Soul/R&B Album, which does to The Weekend for the album Beauty Behind the Madness.
After Lopez talks about how she always had a dream of hosting the AMA's, Hannah Davis and Wiz Khalifa introduce the performance of 5 Seconds of Summer, who perform Hey Everybody. While they are great performers, they certainly are no One Direction.
Next up to perform is Selena Gomez, singing her hit song Same Old Love. I love this song, I love her voice, I just love her. I loved the long staircase for props.
Nicki Minaj is next to present Best Pop/Rock Duo or Group. I love Nicki, while I get that many people don't. She is a bit rough around the edges at time but she is genuine. I had no doubt that One Direction would win this and they did. This is their third year winning this award.
Jenny McCarthy introduces Carrie Underwood, performing her song Heartbeat. Okay, I love love love Carrie Underwood but Jenny McCarthy is just nothing more than a fake, stuck-up snob. Anyways, Carrie looks beautiful as always in a stunning red dress. The song is a dedication to her husband, Mike Fisher.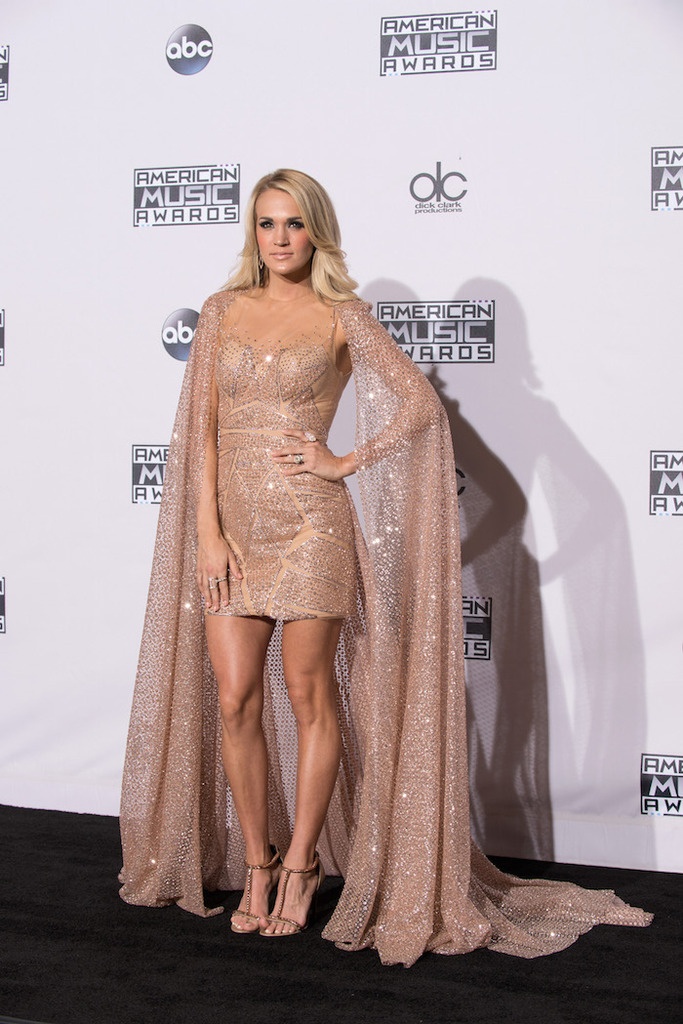 Demi Lovato performs her song Confident. She looks like a cross between a 40's burlesque star and a Goth girl. Not sure if I like what she is wearing but she does have a gorgeous voice.
Chloe Grace Moretz and Nick Robinson introduce Meghan Trainor and Charlie Puth. Trainor takes the stage first to sing Like I'm Going to Lose You and then Puth appears to sing a duet with her, Marvin Gaye. When the song ends, the two share a long, long kiss. Are these two dating? I certainly hope they are and that she doesn't just kiss everyone like this.
Kelsea Ballarini and Florida Georgia Line present the award for Favorite Country Male Artist. The award went to Luke Bryan. While I like Luke, I so think Jason Aldean should have gotten the award.
Ariana Grande takes the stage to perform her song Focus. Not a huge fan of hers but the song has a couple of high notes that she hits so well.
Tyrese Gibson (with his adorable daughter) and Wilmer Valderrama present the award for Top Soundtrack. The award was given to Pitch Perfect 2, which is fitting since it is a movie where they sing a lot.
Gigi Hadid and Kylie Jenner present the award for Favorite Rap/Hip-Hop Album. Okay, is there any show that doesn't involve a Kardashian or a Jenner? They seem to be everywhere, on almost every show. Anywho, Nicki Minaj gets the award for PinkPrint. Well, no surprise there. I knew she would win over J. Cole and Drake.
Zendaya introduces One Direction, who perform their song Perfect. I love these guys. It is too bad they are taking a break. I just hope they are not splitting up for good. They have so much talent.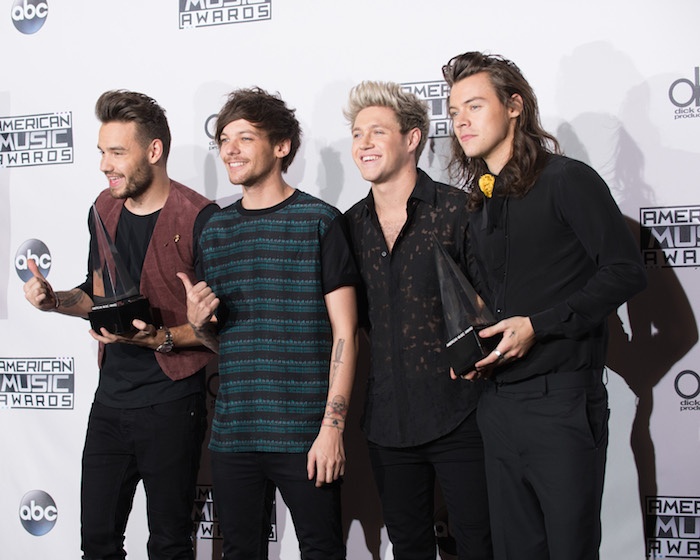 Alicia Silverstone and Jeremy Sisto introduce Gwen Stefani, singing Used to Love You. Thought we would see a shot of Blake Shelton in the audience but I don't think he was there.
Okay I have to admit that the Jonas Brothers were my obsession, specifically Nick. Little Nick is all grown up now and singing solo. The band DNCE introduces him and he performs a medley of his songs including Chains, Levels and Jealous. It was a great performance until a gospel choir appears to sing Jealous. It was a bit odd I think.
Jennifer Lopez presents the award for New Artist of the Year to Sam Hunt. Wow! I am surprised a country star won this. Not that I am complaining since I am a huge fan of country music.
Hailee Steinfeld and Shawn Mendes introduce Walk the Moon, who perform Shut Up and Dance. Interesting song for a rather interesting group.
Paula Abdul is here people. She is so 80's but she is here presenting with Donnie Wahlberg. Speaking of so 80's…Donnie Wahlberg? Really? Anywho, the award is for Favorite Pop/Rock Female Artist and is presented to Ariana Grande. Wait, what? Taylor Swift didn't win? Oh thank you, thank you, thank you.
Fall Out Boy introduces Coldplay, who sing Adventure of a Lifetime. Yeah, this song is an adventure alright. Let me lay this out for you. The performance consisted of psychedelic stuff in the background, pastel balloons and confetti in the audience and dancing gorillas onstage. Yes, dancing gorillas. Well, they weren't actual gorillas but still. Ok, we can move on from this performance anytime now.
Norman Reedus presents the award for Female Country Female Artist to Carrie Underwood. Again this was extremely predictable although I thought Miranda Lambert had a decent chance of winning too.
Ashley Benson and Tove Lo introduce The Weekend, who performs The Hills. I was surprised to see all the pyrotechnics here since I didn't think the network would allow all of that. But, all in all it was a great performance.
Puff Daddy, Diddy, Sean Combs, whatever he calls himself today presents the award for Collaboration of the Year to Skrillex, Diplo and Justin Bieber for Where Are You Now. I have to say I have never heard the song before in my life. I was hoping that See You Again would win this but no such luck.
Little Big Town introduces Luke Bryan and Karen Fairchild who sing their duet, Home Alone Tonight. She has such a beautiful voice and combined with Bryan's vocals, makes for an amazing performance.
Taylor Lautner and Terry Crews introduce Macklemore and Ryan Lewis, along with Leon Bridges performing the song Kevin. If you have never heard of this song, and many haven't since it is fairly new, you need to listen to it. It is a powerful song about holding big pharmaceutical companies responsible for the deaths of prescription drug addicts. They totally have the best performance of the night in my opinion.
Fifth Harmony presents the award for Favorite Alternative Artist to Fall Out Boy. I have to admit that even though I like their music, I never knew they were alternative. I always considered them mainstream rock. Guess I learned something new.
Anna Kendrick introduces the duet featuring Alanis Morisette and Demi Lovato, singing Morisette's hit song You Oughta Know. I liked this song decades ago when Alanis released it but adding Demi to the mix just wasn't a smart move.
Ellie Goulding and Julianna Hough present the award for Favorite Rap/Hip-Hop Artist to Nicki Minaj. Again this is no surprise since there was no way that Drake or Fetty Wap were gonna win.
Jared Leto introduces Celine Dion, who gives an emotional performance tribute to those affected by the recent Paris attacks. The song was in French but I don't think there was a dry eye in the house, or anywhere for that matter.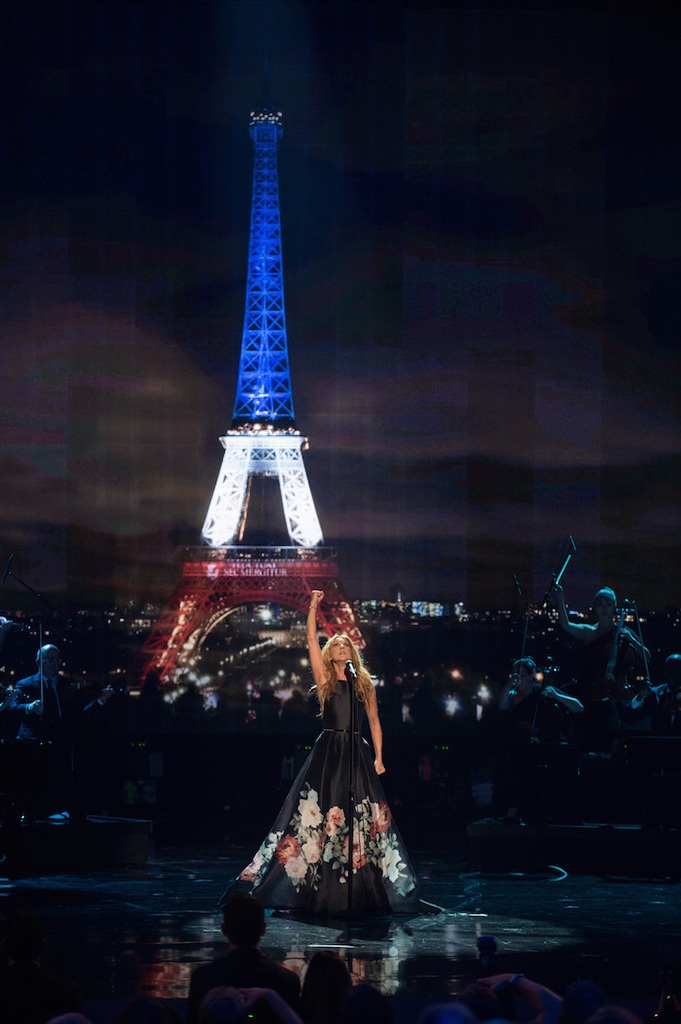 A new scene from the upcoming movie Star Wars: The Force Awakens is shown. Harrison Ford introduces Pentatonix, who performs the score from Star Wars. Wow, they are all in costume and are joined by an orchestra during the song. These guys can sing let me tell you.
Miss America, Betty Cantrell and Kevin O'Leary present the award for Favorite Soul/R&B Male Artist to The Weekend. His second win of the night.
Jeremy Renner presents the last award of the night for Artist of the Year to One Direction. This is their second year winning this award. So predictable though.
Ciara introduces the final performance of the night, Justin Bieber. He starts off performing What Do You Mean with an acoustic guitar. Kind of slow and boring. Justin really isn't an acoustic type person. However, he then performs Where Are You which is much better. However, he was dressed in torn jeans and a hoodie. He does know this is an award show right?
Jennifer Lopez closes out the 43rd Annual American Music Awards !
Winners of the 43rd Annual American Music Awards
Here is a recap of all the winners, along with the award given off-air!
ARTIST OF THE YEAR
Luke Bryan
Ariana Grande
Maroon 5
Nicki Minaj
One Direction — WINNER
Ed Sheeran
Sam Smith
Taylor Swift
Meghan Trainor
The Weeknd
NEW ARTIST OF THE YEAR PRESENTED BY KOHL'S
Fetty Wap
Sam Hunt — WINNER
Tove Lo
Walk The Moon
The Weeknd
SONG OF THE YEAR
Wiz Khalifa Featuring Charlie Puth "See You Again"
Mark Ronson Featuring Bruno Mars "Uptown Funk!"
Ed Sheeran "Thinking Out Loud"
Taylor Swift "Blank Space" — WINNER
The Weeknd "Can't Feel My Face"
COLLABORATION OF THE YEAR UN-LEASHED BY T-MOBILE
Wiz Khalifa Featuring Charlie Puth "See You Again"
Rihanna & Kanye West Featuring Paul McCartney "FourFiveSeconds"
Mark Ronson Featuring Bruno Mars "Uptown Funk!"
Skrillex & Diplo Featuring Justin Bieber "Where Are Ü Now" — WINNER
Taylor Swift Featuring Kendrick Lamar "Bad Blood"
FAVORITE MALE ARTIST – POP/ROCK
Nick Jonas
Ed Sheeran — WINNER
Sam Smith
FAVORITE FEMALE ARTIST – POP/ROCK
Ariana Grande — WINNER
Taylor Swift
Meghan Trainor
FAVORITE DUO OR GROUP – POP/ROCK
Maroon 5
One Direction — WINNER
Walk The Moon
FAVORITE ALBUM – POP/ROCK
Ed Sheeran x
Sam Smith In The Lonely Hour
Taylor Swift 1989 — WINNER
FAVORITE MALE ARTIST – COUNTRY
Jason Aldean
Luke Bryan — WINNER
Sam Hunt
FAVORITE FEMALE ARTIST – COUNTRY
Kelsea Ballerini
Miranda Lambert
Carrie Underwood — WINNER
FAVORITE DUO or GROUP – COUNTRY
Zac Brown Band
Florida Georgia Line — WINNER
Little Big Town
FAVORITE ALBUM – COUNTRY
Jason Aldean Old Boots, New Dirt
Florida Georgia Line Anything Goes — WINNER
Sam Hunt Montevallo
FAVORITE ARTIST – RAP/HIP-HOP
Drake
Fetty Wap
Nicki Minaj — WINNER
FAVORITE ALBUM – RAP/HIP-HOP
J. Cole 2014 Forest Hills Drive
Drake If You're Reading This It's Too Late
Nicki Minaj The Pinkprint — WINNER
FAVORITE MALE ARTIST – SOUL/R&B
Chris Brown
Trey Songz
The Weeknd — WINNER
FAVORITE FEMALE ARTIST – SOUL/R&B
Beyoncé
Mary J.  Blige
Rihanna — WINNER
FAVORITE ALBUM – SOUL/R&B
Chris Brown X
D'Angelo and The Vanguard Black Messiah
The Weeknd Beauty Behind the Madness — WINNER
FAVORITE ARTIST – ALTERNATIVE ROCK
Fall Out Boy — WINNER
Hozier
Walk The Moon
FAVORITE ARTIST – ADULT CONTEMPORARY
Ed Sheeran
Taylor Swift — WINNER
Meghan Trainor
FAVORITE ARTIST – LATIN
Enrique Iglesias — WINNER
Ricky Martin
Romeo Santos
FAVORITE ARTIST – CONTEMPORARY INSPIRATIONAL
Casting Crowns — WINNER
Hillsong United
MercyMe
FAVORITE ARTIST – ELECTRONIC DANCE MUSIC (EDM)
Calvin Harris — WINNER
David Guetta
Zedd
TOP SOUNDTRACK
Fifty Shades of Grey
Empire: Original Soundtrack from Season 1
Pitch Perfect 2 — WINNER