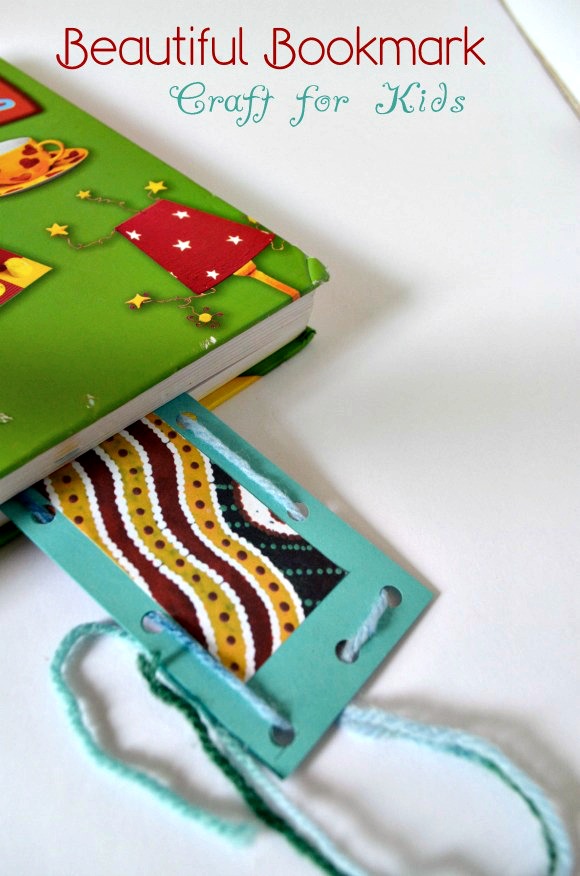 This bookmark craft for kids isn't just fantastic for marking your child's place in their favorite book, it makes a lovely handmade gift to give to parents!  Bookmarks are a fun and easy craft to make, and the variations are endless!  Today's featured craft turns an easy bookmark into a learning activity.  Lacing not only adds a special touch to your craft, it helps your child build many skills, such as:
Hand/Eye Coordination is improved as your child learns to thread the string through each hole.
Problem Solving skills are enhanced as your child determines the best path to create each design.
Gross Motor Skills are developed when your child punches the hole and manipulates the lace.
Pattern Building skills are enhanced as your child designs the pattern.
 How to Make this Beautiful Bookmark Craft for Kids
For this laced bookmark, you will need:
Affiliate links included in collage:

Colored construction paper or cardstock
Glue stick
Yarn
Hole punch
Scissors
Ruler
 Directions for this easy bookmark craft for kids: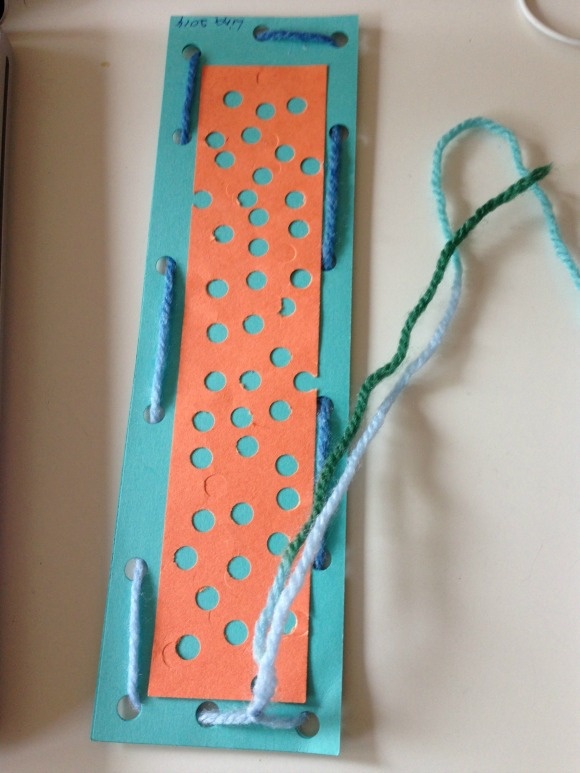 1.  Cut a 2.5" x 7" strip of paper.
2.  Cut a 2" x 6.5"strip of paper from a different color.
3.  Center the smaller piece on top of the larger piece and adhere with glue stick.
4.  Use the hole punch to punch a design in the smaller piece of paper.  This can be random punches or something more complex, such as a shape or name.
5.  Punch around the edges of the larger piece of paper to make a path to lace.
6.  Cut a 32" length of yarn and tie a knot in one end.
7.  Starting on the underside of the paper, pull the yarn through the path created in step 5.  Continue lacing until you reach the end.  Tie off.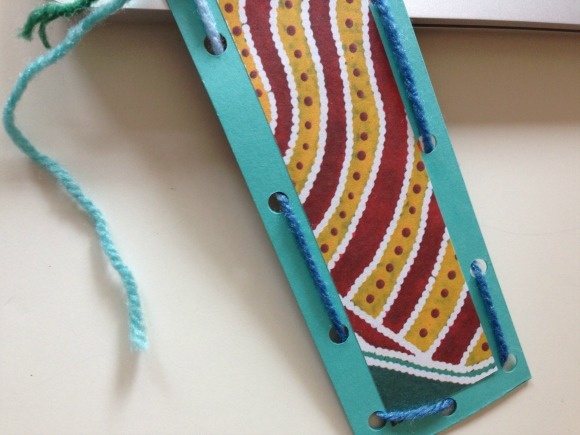 Some smaller children may need assistance using the punch.  If working with small children, use lightweight paper to help lessen the resistance on the punch.
This is a fun and easy bookmark craft for kids that can be altered to fit the skill level of your child.    Older children can punch shapes, letters, or even their name into the center, and younger children can punch abstract designs. Looking for more adorable bookmark crafts? Check out our DIY Wizard of Oz Bookmark! Need some book suggestions to go along with the bookmark? How about some books for kids who love puppies?