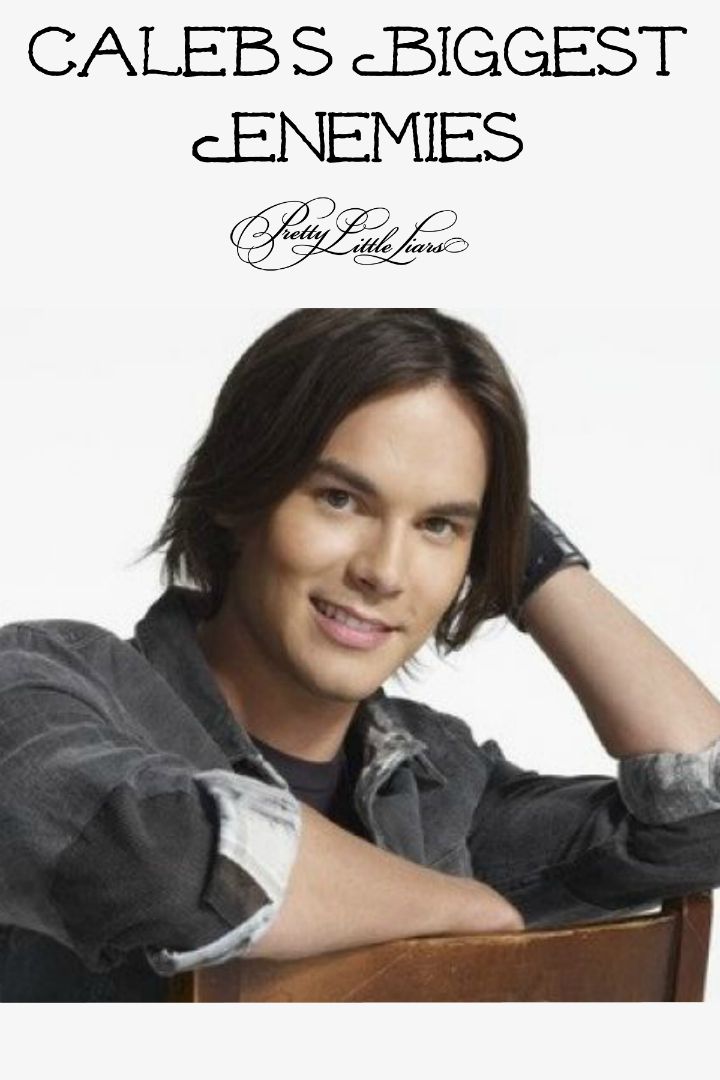 Caleb is the ultimate bad-boy turned good. He started out on Pretty Little Liars as a homeless hacker living in the school ducts and making money jailbreaking phones. He's  currently dating Hanna, is 18 years old and has dark brown hair and hazel eyes. Caleb also has a few enemies floating around town.
Caleb's Biggest Enemies
Mona– Mona and Caleb are thought to be former enemies. In the beginning, it was not really clear which side Mona was on, The Liars or A but in the middle of season 5 it was revealed that she was on The Liars side. She and Hanna, Caleb's girlfriend, became good friends because Mona was self-conscious and needed to be friends with Hanna to remain popular. When Hanna becomes closer to the other girls instead of Mona, Mona takes steps to make The Liars pay for taking Hanna away from her.
Garrett- Caleb is helping the girls hack into A's files when Garrett shows up at the school one day looking for Caleb. Caleb notices him coming and instantly locks down his computer. Garrett has an order from the court to seize Caleb's laptop since it seems that someone is hacking into the files at school and it was traced to Caleb's IP address. Caleb turns over the computer and later tries to calm Hanna down when she freaks out. Hanna expressed her concerns that Garrett may have gotten into Caleb's computer to plant evidence where he wouldn't see it. When Garrett contacts Caleb and tells him he can have his laptop back only if he cooperates with them. Caleb heads down to the police station but tells Hanna he needs her help. She figures out that he needs files erased off his computer. Garrett has Caleb enter his password and searches through his file one by one. Hanna logs into his computer from hers and locates a file named Hefty, which she deletes just in time.
Janet- Janet is the foster mom to Caleb and not a very nice one. Janet has been keeping Caleb's money for taking care of him when he isn't even living with her. She shows up at his school once day for a meeting and complains to Caleb about having to come to the school for him. She is extremely verbally abusive to Caleb.
Lyndon- Lyndon moves to town after Maya's death. He says he is her cousin, Nate, and is attending school at Hollis College. Turns out his name is Lyndon and he wasn't Maya's cousin at all. In fact, he stalked to and is responsible for her death. Paige, Spencer, Hanna and Aria all get a message from A to meet at the grave of Alison. Hanna tells Caleb about the message and he insists he is going with them. Hanna talks to Emily and tells her that she and Nate are going away for the weekend to an inn. Caleb is seen taking a gun and putting it in his backpack. A doesn't show up and the group goes in search of Emily when she doesn't answer their calls. Lyndon and Emily are in Belmar, a struggle ensues and she stabs Lyndon in the stomach. Caleb shows up, comforts Emily but leaves his gun on a shelf. Seconds later, a gunshot is heard and Caleb has been shot in the stomach and Lyndon is dead.
Caleb also has a few enemies over in Ravenswood, but that's a whole other failed spinoff, so we won't go there…literally! Seriously, scary, creepy town. Don't go there alone!
Do you think we missed any of Caleb's biggest enemies on Pretty Little Liars? Set us straight in the comments!