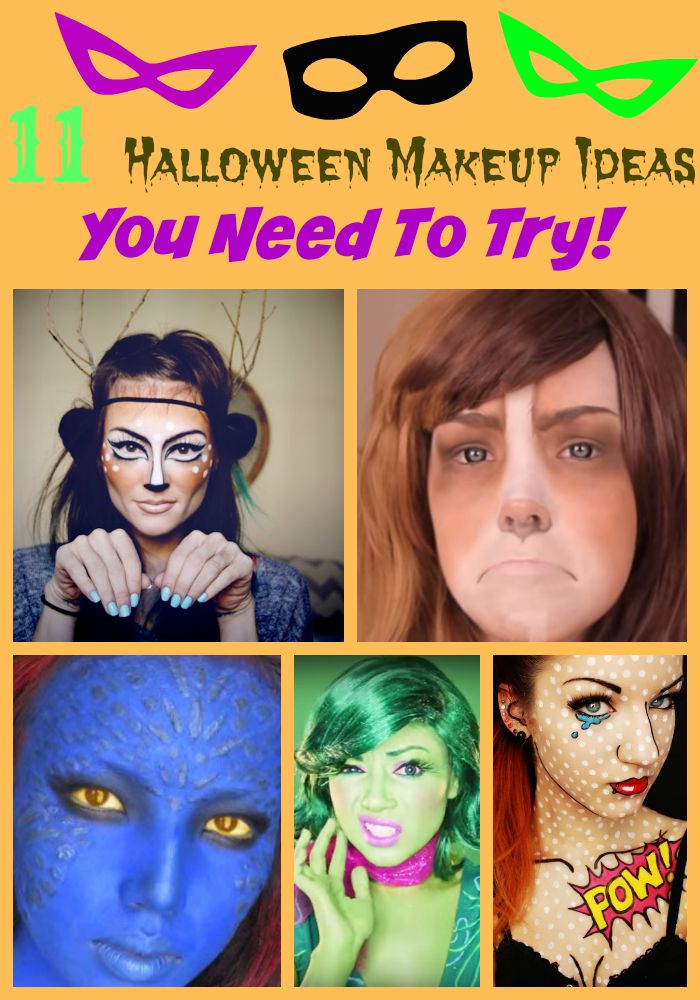 We gathered eleven of the most amazing Halloween makeup ideas that will make your Halloween costume pop. You have to try these looks!
One of my favorite holidays is coming up, and I want to make sure my Halloween costume slays this year. I like to stand out from everyone who has the same boring bunny ears or kitty ears. I am not basic. My costume will turn heads this year!
If you are hoping to look ah-mazing this year, one place to make yourself stand out is your makeup. There are so many ways you can use makeup to totally enhance your costume.  I have rounded up a slew of fantabulous makeup inspiration that you have to try. Pick one out, clickity click and soon you will be even more fabulous than normal.
Halloween Makeup Ideas You NEED to Try!
Effie Trinket Inspiration From The Hunger Games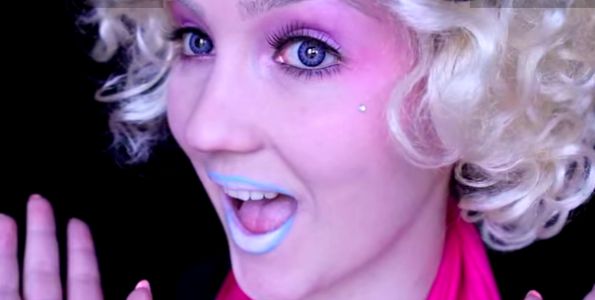 If you want a costume that is about all glitz and glam the Capitol (From Hunger Games Series) has to offer, then you need to check out this Effie Trinket Makeup tutorial from the YouTube Channel Klaire De Lys. Add a curly blond wig and an over the top dress for an amazing costume.
Related: 10 Hunger Games T-Shirts For Your Summer Wardrobe
Grumpy Cat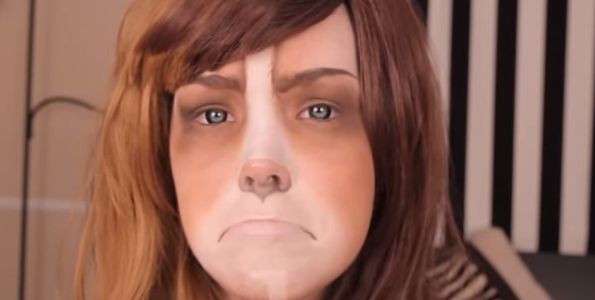 Go for Halloween as the world's grumpiest meme and you are sure to be in all of the photos. Check out this hilarious Grumpy Cat Makeup tutorial from YouTube channel by Mortem3r. Add a pair of cat ears to this easy makeup tutorial and your costume will be amazing.
Disgust Inspired From Inside Out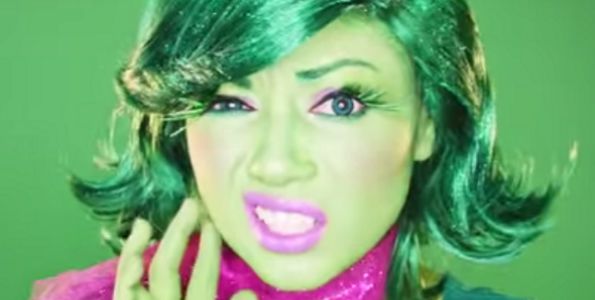 I loved all the emotions in Inside Out.  For Halloween, I would choose to be Disgust so I could throw comments out all night. I can get into this character. Check out the full tutorial for the makeup at Charisma Star's  YouTube channel.
Weeping Nun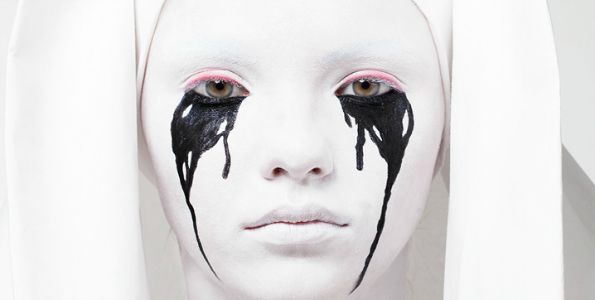 If you want a totally creepy look that is simple to do, check out this creepy Weeping Nun tutorial at Beautylish. This terrifying look could easily be applied to many costumes for a twisted look for fairies, dolls, ghosts and more.
Mystique Inspiration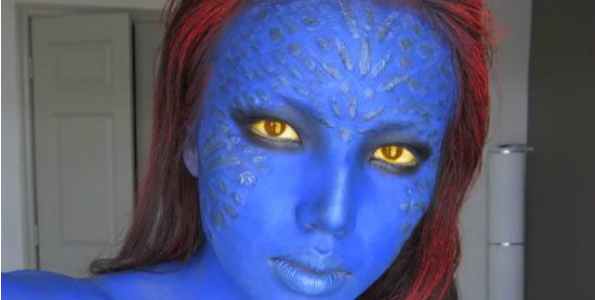 Channel your inner Jennifer Lawrence with this X-men Mystique makeup tutorial. Wow, this one is so crazy I have to give it a try!
Sugar Skull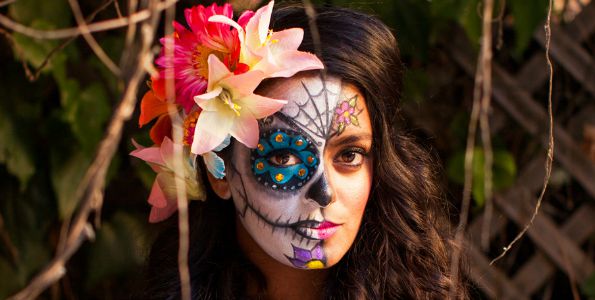 Oohhh! Day of The Dead Sugar Skulls make an amazing costume, but the execution of the makeup can be complicated. Over at Brit+Co, I spotted a fab tutorial to paint a half face look that is just as striking as painting your full face. YEEESSSSSS!
Mermaid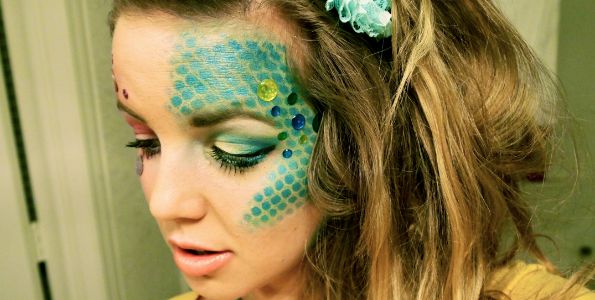 Place a net over your face from the dollar store to create the perfect scales on this Mermaid Goddess look from London Moore Makeup. This look is fresh and beautiful!
Sparkly Dark Eye Fairy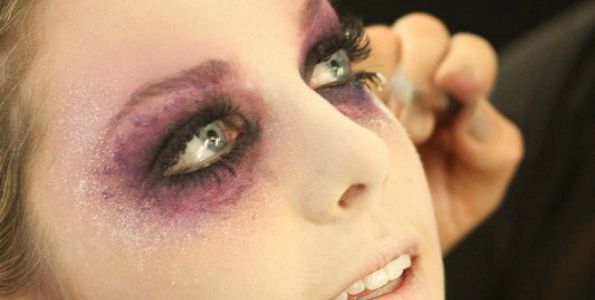 Take your fairy costume to a darker side with eyes that will wow your friends. This Twisted Fairy Makeup tutorial from PopSugar will complete your fairy look with pale skin and a purple eye.
Comic Book Girl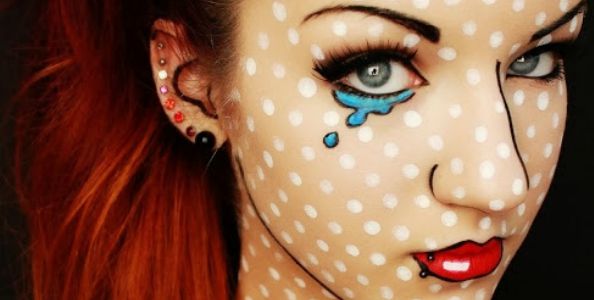 Bam, Pow! Step straight off the pages of your favorite comic books with this jaw-dropping Comic Book Girl Makeup tutorial from Best Halloween Blog. This one make take you a little longer to complete, but you could pair this easily with any bright colored wig and funky or sleek outfit without spending tons of cash on your costume.
Deer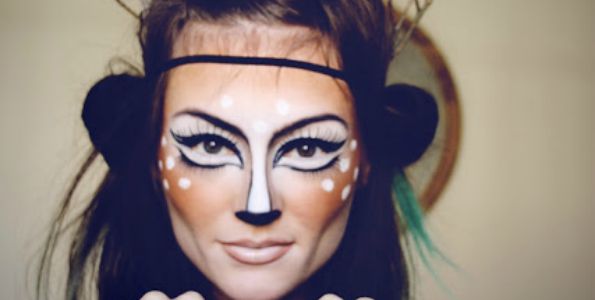 Hey you, nature girl, I found your costume! Check out this totally fleek Deer Makeup tutorial over on Cheap Frills And Thrills. This tutorial will give you a hippy chic costume that looks like your strolled off the cover of a magazine.
Spider Queen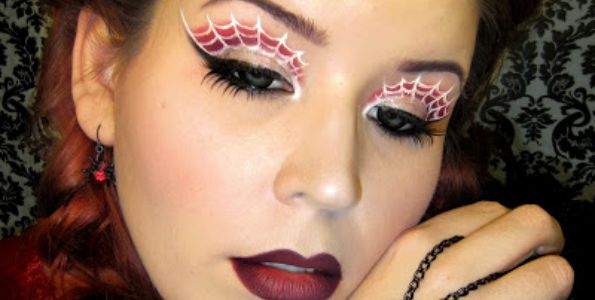 I love these Spider Queen eyelids over at Goldie Starling. This eyelid will add an instant spooky look to a witch costume that will make you stand out from the crowd.
Readers, which Halloween Makeup look is your favorite? Tell us in the comments!