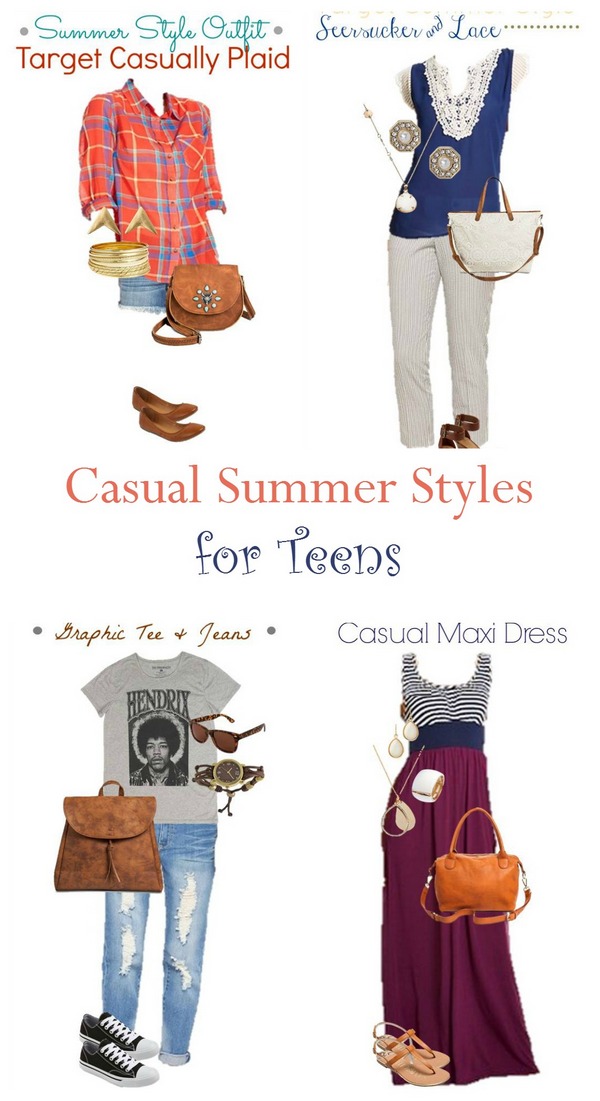 Looking for great casual summer teen fashions that don't cost a fortune or require trips to specialty stores far away? We've put together four amazing outfits, all with inexpensive pieces from Target! Aside from the purses, the most expensive core outfit piece on this list is about $30. Ready to start shopping? Let's check out these outfits!
Related: Super Stylish Mix & Match Teen Fashion for Summer
Casual Summer Teen Fashions from Target
This post contains affiliate links. Thanks for your support!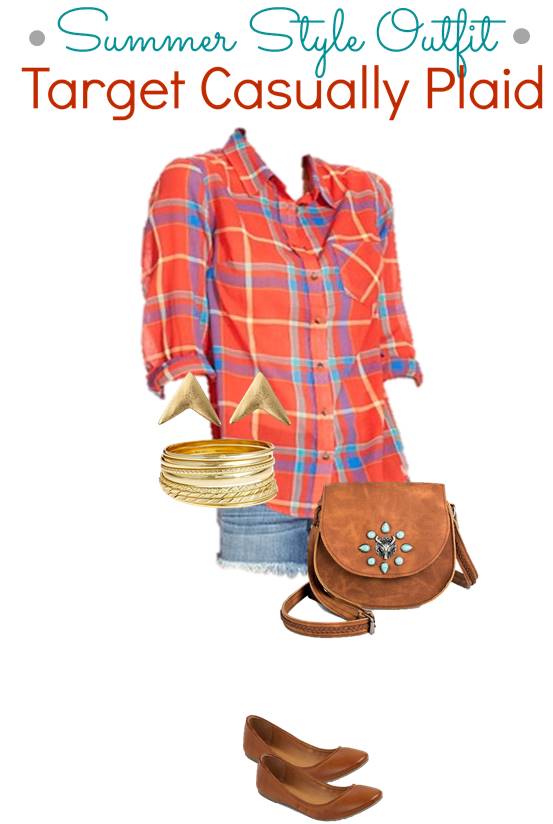 Merona Button Down Shirt — $22.99
Mossimo Low Rise Jean Shorts — $19.99
Ona Scrunch Ballet Flats — $16.99
Arrowhead Stud Earrings — $7.99
Gold Bangle Bracelets — $4.99
Crossbody Handbag with Turquoise Details — $24.99
The button down is so versatile. Wear it closed alone, or open with an orange or blue tank underneath. Just make sure you buy your tank or tee at the same time so you can match up the color shades. The shorts are a great buy because they'll go with other tops you already have.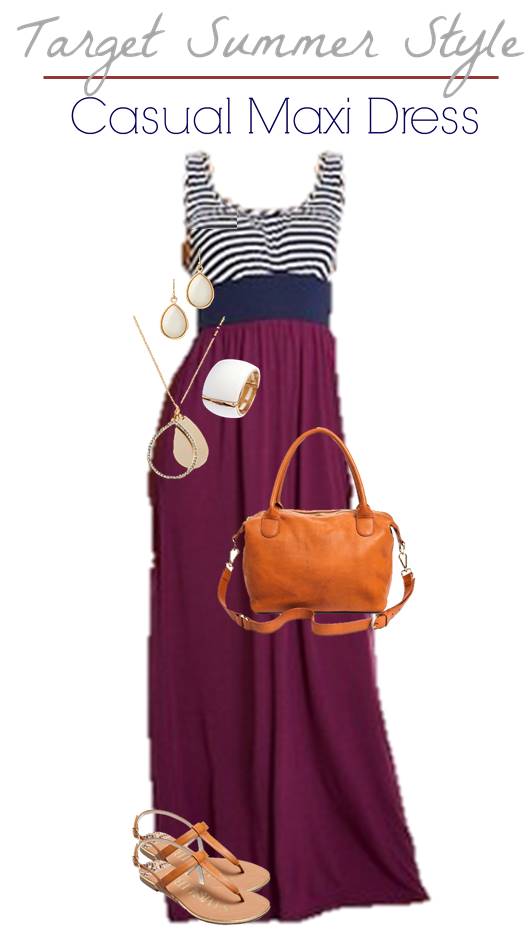 Mossimo Maxi Dress, Plum/Navy Stripe — $24.99
Sam & Libby Kamilla Sandals — $24.99
Leather Crossbody Satchel — $119.99
Teardrop Lanyard Necklace — $16.99
Small Teardrop Earrings — $7.99
Zirconite Wide Bangle Bracelet — $44.99
If that $119 purse is way out of your price range, no worries. The purse from the first or last outfit will go with this outfit just fine! This is a great dress for a night out with friends! It's casual enough for a day at the beach, but also classy enough for more formal events too.
Related: 20 Stylish Teen Swimsuits for Under $50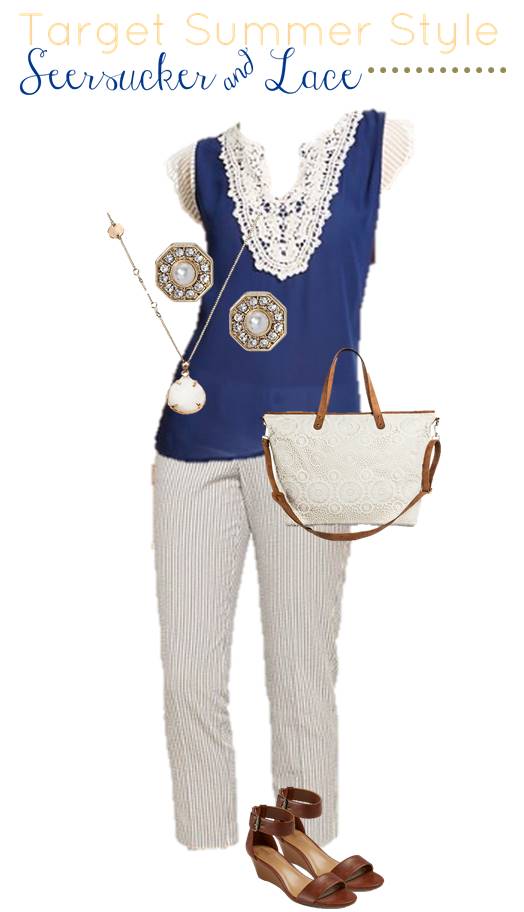 3 Hearts Crochet Blouse — $27.99
Merona Seersucker Ankle Pants — $27.99
Nala Ankle Strap Sandals — $24.99
Crochet Lace Weekender Handbag — $34.99
Pearl and Crystal Button Earrings — $7.99
Long Chain Necklace with Pearl Pendant — $16.99
This casual summer teen fashion outfit is so pretty for those days you need something a little fancier but still don't want to get all dressed up. Dress it down more by pairing the top with jeans or jean shorts.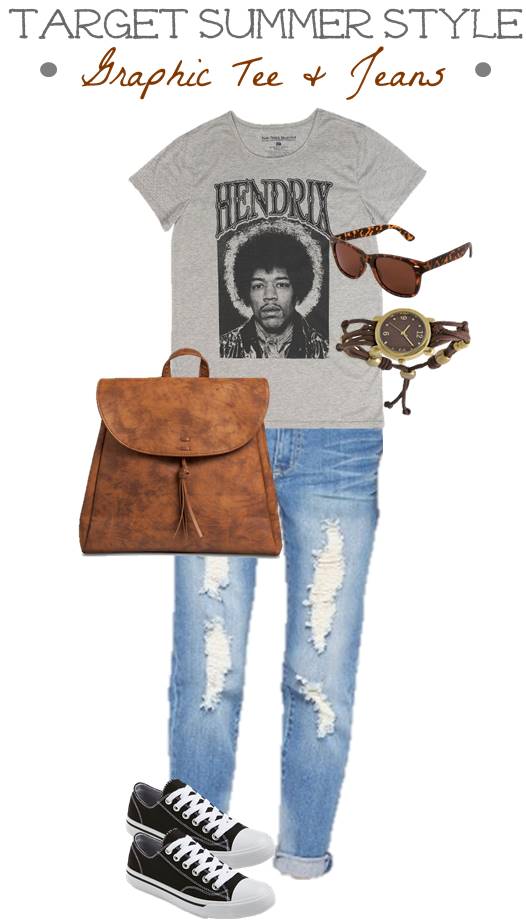 Jimi Hendrix Graphic Tee — $12.99
Deconstructed Boyfriend Jeans — $29.99
Lenia Sneakers, Black — $19.99
Solid Backpack Handbag — $39.99
Xhilaration String and Charms Watch — $14.99
Surf Shades Polarized Sunglasses — $19.99
Jimi Hendrix never goes out of style, and the Lenia sneakers are perfect if Converse are out of your price range. If you can splurge and get the $40 backpack handbag, it's worth it because it's roomier than the first purse. Otherwise, that one will work with this outfit too.
There you go! Four fantastic casual summer teen fashions that will have you looking totally stylish without breaking your budget!
Which of these outfits is your favorite? Talk to us in the comments!