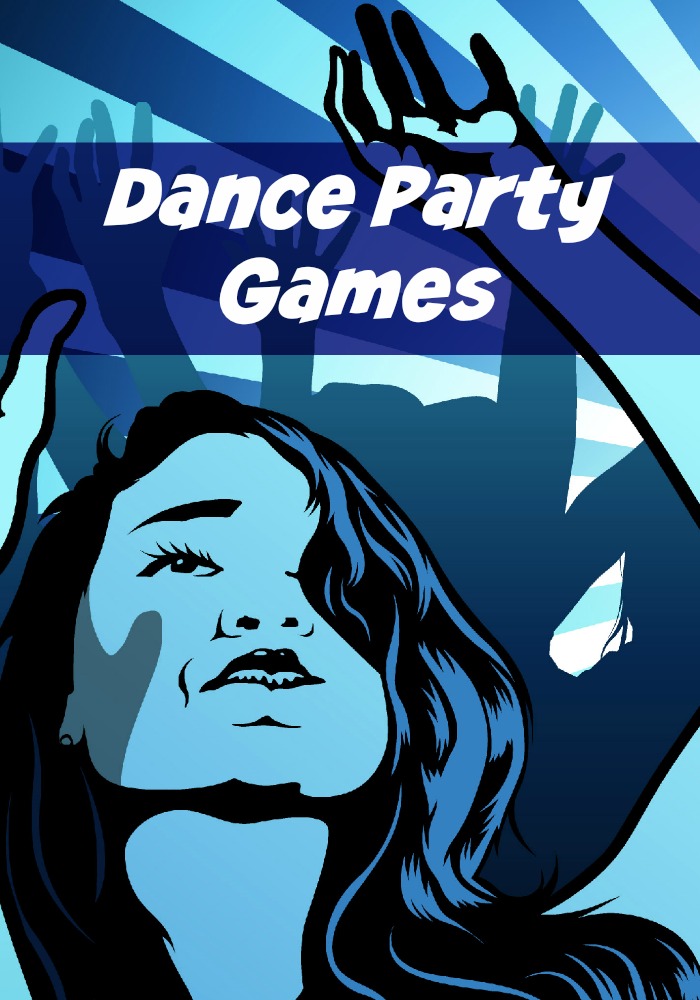 If you are planning to have a dance themed party, then you are going to need dance party games!  
Who doesn't love to dance to good music?  
There are so many fun games you can play when it comes to using music, but here are a few I have picked out for you to try!  
Check out these fun dance party games.
Dance Party Games
Video dance games:
Almost nothing is more fun when it comes to games than a dance off with friends!  
You can have your friends who don't want to participate, or the adults there, be the judges.  
You can make giant score cards or have dry erase boards and markers where the judges can write their number (1-10) to score each player.  
It will so fun to see everyone's sweet dance moves!
Pick your dance:
Write down dance moves on scraps of paper and toss them in a hat.
 Make sure you include all decades, like the 60's, 70's, 80's and 90's!  
You can YouTube the moves too and see how close everyone can get to doing them!  
Make sure to include The Electric Slide (I have never been able to master this one!)
Some others you can include are The Mashed Potato, The Hustle, The Chicken Dance just to name a few.
Limbo:
Who doesn't know this one?!  
You don't even have to go out and purchase anything special, just use a broom handle.
 Of course you can go to the hardware store and get a PVC pipe, it would be a bit longer than a broom handle.  
Pick some fun music to play during the game.  Start with the pipe or broom handle high enough so everyone can get through.  
After everyone has gone, lower it a bit and keep lowering it until only one person is left standing!  
No cheating, you have to bend over backwards not forwards!
DJ Dice:
When your guests arrive, give them a number 1-5.  
Don't worry, each number should have many people assigned to it (makes it more fun!)  They have to remember their number though throughout the party.  
Every few songs, that are played have the 'DJ' (this can be your mom, or you, or another guest) roll one die.  
Whatever number it lands on, those people are supposed to get up and dance!  
Now you only assigned 1-5 so if a 6 pops up, you have to get your parents involved!  Or if that isn't your thing, you can have a 6 be assigned to a specific dance move.
Freeze Dance:
You might think this is just for your little brothers and sisters, but you can change it up!  
Play a song, have a designated DJ so he (or she) can stop the music at any point.  
When the music stops, you must freeze in the position you are in (no matter how it is to keep it!)  
Have the DJ snap a pic of the group in that position!  These will be fun to look at later.  
You can swap out Djs too so everyone gets a chance to play.
Dancing is super fun, even if you don't think you can.  
Try to get all your guests involved!  Let them know ahead of time what kind of party you are having with fun invitations.  
You can even have them dress up in fun costumes!  
What sort of dance party games have you played before?  Share your fun games with us in the comment section below!