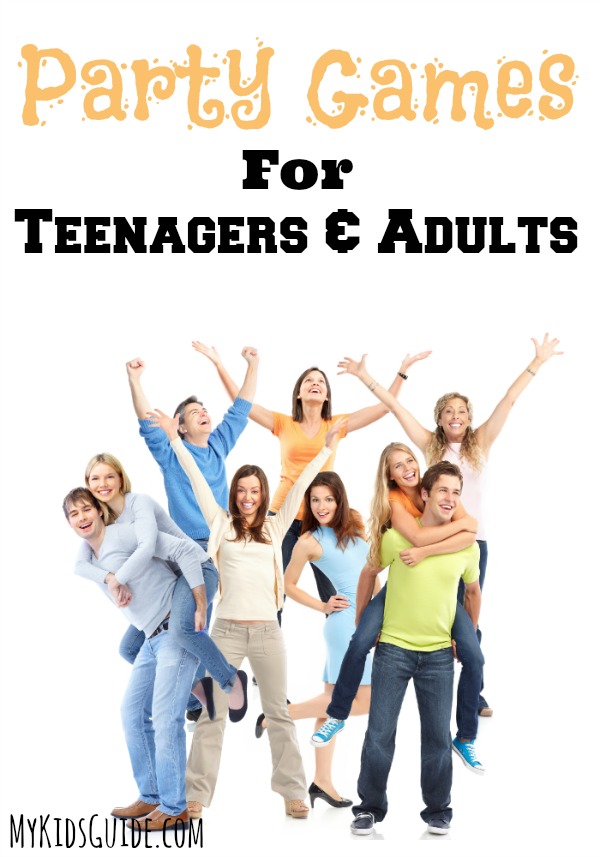 Sometimes we have to have parties that include our friends and our parents.  When that happens, here are some really fun Party Games For Teenagers & Adults that are going to break the ice, get everyone laughing and hopefully make it easier to deal with having your parents around while your friends are over for a party.  Adults can have tons of fun and not break up your party, and these are some of my favorite games to make sure that it works great for everyone.
Related: Party Games for Teens Stuck Indoors This Summer
Party Games For Teenagers & Adults
Affiliate links included below.
Water Balloon Or Water Gun Fights:  Everyone loves playing with water guns or water balloons.  Stock up and play against your parents for a ton of fun.  Show them who is better at hunting and catching someone off guard.  Water guns are even better since you can hide behind stuff and still aim easily and not get wet.  You can step it up a notch with paint ball, but usually you'll have to go to a special location for that.  Water fights are great for summer parties!
Charades:  It's an old school game, but it can be so much fun when you try to get your parents or other adults to guess things from now that they are clueless about!  Fill a bucket with tons of current movies, music and actors and then search online for stuff from the 1980's and 1990's that they will know.  It's a lot of fun when you can beat them because you know their favorite movies and characters but they don't know yours!
Sack Races:  Older versus younger – younger will almost always win in this.  Better coordination and much better shape means we can really beat the adults in a sack race game!
Related: Faction Focused Divergent Party Ideas
Board Games & Card Games:  Board games are old school, but they are still a lot of fun.  Everyone has fought over houses and property in Monopoly.  It's really fun to see adults think they can beat you just because they've played it more than you have.  Reality is – any game out there we can beat them because we are faster and quicker to catch on.  Skip Bo, Monopoly, Phase 10, Jenga, Risk, Pictionary, Scattegories -they are all tons of fun!
Party games aren't just for kids.  These are some of our favorite classic party games for teenagers and adults.  Being able to have your friends over for a fun themed party and get your parents and their parents involved to hang out and play games is really a ton of fun.  Adults aren't too bad to hang out with sometimes!
Do you and your parents play any fun party games for teens and adults? Tell us about them in the comments!