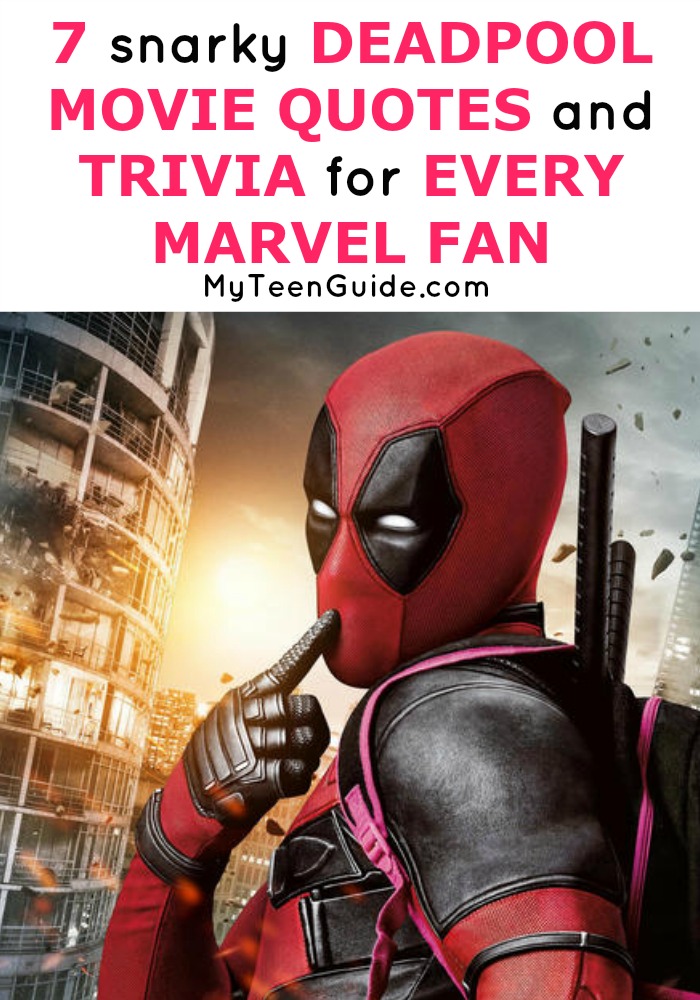 Deadpool movie quotes and trivia may just be the best thing since sliced bread. The movie is a great combination of moments where you are laughing your butt off, and action moments that make you jump back in your seat. If you like characters that are the right combination of heroic moves and snarky, you have to check it out. There are not many other movies like Deadpool! The snark mixed with the action movie style sets it apart from the other Marvel films. Marvel is known for throwing in the laughs, but this one they killed it! Check out these Deadpool movie quotes and trivia below, along with the trailer.
7 Surprising Deadpool Movie Quotes And Trivia For Every Marvel Fan
Deadpool is a 2016 superhero movie that is based on the Deadpool character from the Marvel Comics. The movie is the 8th installment of the X-Men movie series. Ryan Reynolds stars in the lead role in the movie as Wade Wilson/Deadpool. The movie was released in theaters on February 12, 2016. Here are some movie trivia and quotes from Deadpool.
Related: Amazing Movies Like The Fantastic Four To Figure Out Which Super Hero You Are
Deadpool Movie Quotes
Conversation between Colossus and Deadpool:
Colossus- "You will come talk with Professor Xavier."
Deadpool- "McAvoy or Stewart? These timelines can get so confusing."
Deadpool, as thugs surround the SUV he attacked:
Deadpool- "Wait! You may be wondering why the red suit. Well, that's so bad guys don't see me bleed. This guy's got the right idea…he wore the brown pants."
Conversation between Wade Wilson (Deadpool) and Vanessa, Wade's girlfriend, after getting the news from the oncologist that Wade has terminal cancer:
Vanessa- "I love you, Wade Wilson. We can fight this."
Wade- "You're right. The cancer's only in my liver, lungs, prostate and brain, all things I can live without."
Deadpool Movie Trivia
Deadpool is the 5th comic book movie that Ryan Reynolds has appeared in. He previously appeared in the 2004 Blade: Trinity as Hannibal King, the 2009 X-Men Origins: Wolverine as Wade Wilson/Weapon XI, the 2011 Green Lantern as Hal Jordan/Green Lantern and the 2013 R.I.P.D. as Nick Walker.
There are some scenes in the movie when Wade Wilson (Ryan Reynolds) is dealing with a stalker pizza guy, and Wade is wearing a T-Shirt with Bea Arthur on it. This is because, in the comics, Deadpool has a crush on Bea Arthur and a love for The Golden Girls television show.
In the opening credits of the movie, you can see a People Magazine floating around. This was an actual issue from 2010 when Ryan Reynolds was named Sexiest Man Alive.
In Deadpool's bedroom, there are shot-up targets. These are actual real-life Royal Canadian Mounted Police firearms qualification targets. Ryan Reynolds' father, Jim, was a Mountie. Jim passed away on October 25, 2015, at the age of 74 from Parkinson's Disease. Also, Reynolds has a brother that serves as a Mountie.
What was your favorite from the Deadpool movie quotes and movie trivia? Tell me what you think of the movie down in the comments!
Image via Wikia