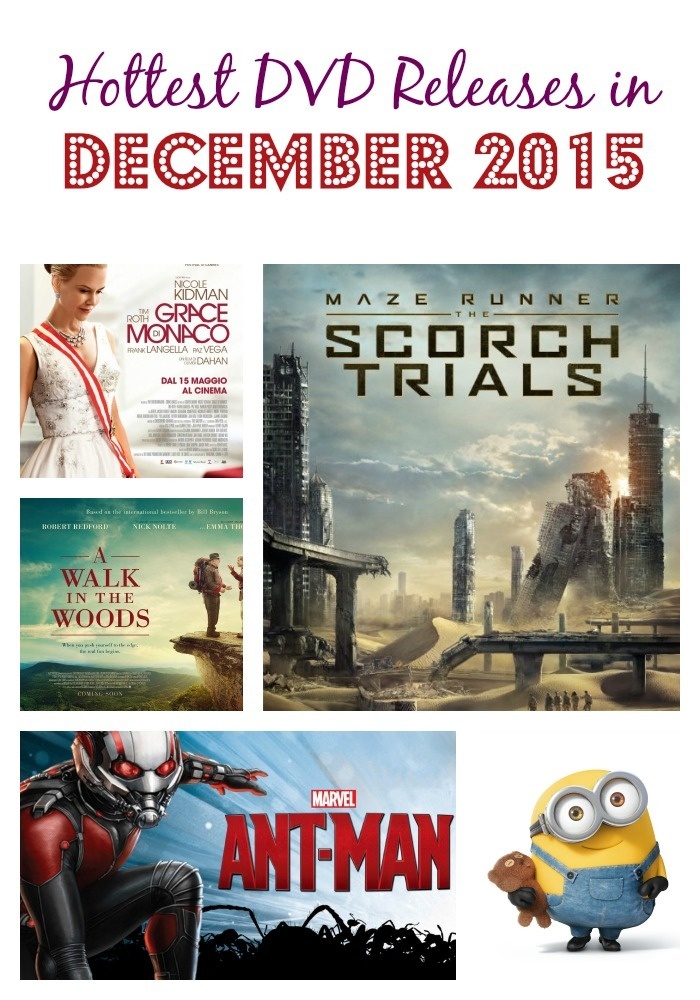 The list of December 2015 DVD releases is always one of the best! Some of the year's hottest movies hit the shelves just in time for the holiday season, plus plenty of old favorites make a comeback in the hopes of enticing holiday shoppers. Whether you need something to watch on those cold winter nights or are planning a wish list of your own, we've got you covered with these December 2015 DVD releases!
December 2015 DVD Releases
December 1st
Amy– Amy is a 2015 British documentary film that stars Amy Winehouse. The movie showcases the life and death of singer Amy Winehouse, who died on July 23, 2011, at the age of 26 from alcohol poisoning.
Some Beautiful– Some Beautiful is a 2014 comedy-romance movie starring Pierce Bronson, Jessica Alba, and Salma Hayek. A college professor enjoys his life of one-night stands until he gets his much-younger girlfriend pregnant. This forces him to take a good, hard look at his life.
Mississippi Grind– Mississippi Grind is a 2015 comedy-drama film that stars Ryan Reynolds, Sienna Miller, Ben Mendelsohn, Analeigh Tipton, Alfre Woodard and Robin Weigert. Two gamblers team up hoping to win some big money. One is a gambling addict while the other gambles just for fun. What happens when the two embark on a gambling road trip together?
Grace of Monaco– Grace of Monaco is a 2014 biographical drama movie starring Nicole Kidman, Tim Roth, Frank Langella and Paz Vega. This is the story of Hollywood icon Grace Kelly, who married the Prince of Monaco. However, when the marriage began to crumble, Grace soon found herself trying to figure out who she really was.
90 Minutes in Heaven– 90 Minutes in Heaven is a 2015 drama film that stars Hayden Christensen, Kate Bosworth, Dwight Yoakam, Michael W. Smith and Michael Harding. A man dies in a horrific auto accident but ends up coming back to life at the hospital 90 minutes later. The man claims that during that time, he visited heaven and had seen his deceased loved ones.
December 8th
Minions– Minions is a 2015 3D computer-animated family comedy movie featuring the voices of Pierre Coffin, Sandra Bullock, Jon Hamm, Michael Keaton, Allison Janney, Steve Coogan and Jennifer Saunders. In this film, the Minions are on a mission to stop a super-villain from taking over the world. You know what goes great with this movie? A delicious Minions-inspired granola bar snack!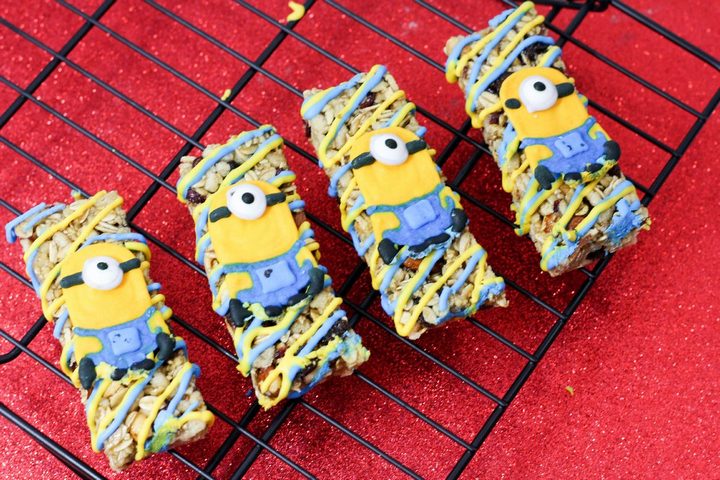 Ant-Man– Ant-Man is a 2015 superhero film that stars Paul Rudd, Evangeline Lilly, Corey Stoll, Bobby Cannavale, Michael Pena and Michael Douglas. Scott Land and Dr. Hank Pym form a team to prevent Darren Cross from using technology to do evil.
The Transporter Refueled– The Transported Refueled is a 2015 action thriller movie starring Ed Skrein, Ray Stevenson, Loan Chabanol, Gabriella Wright, Wenxia Yu and Tatjana Pajkovic. While Frank Martin is still transporting secret packages for his clients, this time around he is duped by a cunning female and her accomplices.
December 15th
Fantastic Four– Fantastic Four is a 2015 superhero movie starring Miles Teller, Kate Mara, Michael B. Jordan, Jamie Bell, Tim Blake Nelson, Reg E. Cathey and Toby Kebbell. The superhero team must learn how to control their unique abilities so they can save the Earth from harm.
Ted 2– Ted 2 is a 2015 comedy movie starring Mark Wahlberg, Seth MacFarlane, Amanda Seyfried, Morgan Freeman, Giovanni Ribisi and Jessica Barth. Ted and Tami-Lynn are newlyweds who want to start a family. However, first, Ted needs to prove to a court that he is human.
Mission: Impossible- Rogue Nation– Mission: Impossible- Rogue Nation is a 2015 action spy thriller film that stars Tom Cruise, Jeremy Renner, Simon Pegg and Ving Rhames. When a shadowy organization threatens the Impossible Mission Force, Ethan must put together an elite team to confront the organization.
Maze Runner: The Scorch Trials– Maze Runner: The Scorch Trials is a 2015 dystopian science fiction action-thriller movie starring Dylan O'Brien, Patricia Clarkson, Thomas Brodie-Sangster, Kaya Scodelario and Ki Hong Lee. The Glades have escaped the Maze but now face obstacles in a desolate landscape. This is the one I'm waiting for! Throw a release night viewing party, complete with these Maze Runner cupcakes!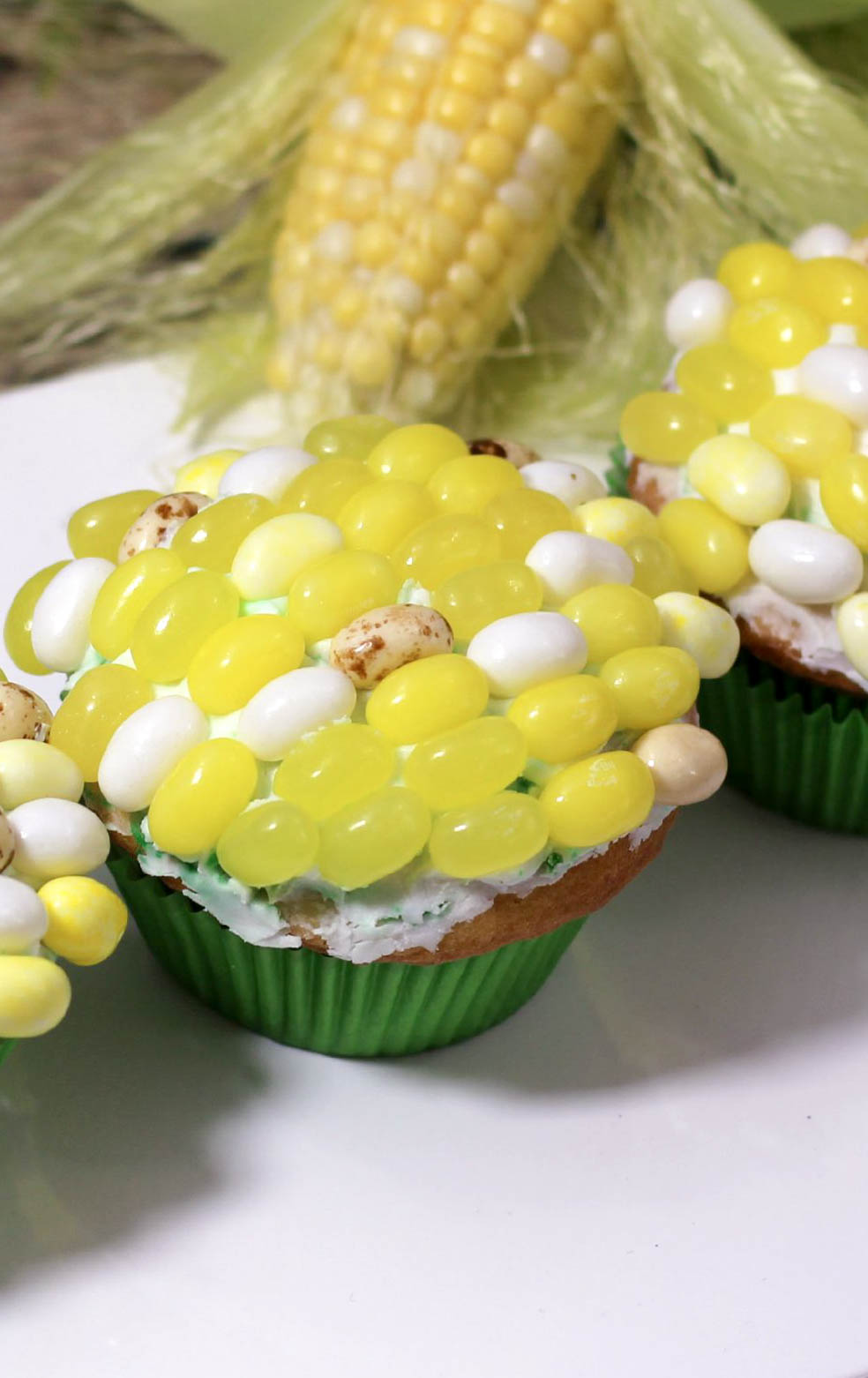 December 22nd
Pawn Sacrifice- Pawn Sacrifice is a 2015 biographical thriller movie based on the life of Bobby Fischer, the 1972 World Chess Champion. The movie stars Tobey Macguire, Liev Schreiber and Lily Rabe.
12 Rounds 3: Lockdown– 12 Rounds 3: Lockdown is a 2015 action film starring Dean Ambrose, Roger Cross, Daniel Cudmore, Lochlyn Munro, Ty Olsson and Sarah Smyth. When a cop returns to the force after an injury, he finds himself playing a deadly game of cat and mouse with some corrupt cops.
December 29th
A Walk in the Woods– A Walk in the Woods is a 2015 adventure- comedy biographical movie based on the 1998 memoir by Bill Bryson. The movie stars Robert Redford, Nick Nolte and Emma Thompson. Bill and his friend Katz set out on a journey to hike the Appalachian Trail. During the adventure, the two discover the hike is actually an inspirational journey filled with sadness, laughter and self-reflection.
Bone Tomahawk– Bone Tomahawk is a 2015 horror western film starring Kurt Russell, Patrick Wilson, Matthew Fox, Lili Simmons, Sean Young, Richard Jenkins, Sid Haig and David Arquette. Four men set out to save a kidnapped woman, and along the way encounter some cannibalistic cave dwellers.
Are any of the December 2015 DVD releases on your holiday wish list? Tell us in the comments!