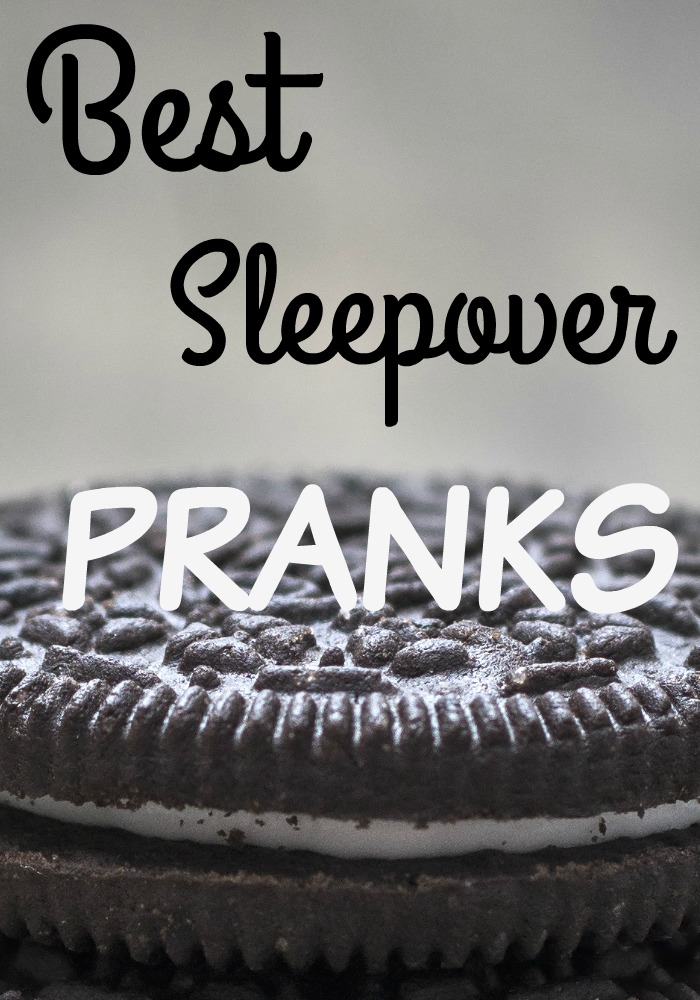 Looking for some fun sleepover pranks to bring a dose of the unexpected into your overnight bash?  
There are so many to choose from!  
Some are mean and some are funny.  
When deciding what pranks to pull on your besties, make sure no one is going to get hurt or really mad!  
Check out this list of pranks to pull at your next sleepover.  
You should still have your friendships at the end of the night!
Best Sleepover Pranks to Pull on Your Friends!
This post contains affiliate links. We earn a commission if you make a purchase, at no extra cost to you
PRANK 1: The Alarm Clock Prank:
No one likes the sound of their alarm clock
.  Why not set 4 or 5 to go off at different when everyone is sleeping?  
Picture this, so the first one goes off, someone wakes up to find it and shut it off.  

Then 5 minutes later the second one goes off.  

Wait about 30 minutes and the third one goes off.  
Make sure to set them for times that you know for sure everyone will be sleeping.  Just be aware, it is going to wake you up too (unless you put earplugs
in!).
PRANK 2: The Scary Movie Prank:
Once everyone's settled into the movie, excuse yourself to the bathroom, but actually go outside.  

Try not to let anyone know you are going.  

The lights should already be off (because that is the best way to watch a scary movie!).  

Stand outside of the window and at the right moment, knock on the window loudly!  

This is even better if you bring along a scary Halloween mask!
PRANK 3: Cake in the Face Prank:
You have to wait until someone is asleep to pull this one off.  
You need cake (or anything soft that will leave a mess on their face).  

Gently and quietly, place a piece of cake in one hand (or both, because you don't know which one they will use to scratch).  

Then, tickle her face with a feather (or even your fingers gently).  

You are going to bust out laughing when she smashes her own face with cake!  

Be ready for payback!
PRANK 4 The Pizza Delivery Prank:
This one is old school!  
First, pick someone who you want the pizza delivered to.  

Call up and order the pizza, be sure not to give your name and address!  They might want your phone number.  B

e aware, some places these days have caller ID and will know your number.  

Maybe using the local place rather than chain pizza delivery might be best.  

The person you ordered the pizza for won't know what is going on!
PRANK 5: The Oreo Prank:
You have to do this before everyone gets there (or before you arrive to the party if you are not hosting it).  
Take a few packages out of the Oreo package and remove the cream.  Ready?  
Replace it with white toothpaste!  

You might not want to try these yourself, just sit back and watch the faces of your friends as they bite into a snack!  

Maybe you can covertly snap a pic of the moment they realize their Oreo is not cream filled!
Be prepared, some of your friends might not like to be pranked, these are some of the more tame pranks that you could do.  Hopefully everyone is a good sport!  Just know that at the next sleepover, they might get you back!  
Be on the lookout!  What are some other sleepover pranks you have played on your friends? Tell us in the comments!