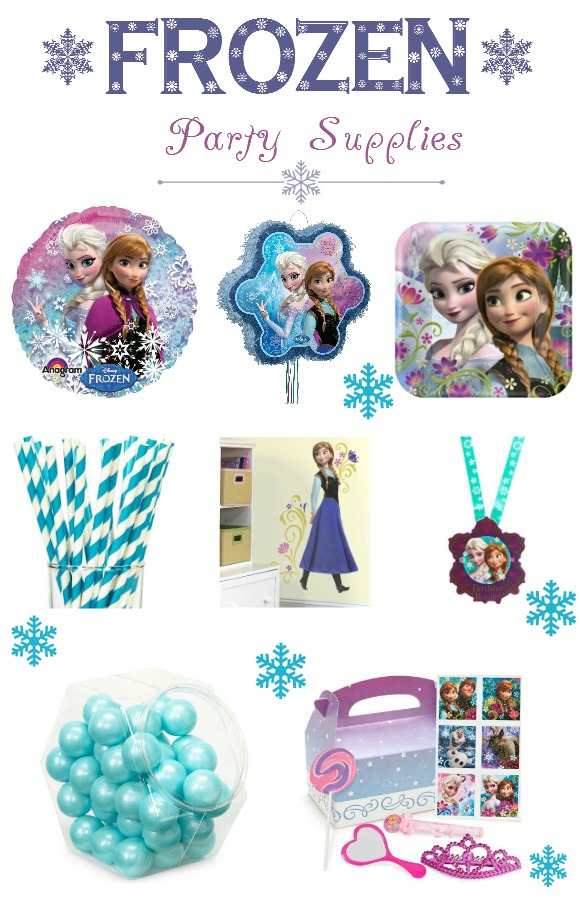 With the massive popularity of the movie, finding Disney's Frozen party supplies isn't exactly a challenge. There are tons of options to choose from! To me, THAT itself is the challenge. I used to go way overboard with decorating for parties. My son's first birthday party? It looked like an ocean threw up in the house (it was a fish theme). Over the years, I've learned to save time, money and frustration by only choosing a few elements to bring the theme into the party. For the rest, I use colors from the theme to fill in the blanks. Take a look at the cutest Disney's Frozen party supplies, plus a couple of  extras that would fit the theme beautifully!
Disney's Frozen Party Supplies
This post contains affiliate links. We recommend only what we love.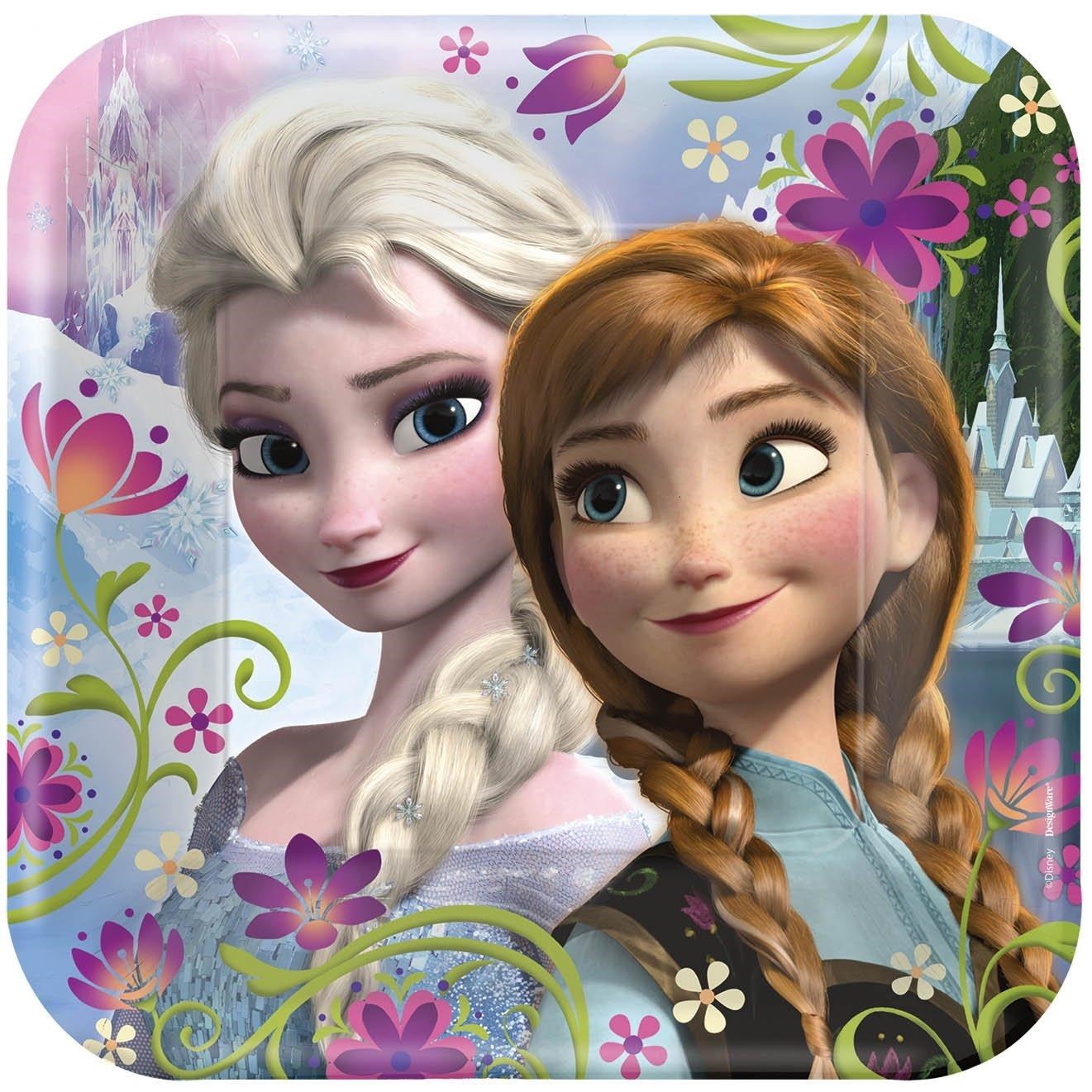 Disney Frozen Party Square Dinner Plates: If you're on a budget, plates are a great way to show off the theme without spending a fortune. These are pretty enough to be decorations all on their own! I love that there are plenty of colors to work with here. You can add a purple table cloth and some icy-blue streamers and you're good to go!
Disney Frozen – Foil Balloon: I usually do balloons in colors of my theme with one nice, big foil balloon to tie them all together. When the helium runs out, they fold up nicely to put in your child's birthday treasure box. I still have balloons from my son's first birthday! Your local dollar store or super market may offer inexpensive services to fill it up. I paid like $1 to fill a huge balloon like this once.
Disney Frozen – Party Favor Box: I love this party favor box set because it includes everything. No need to run around looking for Frozen party supplies to stuff into it. At $5 each, you can buy exactly what you need. This is great if you have an odd number of kids.
Disney Frozen – Guest of Honor Wearable: Treat your birthday girl like the princess she is with this guest of honor ribbon necklace! It also makes a super cute keepsake to remember the party.
Disney Frozen Anna Peel and Stick Giant Wall Decals: This is a bit pricier than your average party decoration, but it lasts a whole lot longer. Plus, it's practically life-sized! Well, maybe not that bit, but it definitely makes a statement. You can use it to decorate that party area, then move it into your daughter's room afterward.
Disney Frozen Drum Pull-String Pinata: Remember the good old days when we used to have to beat our pinatas to get them to pop? Occasionally, we'd whack a poor party guest by accident! Now, they have much safer options, especially for younger kids. Hey, if you've ever had to hold a pinata up while little kids smacked it with a stick, you'll appreciate this! Yes, I've actually done that at an indoor party when it was raining out!
Shimmer Blue Gumballs: If you don't want to go wild with branded Frozen party supplies, consider adding a few icy touches to the scene in other ways. These gumballs are beautiful and definitely make a statement!
Aqua Striped Paper Straws (25): Another easy way to incorporate the frosty theme is through these gorgeous paper straws. You could go with the themed dinner plates, but accent with cups and straws that bring in the colors of Frozen.
Once you have your Frozen party supplies taken care of, it's time to start planning your party games for kids! Break out the crafting supplies and let kids show off their creativity with these Frozen crafts for kids and those Frozen Toys.
What are your favorite Frozen party supplies? Tell us in the comments!
Follow MyKidsGuide's board Frozen crafts and activities for kids on Pinterest.