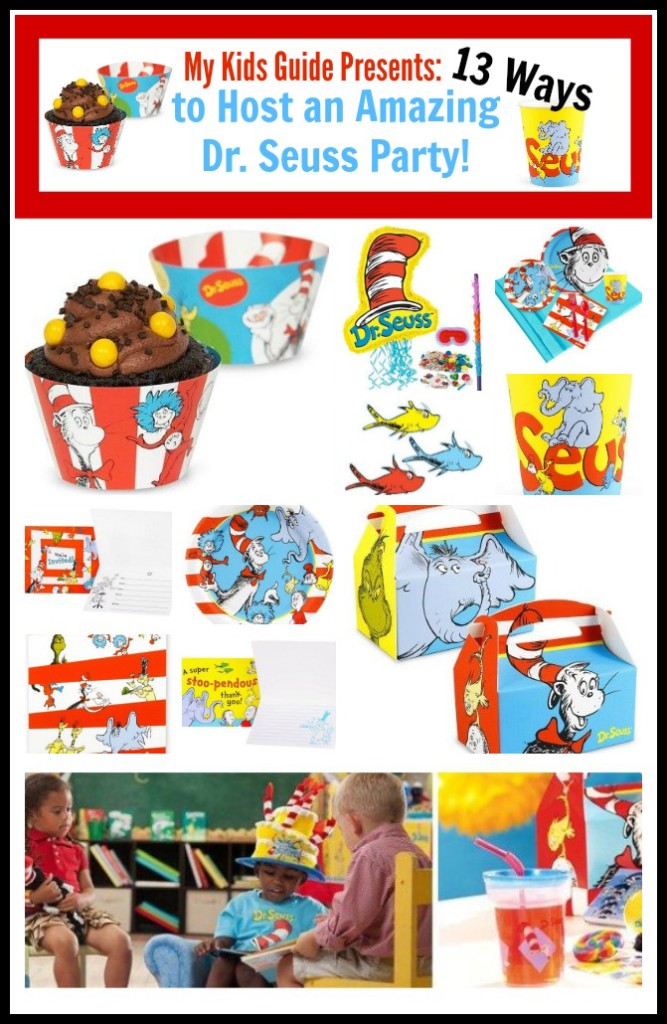 Hosting a Dr. Seuss party soon? We gathered those fun Dr. Seuss party supplies for an amazing bash. Does your little one love Dr. Seuss? Of course your little one does! Everyone loves Dr. Seuss! That is what makes hosting a Dr. Seuss party so much fun! Ordinarily your guest would suffer through whichever theme choice your child made, but with a Dr. Seuss party, everyone is happy – the host, the honoree, and the guests!
Run to the library and grab yourself a couple dozen Dr. Seuss books for inspiration. There are so many options available to you that you can host a Dr. Seuss party every year and never have the same party twice!
Related Posts:
13 Fun Dr. Seuss Party Supplies
Affiliates links included. Thank you for your support
Find everything you need for parties with up to 16 guests without driving all over town. Just select your party size, click "Get Started," and let BirthdayExpress.com take care of the rest. You'll have all of your shopping done as quickly as it takes the Cat in the Hat to clean an entire house!
The expert party-in-a-box designer at BirthdayExpress.com are dedicated to making your child's birthday a blast!
Have a Dr. Seuss party just because! The Dr. Seuss Just Because Party Pack for 8 includes: (8) Dinner Plates, (8) Dessert Plates, (8) Cups, (8) Forks & Spoons, (16) Lunch Napkins, and a solid Tablecover.
Package includes 8 invitations (with envelopes) to match your party theme. Inside has room for all the important information: For, Date, Time, Place, RSVP.
Package includes 8 thank-you notes (with envelopes) to match your party theme.
Package includes 8 paper dessert plates to match your party theme. Each measures approximately 7" in diameter.
Package includes 16 lunch napkins to match your party theme. Each 2-ply, paper napkin measures 6½" x 6½".
Package includes 8 paper cups to match your party theme. Cups are versatile enough to serve warm or cold beverages. Each holds 9 fl. oz.
Package includes (12) Cupcake wrappers. These reversible wrappers are made of paper, measure 2″H x 3″W and feature a different pattern printed on each side to match your party theme. Some assembly required. Cupcakes are not included. Not oven safe.
Go for a swim with these Dr. Seuss 1 Fish 2 Fish Cutouts. Package includes (36) assorted paper cutouts. Each cutout measures approximately 7.5″ X 5″.
Take photos of all the kids with Thing 1 and Thing 2 and send with your thank-you notes! Cardboard standup; 73″ high. Easy assembly. Standard Ground shipping only. Street address required for delivery. No APO, FPO or PO Boxes please. Additional $5 shipping applies for this oversized item. Don't forget a Thought Bubble Set (sold separately). This is an officially licensed Dr. Seuss product.
Everything you want for your celebration all in one kit. The Dr. Seuss Cat in the Hat Pinata Kit includes: (1) Dr. Seuss Cat in the Hat Pull-String Pinata, Candy and Toy Pinata Fillers, (1) Pinata Blindfold, and (1) Pinata Buster
Kids absolutely love stickers, especially when they coordinate with your child's party theme. They make terrific prizes for games, and fun fillers for favor boxes, too. Package includes 4 sticker sheets. Each sheet has 6 different stickers.
Treat your guests to colorful, customized favor boxes for your party. Our decorative empty boxes are perfect choices for boy-girl parties, or any celebration where you'd like to create your own combination of favors. Simply fill with goodies you mix and match from our huge selection of favors and prizes. Package includes 4 empty boxes. Each measures 6″W x 4″H x 3″D. Adult assembly required.
Which of these fun Dr. Seuss party supplies is your favorite?