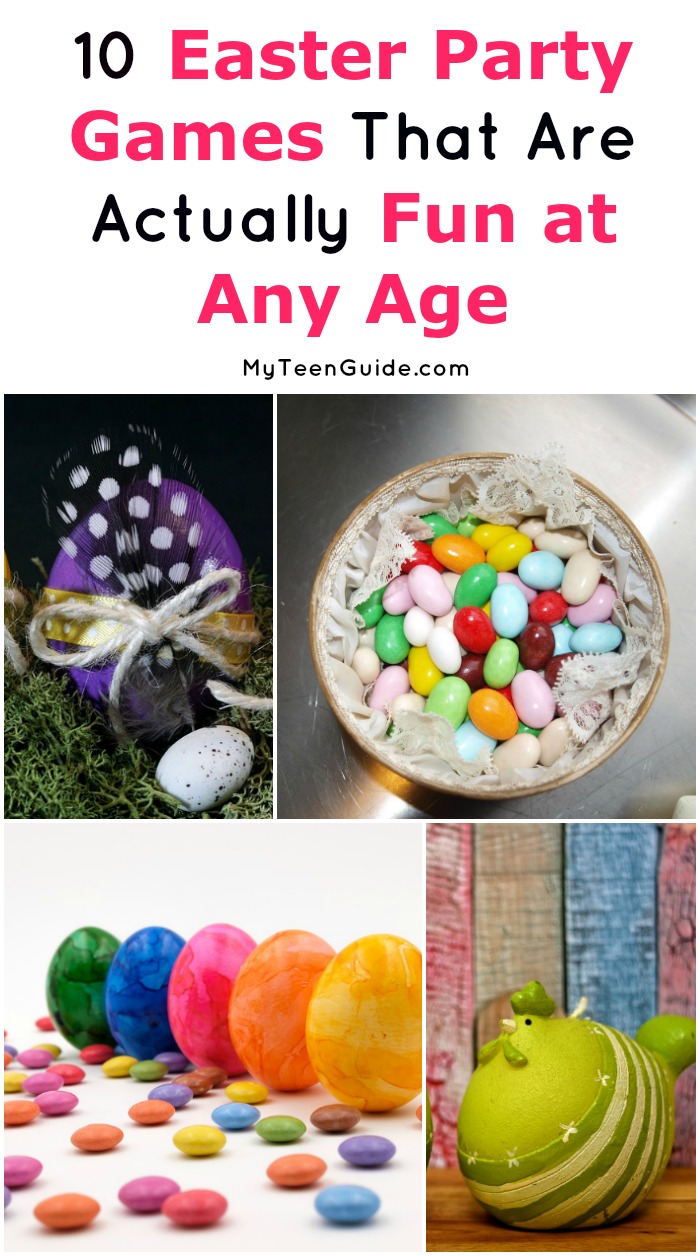 All you need are these Easter party games for your holiday to be a success!
Celebrate Spring, and the longer, warmer days with relay races and egg hunts (in the dark!)
If you haven't ever thought of hosting an Easter party, you should!  You are going to want to send out as many invites to your squad as you can.
The more of your friends you have, the better for these Easter party games!
Easter Party Games for All Ages
Affiliate links included below. If you make a purchase through these links, we earn a small commission at no extra charge to you.
Easter Egg Relay
You know this game, right?
You will need a plastic spoon and an uncooked egg for each relay team.
You might want to play this one outside as well, unless you plan on cleaning up egg off the floor (which, if you have never done, is not a very easy task).
Create a start line and a finish line.
From the start line, one player from each team places an egg on their spoon and walks towards the finish line.
If a player drops their egg, they are out of the game.
The winner is the first one to make it to the finish line, without dropping their egg.
► Don't forget the food: How To Make The Yummiest Easter Fudge Recipe For Your Favorite Bunny
Jelly Bean Relay
I absolutely love this game!
Each party guest is given one popsicle stick and 6 jelly beans.
Next, they place the popsicle stick in their mouth and place the 6 jelly beans on the popsicle stick.
Now, your party guests need to walk around, without having their jelly beans fall off.
The last one standing, with their jelly beans still intact, is the game winner!
[amazon box="B00KIW361A"]
Fill the Cup
For this game, you will need some popsicle sticks, jelly beans and plastic cups.
[amazon box="B072MQTWGH,B00KIW361A,B072MFJ3KP" template="list"]
The object here is for each player to hold a popsicle stick in their mouth and then fill their plastic cup with jelly beans.
Sounds easy, right?
Think again!
This game is hilariously challenging.
Flashlight Egg Hunt
I have never played this game before, but this year might be different!
It is a nice twist on a childhood favorite Easter egg hunt.
Party guests will use flashlights, at night, to find the hidden Easter eggs.
This egg hunt version can be played indoors or outdoors!
►►Make these crafts 10 Delightfully Fun Easter Crafts for Kids
Easter Scavenger Hunt
I love a good scavenger hunt!
You can either divide your party guests into teams or just have everyone play on their own.
Make a list of items for players/teams to find or make it a bit challenging by using clues.
Set a timer for 30 minutes and the first player/team to return before time runs out, with the most things found on their list, is the game winner!
Scavenger hunts are not always the easiest to plan.
Luckily, I have some awesome ideas for you!
Scavenger-Hunt has this Easter Scavenger Hunt List, Between Us Parents features these Printable Easter Scavenger Hunt Clues and Darling Doodles has these Printable Easter Scavenger Hunt Cards.
Easter Ring Toss
[amazon box="B005DS65QC"]
Ring toss games are ideal for those young and old alike!
And what better time to play a game of ring toss than during Easter!
Amazon has 3 totally cool Easter ring toss game ideas- Easter Egg Ring Toss Game, Bunny Ears Ring Toss Game and Deluxe Bunny Ring Toss Game.
You can also build your own with tips from this video:
Easter Bingo
Easter is the perfect time to play a game or two of Bingo!
Why?
Well, because during this time, Bingo cards feature images that are bright and cute, like chicks, carrots, Easter baskets and Easter eggs.
Yes, I know you are going to need some ideas here!
Crazy Little Projects and Pre-K Pages, each has a Printable Easter Bingo Game, while Play Party Plan features Printable Easter Candy Bingo Cards.
https://www.instagram.com/p/BS6s3L_BtiO/?tagged=easterbingo
Guess the Number of Eggs
This game is so easy to play that even younger kids can participate.
Before everyone arrives to the Easter party, fill a clear jar with some type of Easter candy, such as Cadbury Mini Eggs, Easter Milk Chocolate Kisses, or other egg-shaped candies.
(Hint: Be sure that you count and remember how many candies you put in the jar).
Once your party guests have arrived and settled, give everyone a slip of paper and a pen or pencil.
Then, have them write down their name and how many candies they think are in the jar.
The one who guesses the closest to the correct number of candies, wins the jar of candies!
Bunny Says Race
So, you know how to play the popular game of Simon Says, right?
Well, did you know that you could turn that traditional game into an Easter version?
Like in the popular, traditional game, the "It" person gives commands to the other players, but instead of saying "Simon Says," they will use the saying "Bunny Says" instead.
You can find out How to Play Simon Says by clicking here!
Pin the Tail on the Easter Bunny
[amazon fields="B00AW4DL1Y" value="thumb" image_size="large" image_alt="PIN the TAIL on the EASTER BUNNY/Spring PARTY GAME/Party ACTIVITY/New in Package w/INSTRUCTIONS/Blindfold"]
This is a cool and fun twist on the popular, traditional game- Pin the Tail on the Donkey!
You can make your own game of Pin the Tail on the Easter Bunny by using a large Easter Bunny poster, cotton balls and tape and blindfolds.
Now, I have to tell you that I am not crafty or creative at all.
If this sounds like you, Amazon features this awesome Pin the Tail on the Easter Bunny Game, which includes 1 Easter Bunny poster, 12 Easter Bunny tails, 1 blindfold and complete instructions.
►►Don't forget the cupcake: Delicious Lamb Cupcakes
Your family and friends will have fun with these Easter party games!
All of them are appropriate for any age with a little customizing. For example, if you are throwing a party for younger kids, use neon eggs for the flashlight hunt and easy clues for the scavenger hunt.
For older guests, make the clues harder and get really outlandish with your "bunny says" commands!
For example, see if your guests can hop on one foot while balancing an egg on their head!
Be sure to have someone take lots of pics (and videos!) you want to share those images and evidence of some fun times about to go down.
You never know what can happen when you are trying to walk from one point to the next with a spoon in your mouth holding a raw egg!
Do you have any favorite Easter party games for all ages? Share below!