We received a complimentary bike for this FirstBIKE Balance Bike Review for kids. All opinions are our own.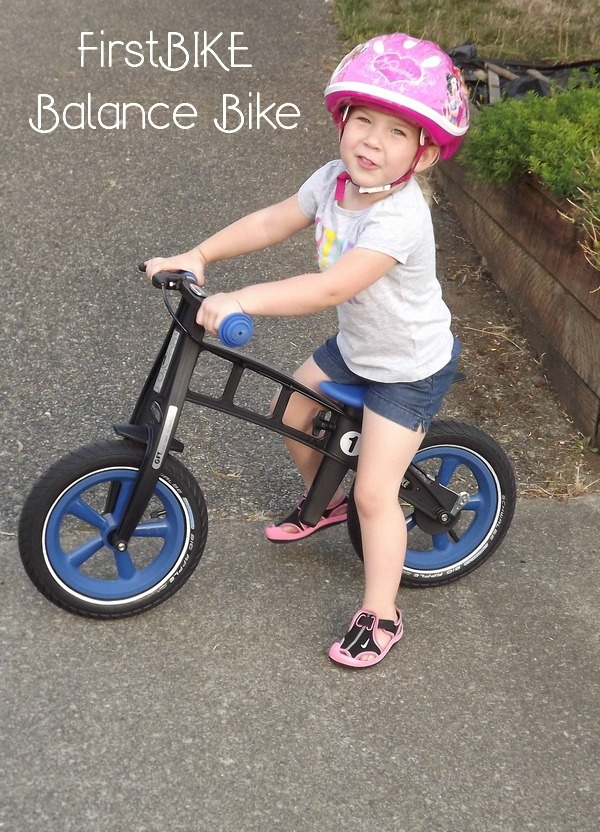 Learning to ride a bike is a childhood rite of passage. I can still remember the day I finally mustered up enough courage to allow my dad to remove the training wheels from my yellow banana-seat bike. It felt pretty amazing to finally cruise down the street on my own.
A lot of things have changed since then, including the ways kids can learn to ride a bike. Have you ever heard of a balance bike? If not, let me fill you in. Balance bikes don't have pedals, chains, or training wheels. Unlike a tradition bicycle, balance bikes teach kids to balance and steer first, not pedal. The idea is that over time children become so efficient at balancing and steering that they can easily transition over to a pedal bike without the need for training wheels.
FirstBIKE Balance Bike Review for Kids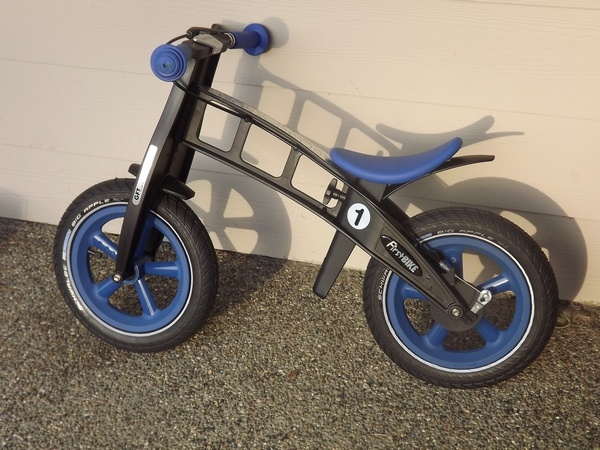 The FirstBIKE is a balance bike developed by a German cyclist, father, and product designer who wanted to create the best balance bike for young children. After years of testing, the end result was a product that is not only safe but also supports the physical development of children. The FirstBIKE also aids in self-confidence and independence as a child begins to learn to ride and gain mobility. The FirstBIKE Company has received a long list of accreditations and awards from around the world for the FirstBIKE and it didn't take long for me to understand why.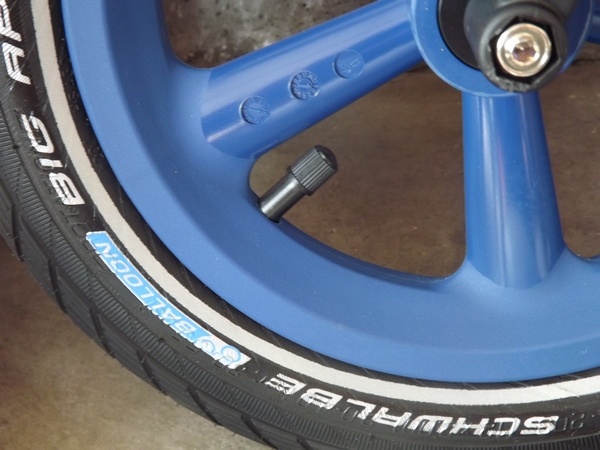 The black frame and bright blue accents makes a pretty bold statement compared to some of the other balance bikes I've seen. My daughter loved its small size but wasn't convinced she'd be able to ride it without pedals. Once I tossed on her (affiliate link) helmet and shoes she was ready to get outside and give it a try. Transporting the bike outside I noticed how lightweight it was. For such a sturdy and durable frame it is also pretty light.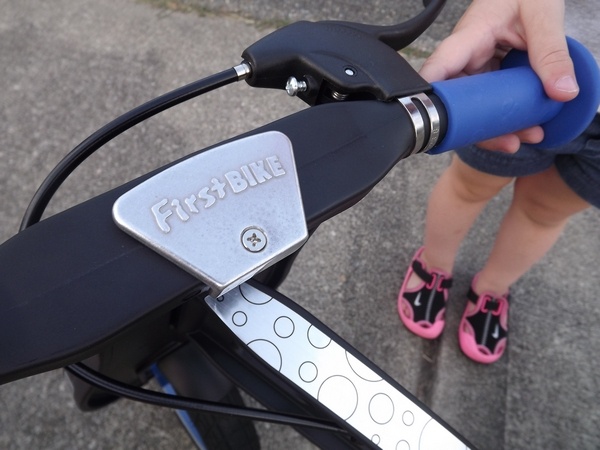 Of course I had to check out all of the safety features before letting my little one give it a go. The FirstBIKE Company paid a great deal of attention in this area!
The bike is constructed with a waterproof composite frame that won't splinter or rust.
There are no bolts or screws sticking out of the frame that could pose a hazard, and there are even a couple of reflective surfaces around the bike.
Unlike a traditional bike, the handlebars on the FirstBIKE don't fully rotate thus preventing over turning that could result in falls.
There is a rear drum brake, a rubber saddle seat that prevents slipping when riding downhill, and mud guards to prevent splattering of mud or rocks.
Even the Schwalbe Big Apple tires that equip the bike provide maximum traction. Snowy conditions? No problem, the FirstBIKE even has an optional Monoski™ attachment for the front wheel!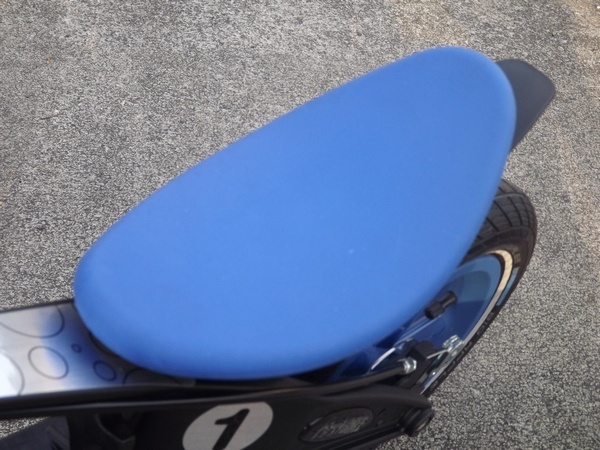 Another feature that is great for parents is an adjustable seat that doesn't require special tools. Simply unscrew the knob adjustment, lower or raise the seat, and tighten the knob securely. It's easy and only takes a few seconds.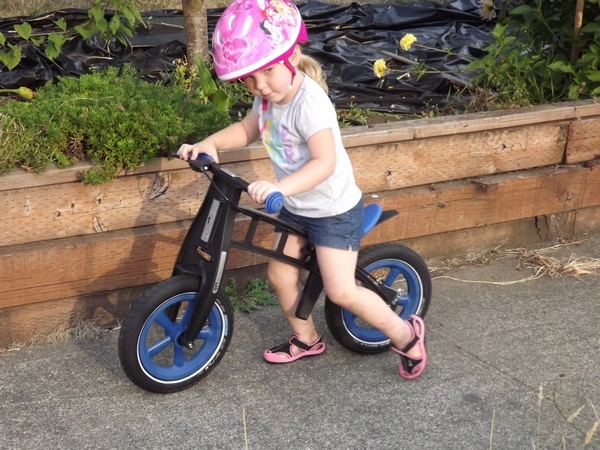 I showed Violet how to hold onto the handlebars and move her legs in a walking motion. She was pretty wobbly and unsteady at first, but started to do a little better after a few attempts up and down the street. She wanted to hop on and zoom off right away but that wasn't realistic for the first attempt. These bikes really are a learning process, but she appears to have fun figuring it out. With the durable frame and all those safety features I worry less about her getting hurt or the bike getting destroyed with any tumbles they may encounter. With lots of encouragement and practice, she's getting more confident and improving her balance each time she jumps back on.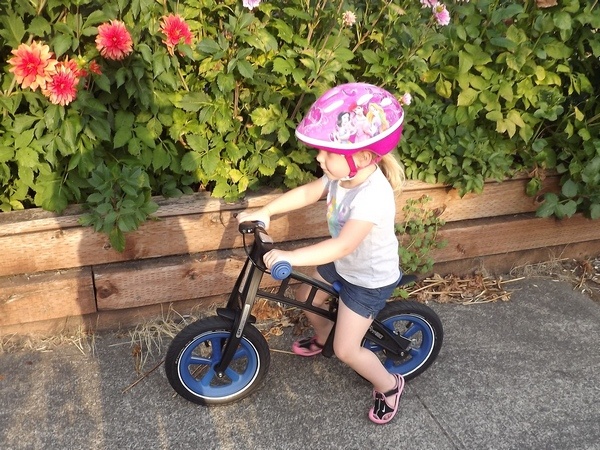 There are some really great videos on the FirstBIKE website, www.firstbike.us. Head over there and check them out. I was amazed to see even the youngest kids learning to become little road racers on their FirstBIKE. These bikes can be used by children ages 2 to 5 years or as young as 22 months with an additional lowering kit. The holidays are fast approaching and the FirstBIKE would make a fantastic beginner bike. The bikes come in 5 different models and can be purchased in a variety of colors as well. They range in price from $116.99 to $199.99.
What do you think of the FirstBIKE Balance Bike? Would your little one love it?